Over the past couple of days, Siemens (SI) and GE locked horns in order to buy out some or all of Alstom (OTCPK:ALSMY). Alstom last closed at EUR27 and has been suspended from trading over the last two days, although the US ADR has rallied 4% without its sponsor to $3.81 (EUR27.60)
The socialist French government appear to be leaning towards the Siemens deal and although numbers have been leaked, nothing has been confirmed by the press.
Looking at the prospective Siemens bid (enterprise value of between EUR10 billion - EUR11 billion for the Power Business), we consider how much a standalone Alstom would be worth.
Granted, there are a lot of unknowns considering we don't know whether the bid is all cash or cash plus some of the Siemens train business nor do we know the status of the debt, pensions, etc.
For the purposes of this article, I assume a EUR10.5 billion all cash bid for the Power Unit and that the debt stays with the stub.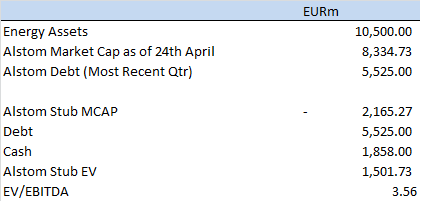 Alstom's power unit is suffering from structural decline in some of its underlying businesses. With most governments offering preferential access for renewable energy and emissions standards tightening every year, demand for gas, oil and coal plants is struggling. Combine that with the fact that the French government is sticking its nose into private enterprise and preventing streamlining when needed (just see Arcelor) as well as a serious debt load, and you may have some problems.

While I'm not sure about the deal from Siemens or GE's perspective (synergies come partly from cuts and Monsieur Hollande won't mention that four-letter word), it gives Alstom an escape route.
Prior to this development, Alstom had plans to sell off the family silver, which included a minority stake in the Transport business. This would have been only a temporary solution to the weak balance sheet as the structurally weak parts of the business would have eventually burned through this parachute payment.
This deal allows Alstom to cast of the entire portfolio of underperforming assets, and leaves the company with a strong balance sheet and a solid business from where the stock can re-rate.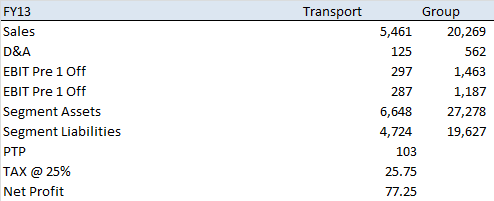 Assuming NO GROWTH and that the stub retains the debt, its proforma results last financial year would resemble the above.
Using a 9x EV/EBITDA14 multiple (Siemens 10x, Bombardiers 8.8x), the NewCo would have an enterprise value of EUR3.8 billion. Remove the EUR5.2 billion in debt and add the EUR1.85 billion cash plus the EUR10.5 billion deal cash, and you have a NewCo Equity value of EUR10.6 billion.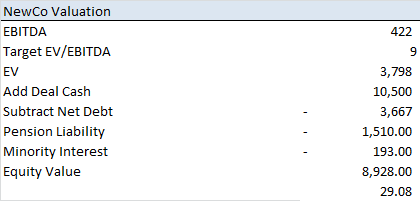 Once we subtract the pensions and the minority, the NewCo price looks to be EUR29.08, however, the pension pot is a large swing factor. Should Siemens take control of the company pension, the NewCo price would increase to EUR34.
It is also worth noting that the company does have tax loss carry forwards of around EUR800 million, which would be worth something
Looking at the "Sell to Siemens Scenario," we can justify a price between EUR29 and EUR34 (ADR $4-$4.56), but remember this is only one of the many outcomes that may occur. Having two potential acquirers gives an upside bias to these situations, so it is worth following the story.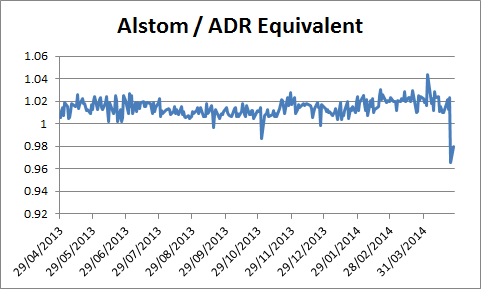 Should the company open EUR29, I would buy some shares. At the ADR levels, I would be buying already.
Sources: Author's own estimates, company financials, Bloomberg consensus
Disclosure: I am long ALSMY. I wrote this article myself, and it expresses my own opinions. I am not receiving compensation for it (other than from Seeking Alpha). I have no business relationship with any company whose stock is mentioned in this article.
Editor's Note: This article discusses one or more securities that do not trade on a major U.S. exchange. Please be aware of the risks associated with these stocks.