Emerging markets have lead their US counterparts for the last several years. During the 2008 Crisis, most emerging markets, particularly the BRICs (Brazil, Russia, India, and China) bottomed in November 2008, whereas the S&P 500 only bottomed in March 2009.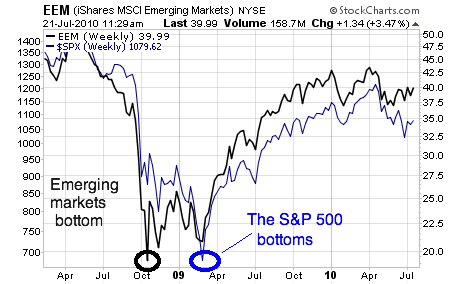 Emerging markets also topped out before the S&P 500 in April 2010: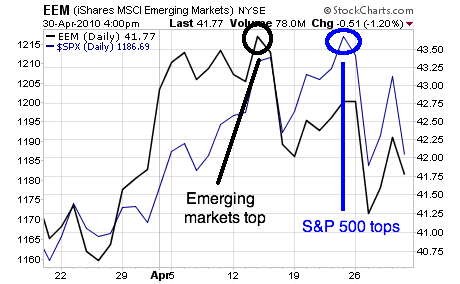 So it's extremely important to note that emerging markets actually look to have bottomed from the recent collapse back in late May: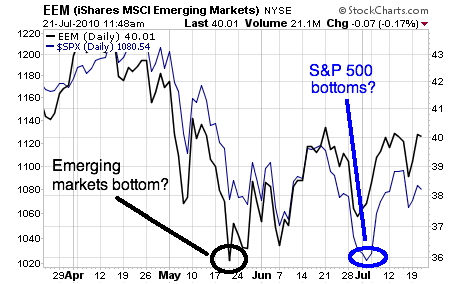 The chart below makes this potential "bottom" even clearer. Indeed, there is a clear series of higher lows being formed.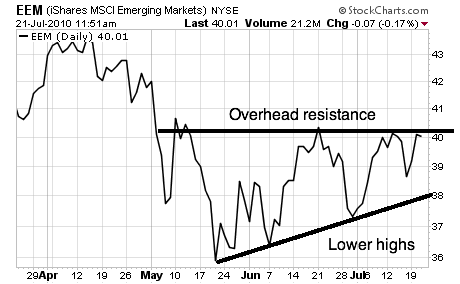 Overhead resistance at 40 is doing a great job of reining in the rallies. As you can see, EEM has been rejected several times at that level. However, the repeat tests of this level combined with the series of lower highs actually makes it quite possible we'll see a breakout to the upside here.
I would also like to point out that EEM looks to have finally staged a real break above its 50-DMA: the first of its kind since the April peak. The emerging market ETF is now bumping up against its 200-DMA which coincides with overhead resistance at 40.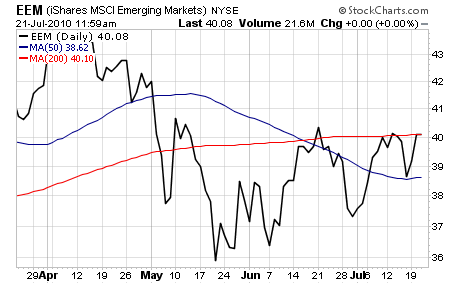 I am watching this situation closely; a break above the 200-DMA would signal a rally to $42 or so. This would correlate with the S&P 500 moving to test its own 200-DMA at 1,112 with a possible break higher to 1,160 or so: its last peak in May.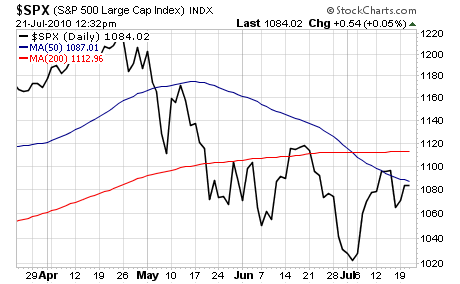 I realize that this forecast sounds absolutely insane especially since I am one of the biggest bears out there. But the above charts definitely open the door to this potentially happening. Moreover, as stated before, the Federal Reserve and friends have a huge vested interest in keeping the stock market afloat.