Featured Earnings Reports This Week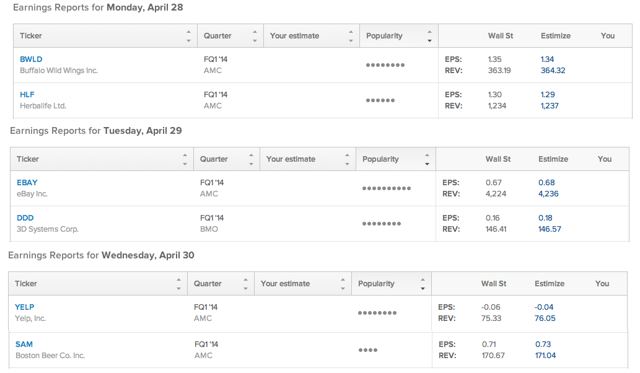 Monday: Buffalo Wild Wings (NASDAQ:BWLD)
Buffalo Wild Wings is a casual restaurant and sports bar chain that features some of sports fans' favorite things; lots of big tvs, chicken wings, and beer. BWLD has beaten Wall Street expectations on EPS 3 quarters in a row and has topped revenue projections twice. Last quarter BWLD reported a 12% year over year revenue increase and this quarter the Estimize community expects that rate to pick up to 20%. Profitability is also expected to increase dramatically, this quarter contributing analysts are calling for an EPS gain of 48c per share compared to FQ1 of last year.
Allegations and investigations into whether or not Herbalife, a multi level marketing nutrition company, is a pyramid scheme or not have picked up steam in the past couple months. Pershing Square Capital Management hedge fund manager, Bill Ackman, famously bet $1 billion against Herbalife and has continued to attack the company since, calling it an illegal pyramid scheme. Throughout 2013, Ackman was under tremendous pressure to cover his short as Herbalife stock climbed higher and higher, but 2014 has been far more kind to him. In January, Senator Markey gave Ackman's claims a vote of confidence by calling for an investigation into Herbalife and in March the Federal Trade Commission official opened an inquiry into Herbalife's business practices. The stock has been falling in 2014, but earnings growth expectations are still quite bright.
Online auction website eBay is set to report on Tuesday. eBay has had its fair share of headlines lately due to interest from activist investor Carl Icahn, who continues to apply pressure to company management to spin off subsidiary PayPal which he believes will increase shareholder value. Management has stuck to its guns and insists that eBay and PayPal have natural synergies and shouldn't be broken up. Contributing analysts on the Estimize.com platform expect a small beat on both the top and bottom line on Tuesday.
Tuesday: 3D Systems (NYSE:DDD)
3-D printing stocks were all the rage in the bull market of 2013, but the sector hasn't been quite so hot lately. DDD stock has been nearly halved since the start of the year. Additive manufacturing may still revolutionize the way the majority of physical products are made, but it looks like at the very least the time horizon may be further out than some investors were hoping for. This quarter the Estimize community is expecting a small beat in earnings per share with revenue coming in roughly in-line with the Wall Street consensus.
Wednesday: Yelp (NYSE:YELP)
Over the past quarter or two every company in the online ad business has iterated and reiterated that the immediate focus of the industry is all about the transition to monetizing mobile ads. Facebook (NASDAQ:FB) has been in a leader in that category and correspondingly has posted 2 blowout quarters in a row. Yelp is a restaurant and business reviews platform that offers an outstanding mobile experience. The Estimize community is expecting Yelp to follow Facebook's lead and report a strong quarter.
Wednesday: Boston Beer Co. (NYSE:SAM)
Boston Beer Company, the makers of Sam Adams, are set to report on Wednesday. The craft beer movement has taken off over the past 5 years and Sam Adams has been a leader in that category. Boston Beer has reported year over revenue growth in each of the past 8 quarters and the Estimize community expects that trend to continue on Wednesday. The community is estimating that yoy sales will grow by a whopping 26%.
Thursday: OpenTable (NASDAQ:OPEN)
OpenTable is another restaurant technology app which offers a best in class mobile experience on 1 well defined niche. OpenTable specializes in letting users see restaurant availabilities and book reservations. The company charges restaurants a monthly fee to be listed and an additional charge on a per booking basis. Like Yelp, strong earnings are expected from OpenTable, with contributing analysts expecting OPEN to beat the Wall Street consensus by 5c per in EPS.
Thursday: Twitter (NYSE:TWTR)
To describe the expectations for Twitter in 140 characters or less, revenue expectations are higher than ever before while earnings are predicted to slip back into the red. Analysts expect Twitter to follow Facebook and report growing advertisement revenue. But last quarter Twitter struggled to grow its user base by as much as analysts has hoped for, Twitter's core metrics will be important non-financial numbers to watch in the report.
Friday: CVS Caremark (NYSE:CVS)
As we discussed last month in more detail, CVS Caremark will be the first of the 3 largest players in retail pharmacies to voluntarily give up sales of cigarettes and tobacco products by October 1st of this year. In the end of March peer Walgreen (WAG) reported disappointing earnings while earlier this month we saw great numbers out of Rite Aid (NYSE:RAD). Investors on Estimize expect neither a great or horrible quarter from CVS, expectations are quite mediocre. The community expects CVS to report in-line on EPS and miss by a tiny margin on sales.
Friday: Chevron (NYSE:CVX)
The end of this week will feature 2 of the biggest names in energy, as Exxon Mobil (NYSE:XOM) is also set to report on Thursday. Energy and utility stocks have been the leaders so far in 2014. Chevron stock started of the year with a nasty selloff but has since rebounded to beginning of the year prices. The Estimize community has very high expectations for energy companies' earnings, but revenue forecasts are often falling below the Street's this quarter. We are seeing a very large delta for Chevron on Friday with the community expecting the company to crush EPS estimates from Wall Street while coming up almost $6.5 billion short on revenue.
Disclosure: None