By Chris McKhann
Option traders are betting today that shares of Spirit AeroSystems (NYSE:SPR) will be unable to regain recent highs.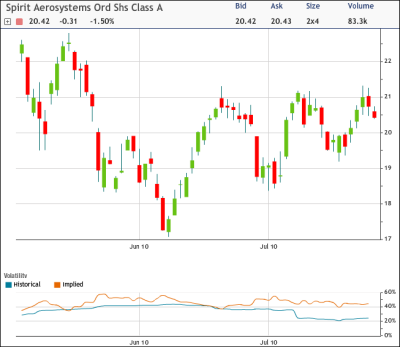 The airplane component supplier is down more than 1% this morning to trade at $20.47. SPR has been posting higher lows since touching the $17 level in early June. The stock has dropped from a 52-week high of $24 in late April and has been unable to break back above $22 in the last two months despite three runs at it.
The average options volume is just 150 contracts. So the 4,000 of the September 22.5 calls is noteworthy, especially against open interest of 23 at that strike. One trade of 3,709 of those calls went off for $0.35, well below the theoretical price and traded at the bid price, therefore clearly sold.
These calls may be hedging against an existing long position or may have been sold naked. In either case, the position indicates that the trader believes SPR is very likely to stay below $22.50. It is also a bet that the implied volatility of those calls is too high.

Disclosure: No positions