Netflix Inc. (NASDAQ:NFLX) serves as an online television and movie streaming service. The company reported its Q1 FY 2014 results on April 21st, 2014 and disclosed that its worldwide streaming subscribers reached 48.4 million, meaning the company's subscriber growth beat analysts' forecasts for the quarter. As a result of this handsome growth in the company's subscribers, the company also announced an upcoming price increase for the users of the company's services as part of a solid Q1 FY 2014 earnings report. Therefore, in this article, I will discuss the company's Q1 FY 2014 results, along with a discussion on the rise in subscription fees as announced by the company and its future outlook.
Recent Quarter Results
The company operates via three operating segments: domestic streaming, international streaming and domestic DVD. The company added around 2.25 million new domestic streaming members during Q1 FY 2014, bringing its total U.S. members count to around 35.7 million, as shown in the following chart. The 2.25 million increase in domestic members is also in line with the company's management guidance for Q1 2014 additional members.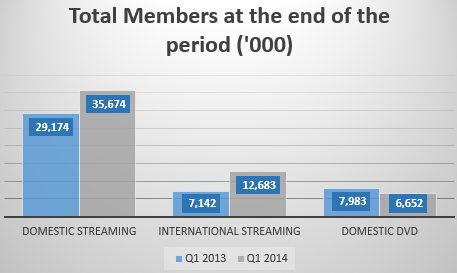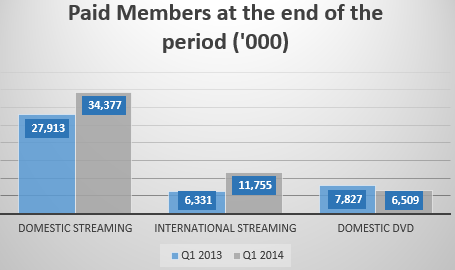 Source: NFLX Q1 14 Letter to Shareholders
The company's number of international customers rose by 1.75 million in Q1 FY 2014 to 12.7 million, which is 150,000 members more than projected by the company earlier this year. The company's international segment accounted for about 21% of the company's total revenue in Q1 FY 2014. Netflix's domestic DVD segment recorded a decline in its total and paid members in Q1 FY 2014, dropping to 6.7 million and 6.5 million respectively.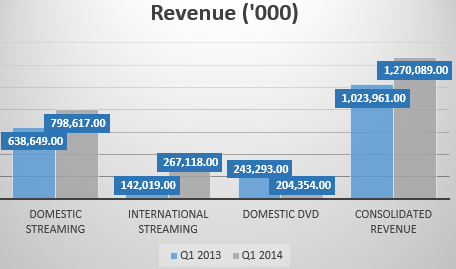 Source: NFLX Q1 14 Letter to Shareholders
The rise in the company's streaming members caused the company to record a total revenue of $1.27 billion for the quarter, as shown in the chart above, that fully met the consensus estimate of $1.27 billion. This total revenue in Q1 FY 2014 is 24% higher than what was recorded in Q1 FY 2013. As far as the bottom line is concerned, the company's $0.86 EPS recorded for Q1 FY 2014 is also higher than the analysts' consensus estimate of $0.83. The $0.86 EPS also increased from the company's guidance of $0.78 for Q1 FY 2014. During the same quarter last year, the company logged an EPS of $0.31.
The company's Q1 FY 2014 free cash flow was $8 million, up from $5 million in Q4 FY 2013 and -$42 million in Q1 FY 2013. The company's streaming content obligations are at $7.1 billion, as reported for Q1 FY 2014, down from $7.3 billion at the end of Q4 FY 2013 and up from $5.7 billion in Q1 FY 2013.
The major contributor to the company's financial performance in Q1 FY 2014 was the company's rising stress on and success of high-class programming, such as the Emmy award winning drama "House of Cards". Netflix released all 13 episodes of the second season of "House of Cards" on February 14th, 2014, which was the middle of the company's Q1 FY 2014.
Now let us discuss an important announcement made by the company while releasing its Q1 2014 financial results. This announcement is related to the upcoming increase in the subscription fees to be paid by the company's subscribers.
Price Rise, Confidence in the Company's Future, and Risks
Boosted by an expanding list of paid members and profits that surpassed expectations in Q1 FY 2013, Netflix announced its plan to increase prices for new subscribers. In the next three months, probably before July of 2014, the company is looking forward to raising its prices by $1 or $2 for new members around the globe. The existing members are not likely to be affected by this move until a "generous time period", according to the company, as monthly fees for the current members would remain at the present pricing at $7.99 or $11.99 for domestic subscribers for two-stream or four-stream tier subscriptions. Therefore, the company's current 48.4 million streaming subscribers will continue to pay the current sum per month for at least the next year, according to Netflix CEO, Reed Hastings. That means admirers of the women's prison series "Orange Is the New Black" will not face higher prices when that show will be back on June 6th, 2014.
According to the company plans, the company will utilize the additional receipts from new subscribers, who will pay higher prices to buy more shows and movies. Therefore, the internet video service company is about to raise its prices for the first time in three years to help pay for more internet video programming, such as its popular political drama "House of Cards." According to the company's CEO, the company is planning to gain from the bigger budget for new shows and movies that will bring in more subscribers to the company, and ultimately, more revenue.
In addition to these goals set by the company to be achieved by the price hike, the price increase also reveals rising confidence that original shows like the political drama "House of Cards" and high-class movies will continue to attract new subscribers even at the higher price. The company is optimistic about its user growth, even with soccer's FIFA World Cup starting in mid-June 2014 that may turn out to be a distraction for the company's subscribers. The company has projected a temporary slow-down but positive user growth during that period.
As part of risk assessment, I will discuss what happened to the company when it previously tried to raise its price. The company experienced a decline in its customers three years ago, when it split its DVD-by-mail business from streaming, and increased prices by 60% for customers who desired to have both services. Netflix lost about 800,000 subscribers after the 2011 price hike was announced, upsetting investors so much that the company's stock fell by more than 80%, before beginning to recover in August 2012.
But the current situation for the company is much better than what it was three years ago. Now, Netflix has established itself more as the internet's equivalent of HBO, with a growing number of programs making it unique in its services. According to FBN Securities analyst Shebly Seyrafi, Netflix has "room to raise prices", as the company is likely to see a lot of demand in the coming periods.
Moreover, the current hike in price of up to $2 will only add 25% to the company's current price, rather than the 60% addition the company attempted to gain three years back. Additionally, the company is also providing its current subscribers a prolonged grace period by allowing them to use the company's services at the current prices for at least a year. According to S&P Capital IQ analyst Tuna Amobi, the timing of the company's current price hike proposal is not perilous, as the economy is also in better condition in comparison to how it was three years ago.
Investors will also be pleased to know that the prospects of price will bring in more revenue for Netflix. This is reflected in Netflix's stock, that has surged $23.01, or 6.6%, to $371.50 in extended trading after the company announced its plans.
Bottom line and Competitive Landscape
According to Pacific Crest Securities' recently published report, Netflix has a competitive edge in terms of price-setting when matching the hours viewed to the average cost of traditional pay-TV packages. The firm estimated that the average Netflix customer pays approximately 16 cents per hour, whereas the average pay-TV viewer pays 50 cents per hour, that creates remarkable underlying pricing power in Netflix's model. According to the firm's analysts, a $1 increase in average revenue per user for Netflix would result in an 84% rise in the company's domestic operating profit to $1.61 billion by FY 2016.
On the other hand, competition is also exerting more financial pressure on the company, as it has to deal with the rising costs of licensing videos for its service. The company has been spending more to contend against traditional cable-TV channels, such as HBO and Showtime, in addition to competing with technology companies, such as Amazon.com Inc. (NASDAQ:AMZN), Hulu.com, Microsoft Corp. (NASDAQ:MSFT) and Yahoo Inc. (NASDAQ:YHOO) that are looking forward to buying more internet video programming from Hollywood studios. Therefore, Wedbush Securities analyst Michael Pachter suggests that the company needs to raise its price in order to remain profitable.
Amazon.com Inc. recently increased the price of its prime service by 25%, from $79 to $99 per annum. This means that Amazon.com Inc. is charging $8.25 a month, that is 26 cents more than Netflix's current streaming service charges. Hulu Plus, a smaller streaming video opponent of Netflix, is currently priced at $7.99 a month, that is equal to what Netflix currently charges.
Other players across the internet, such as Pandora Media Inc. (NYSE:P) are also increasing the prices for their services in one way or another. Therefore, according to Mark Mahaney, the managing director of investment banking firm RBC Capital Markets, most of the consumers are likely to remain indifferent on spending an additional dollar or two a month for the quality and the quantity of content that Netflix offers.
Q2 FY 2014 Forecasts and Final Take
For Q2 FY 2014, Netflix expects to earn $69 million in net income, or $1.12 per share, in comparison to analysts' estimate of 98 cents. The company projects its Q2 FY 2014 worldwide streaming revenue to total $1.14 billion, while analysts expect the company to record a revenue of $1.32 billion.
Netflix also declared that in Q2 FY 2014, it would integrate its service with a cable set-top box for the first time in the U.S., and in Europe, the company will initiate this service with cable providers that use TiVo Inc. (NASDAQ:TIVO) equipment.
Furthermore, another famous Netflix series, "Orange Is The New Black," is coming back with new episodes on June 6th, 2014, that is the last month of Q2 FY 2014. With the support of this series, the company is expecting to attract 511,000 domestic subscribers from April 2014 through June 2014, before prices hike for new customers. Overall, the company expects to add 520,000 domestic (down from 630,000 during Q2 FY 2013) and 940,000 international streaming subscribers (up from 610,000 during Q2 FY 2013) respectively in Q2 FY 2014. Seasonal factors and the 2014 FIFA World Cup will also slow down the company's subscriber growth in Q2 FY 2014.
Analysts at Pacific Crest recently upgraded Netflix's shares from a sector "perform" rating to an "outperform" rating. They now have a $500 price target on the company's stock, a rise from the previous price target of $346.57. The stock is currently trading around $372.90.
As a result of the factors outlined in my analysis that indicate bright prospects for the company, I rate the stock as a good buying opportunity. These factors include the company's top line growth and bottom line improvement through the upcoming rise in subscription fee charged to new members. Additionally, more funds will allow the company to buy more exclusive content and record subscriber growth in the coming period.
Disclosure: I have no positions in any stocks mentioned, and no plans to initiate any positions within the next 72 hours.
Business relationship disclosure: The article has been written by a Gemstone Equity Research research analyst. Gemstone Equity Research is not receiving compensation for it (other than from Seeking Alpha). Gemstone Equity Research has no business relationship with any company whose stock is mentioned in this article.