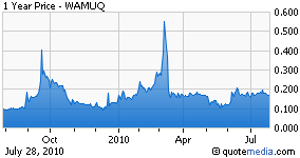 While attorneys involved in Washington Mutual's (WAMUQ.PK) bankruptcy spin varying stories, the greatest truth teller appears to be the bond market.
On Tuesday three senior WaMu issues struck new 52-week highs, each representing debt in WaMu's bankrupt holding company which has now ground into its twenty-second month of court appointed existence. As the company continues to accumulate tens of millions in professional fees each month, WaMu's defaulted debt continues to ride inexplicably higher. All the while attorneys for the estate predict the possibility of impending doom unless an immediate global settlement is reached.
At WaMu's most recent July 20th hearing, Walter Curchack of Loeb & Loeb stated:
Our recoveries are shrinking every day.
Several minutes later, Thomas Lauria of White & Case reiterated:
Every dollar of our recovery is at risk in this case. The risk here is that in the absence of a settlement the estate's recovery could go to zero.
Despite these statements of catastrophe WaMu debt continues to climb daily, reflecting a reality that does not appear to translate to the courtroom. One such senior note, WAMU.JC has risen 4.2% for the week alone and is up 28% for the year. WAMU.IL and WAMU.IS, which also hit their 52-week highs, are up 21% and 13%.
WaMu Incorporated debt – not to be confused with WaMu Bank debt – is a curiosity for those who track distressed securities. Where many issues in default sell for 10 to 20 cents on the dollar, or even less, WaMu's debt currently trades between 92 to 112 cents as reported by FINRA. The yields for these issues, which do run a risk of zero recovery, are exceptionally low. The average WaMu senior note provides a mere 6.22%, while its subordinated debt just 6.28% if held to the maturity of the company's chapter eleven proceedings (assuming 24 months interest).

Senior:

Coupon

Price

Recovery

Differential

YTM %

WAMU.IE

4.00%

104.8

108.16

3.36

3.2061

WAMU.JB

2.95%

92

105.99

13.99

15.2065

WAMU.IL*

4.20%

106

112.36

6.36

6.00

WAMU.IM

3.09%

99.062

106.28

7.218

7.2863

WAMU.JC*

5.50%

109.125

111.3

2.175

1.9931

WAMU.IP

5.00%

107

110.25

3.25

3.0374

WAMU.IO

3.50%

98.75

107.12

8.37

8.4759

WAMU.IS*

3.22%

99.125

106.54

7.415

7.4805

WAMU.IT

5.25%

107.25

110.78

3.53

3.2914

Subordinated:

WAMU.HE

8.25%

111.689

117.18

5.491

4.9163

WAMU.IH

4.63%

102.61

109.47

6.86

6.6855

WAMU.JG

7.25%

107.246

115.03

7.784

7.2581

*52-week high
By comparison, Barclays Capital High Yield B EFT (NYSEARCA:JNK), which holds a wide range of non defaulted medium grade bonds, yields 12.15%, nearly double that of WaMu's no grade defaulted securities. Oddly enough, JP Morgan (NYSE:JPM) has several securities that could be considered "more risky" than WaMu's based on their yield; November 01, 2039, notes, and October 01, 2037, bonds with YTM of 6.724% and 6.715% respectably.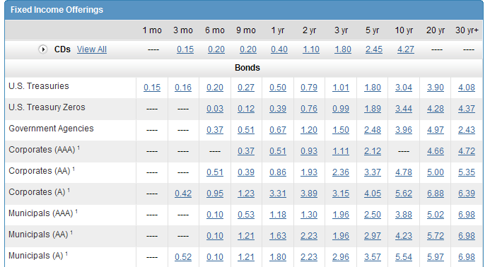 (Click to enlarge)
Typically, reward mirrors risk. As yields climb so does the chance of default and or loss of principle to inflation. From the prices currently attracted by WaMu's, debt it would appear that the market is stating that WMI's defaulted debt is a better investment than most S&P 30 year corporate A grade issues. This comes in direct opposition to what is being stated in the courtroom.
Why then the disconnection? Why are over par prices being paid for such high risk securities? The efficient market model demands that there be a reason. While there is no definitive answer, the seemingly inefficient prices likely indicates that there is a knowledge known by the debtors but not by the public.
One possible explanation is the current rights offering, which is buried within the six hundred plus pages of WaMu's most recent disclosure statement. In the plan certain creditors will be able to exchange their debt for equity in the new WaMu. The plan hints that the new WaMu will likely reorganize in Delaware as a merger, but provides little other detail. The statement also hints at consideration by the debtor regarding WMI's $26.3 billion in capital losses from common stock held in Washington Mutual Bank. At a 35% federal corporate tax rate and an 8.7% corporate state tax rate, WMI's capital losses could be worth up to $11.5 billion in tax deferrals to an acquirer. Such an asset, if passed through to the creditors, seems sufficient enough reward for the risks at hand.
Given $6.4 billion of debt, swapped creditors would be able to access an immediate yield of over 82% on their investment. An 82% YTM answers the efficient market model and gives good reason for the over par prices on WaMu's debt. The question remains though, should WMI creditors receive this benefit or should it pass on to WMI's current equity holders? Unfortunately for the attorneys, this will be up to the judge.
Disclosure: Author is long WAMUQ.PK