By Chris McKhann
Shares of Medco Health Solutions (NYSE:MHS) hit a new 52-week low this morning, so it is no surprise that puts are topping its option volume.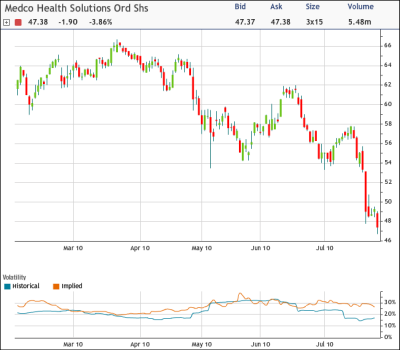 The pharmacy services company is trading at $47.38, down another 3.86 percent today and adding to declines of the last two weeks. From a longer-term perspective, MHS has been trending lower for the last four months from above $66.
The option volume is four times the daily average as puts outpace calls 7 to 1, with most of the activity in the August 45 puts. More than 7,000 puts have traded against open interest of 75 contracts, most of them bought across various exchanges at the same second for $0.75.
Traders may be using these puts in one of two risk-reduction methods. These put buyers may not want to take the risk of shorting shares with the stock already down this much. Or they may be buying the puts against a long stock position as an insurance hedge, though that seems less likely given the action in the stock.
MHS would have to fall to levels last seen in June 2009 for those puts to pay off. And even though the stock is down as the implied volatility is near the highs, the real volatility is even higher. The average implied volatility of the options is 32 percent, but the 20 day historical volatility is at 40 percent.

Disclosure: No positions