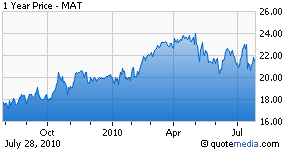 The world's largest manufacturer of toys, Mattel Inc. (NASDAQ:MAT), reported its second quarter 2010 results on July 16, 2010 that missed the Zacks Consensus Estimate by a penny. The recent earnings announcement, subsequent analyst estimate revisions and Zacks ratings for both the short-term and the long-term outlook for the stock are covered in depth below.
Earnings Report Review
During second quarter 2010, Mattel reported earnings of 14 cents per share, up from 6 cents per share in the prior-year quarter. The second quarter earnings were primarily driven by strong sales of its core brands such as Barbie and Hot Wheels and solid contribution from its new licensed toys based on the movie, Toy Story 3.
Worldwide net sales increased 13% from the year-ago quarter to $1.02 billion and were up 16%, excluding the impact of an unfavorable currency exchange rate. U.S. gross sales improved 17% year over year and international gross sales increased 9% year over year.
Earnings Estimate Revisions: Overview

Following the earnings release, the Zacks Consensus Estimate for the company remained stable, implying that the analysts do not see any meaningful catalyst for the time being. The earnings estimate details are discussed below.
Agreement of Estimate Revisions
In the last 30 days, out of 14 analysts covering the stock, 5 analysts raised their third quarter estimates and 3 slashed their estimates for the same. The analysts have increased their estimates based on the top-line improvement and higher savings from its cost cutting initiatives. However, some analysts reduced their estimates based on a shortfall in the reported quarter and higher input cost pressurizing margins. Moreover, they forecast a rise in SG&A expense due to increased legal costs.
However, for fiscal 2010, 4 out of the 14 analysts covering the stock raised their estimates and 4 reduced their estimates, thus providing no directional movement.
For 2011, 6 out of 14 analysts upped their estimates and 3 decreased their estimates, thus estimate revisions trend though mixed drifted to the positive side. The analysts have increased their fiscal 2011 estimates based on the company's strong product line up, including Cars 2 and Green Lantern in 2011 and a lower share count.
Magnitude of Estimate Revisions
Earnings estimates remained unchanged for fiscal 2010 and dropped by 1 cent to $1.93 for fiscal 2011 over the last 30 days. The magnitude of estimate revisions indicates that the Zacks Consensus Estimate has remained static since the earnings release. In the last 7 days, the Zacks Consensus Estimate for fiscal 2010 remained at $1.80 and climbed 2 cents to $1.95. for fiscal 2011.