Recently, Allergan (NYSE:AGN) has inspired positive buzz.
By developing sensible solutions to pressing problems, this company has impressed commentators in many spheres. This diverse company has established the fundamentals for success and are finally getting the credit they deserve.
This February Citigroup upgraded their Allergan rating from "neutral" to "buy," just one sign that the market is increasingly responding to AGN's corporate guidance. Today, AGN is one of the top-performing pharmaceutical stocks in the world. In its upward trajectory AGN is seriously competing with firms like Merck (NYSE:MRK) and Mylan's (NASDAQ:MYL)-dynamic companies that once seemed unbeatable in the growth department.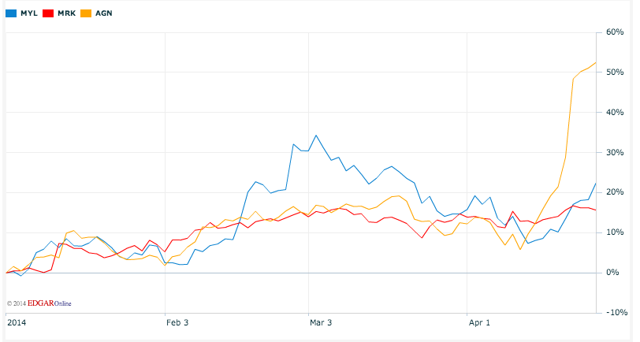 (Nasdaq.com)
Strong Performance Rooted In Continued Research, Innovation
AGN's recent performance is solidly rooted in unique institutional strengths. At the same time, AGN's growth is enabled by the bedrock foundation of the ongoing expansion in the pharmaceutical industry.
AGN's recent actions demonstrate the importance of old-fashioned research and development. By doggedly developing new products and patents, AGN is well-placed to cement any gains it makes. Many well-established firms fail to continue innovating and try to rely on marketing muscle to survive. While a big marketing budget can do wonders in the short-term, long-term success depends on innovative products that meet pressing consumer needs.
If Botox is the AGN product that has most saturated the popular culture, Restasis is the medicine that best exemplifies AGN's business model. This groundbreaking new medicine treats chronic dry eye, an irritating condition affecting millions of people. Instead of squabbling with rivals over established patient demographics, AGN is using Restasis to treat a condition that Big Pharma has never adequately addressed. AGN's net sales for Restasis are estimated to have crossed the $900 million mark in 2013. If this estimate pans out, Restasis will have accounted for about sixth of AGN's annual product sales.
New Patent Protection For Restasis
The original patent for Restasis expires in May 2014, opening up the way for generic versions. Though this fact had some investors worried near the beginning of the year, AGN's management has taken necessary steps to protect this vital revenue creator. The U.S Patent Office recently validated three patents related to cyclosporin, the active ingredient in Restasis. Not patents on specific chemicals, these patents cover systems for inducing therapeutic affects using cyclosporin. Since these new patents won't expire until 2024, they will enable AGN to continue exploiting Restasis for quite some time. Better yet, the new patents are broad enough that they provide AGN with legal defenses against any competition from generic cyclosporin products.
A Healthy Bet for Investors In 2014
These trends add up to a promising outlook for the future of AGN.
AGN is rapidly proving itself as a company with rock-solid products.
We recommend investors establish a long position in this stock, given its fundamental strengths, impressive performance against competitors, and fluency with patents and the law.
We are also please that other companies and leading hedge funds are accumulating the stock.
We invite readers wishing to read and join the discussion about pharmaceuticals to click the +FOLLOW button above the title of this article.
Disclosure: I have no positions in any stocks mentioned, and no plans to initiate any positions within the next 72 hours. I wrote this article myself, and it expresses my own opinions. I am not receiving compensation for it (other than from Seeking Alpha). I have no business relationship with any company whose stock is mentioned in this article.