Readers of this research blog know that we were too earlier in our support of Sprint Nextel (NYSE:S) stock, but after reporting the latest earnings report we are more convinced than ever that the stock has the most upside potential of all wireless stocks we follow. That belief is partially due to the company's previous lack of direction following the merger with Nextel that brought the stock down to this very low level. However, now we have a much clearer picture of management's vision and we believe they are executing on it well thus far.
Since our last blog on Sprint (Sprint's 4 Catalysts That Will Push the Stock Higher) on June 30th, the stock is up about 15% and it may be just the beginning. At this time, we will see how these four catalysts are progressing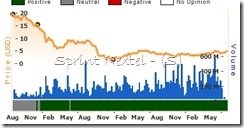 now that Sprint has filed their earnings report.
Pre-Paid Growth: This continues to be the strongest segment of Sprint's business as they added 173,000 net customers in the quarter bringing the total prepaid to 11.2 million. They were also able to retain a greater portion of prepaid business as churn slowed both year-over-year and sequentially. The one blemish on this was prepaid average revenue per user declined to $28 from $34 last year. However, this decline was expected after the acquisition of Virgin Mobile USA whose customers pay less and lowered the average.
Hot New Devices: Attractive smart phones are a key component to driving postpaid growth, and Sprint has high hopes for HTC's EVO 4G. Sales of that device have been strong, but the company admitted they could have been better were it not for supply shortages. We expect Sprint to continue selling the EVO as fast as HTC can make them for a while longer as it is still the only 4G phone on the market today. Sprint is also gaining traction offering phones such as the Blackberry Curve, which is available on other networks, but Sprint offers it with cheaper monthly plan costs.
Reversing Churn: Sprint continues to take steps in the right direction in regards to retaining customers also known in the industry as churn. The company actually added net positive new customers in the quarter, a first in three years. Sprint grew postpaid wireless subscribers by 111,000 in the quarter, which improved the year-over-year losses to just 228,000 versus nearly a million in the quarter a year ago. We already mentioned the improvement in churn for the pre-paid business but it is the postpaid that is most exciting for future financial results. Churn is certainly trending in the right direction, which is encouraging as the postpaid business is so saturated that the major carriers are fighting over each other's customers and Sprint is at least starting to show gains.
4G: There was not really anything we found particularly interesting when it comes to the quarterly report and 4G, aside from the fact that they do not plan to budge on their ultra-cheap unlimited plans even as the EVO uses as much as 3.5x as much data. Sprint is finally starting to reap the benefits of the billions of dollars they have invested into Clearwire (CLWR), and they appear content to stay the course on building out the faster network.
Overall the company reported an adjusted quarterly loss of 15 cents per share, which beat analysts' estimates by 4 cents. Operating revenue fell by about 1% to $8.025 billion which narrowly exceeded analysts calling for $8.02 billion. So far on Wednesday morning, Sprint is trading about 2% higher and was the second most actively traded stock by volume. The four catalysts we wrote about a month ago all appear to be intact and poised to drive improvement at Sprint. Of course, we will continue to monitor Sprint going forward, but we would advocate buying as the long awaited turnaround appears to be well underway.