How a Short Update Becomes a Long Commentary
While intending to give a brief report on BlackBerry (NASDAQ:BBRY) short interest as of Friday's market close in an edition called Demystified 2.1, a discussion following the release of my latest article makes it impossible for me to write anything less than yet another detailed disclosure on things that are not generally known. Hence, welcome to Demystified 3.
First, The Short Update
Friday's NASDAQ data shows short interest continues to be range bound in the 100 million area. The most current report is based on the April 15th settlement date. Short interest is 102,472,527 and the days to cover is 7.1. Here is what we can gather:
Further to the above, technical analysts may also want to note that BlackBerry is now oversold and poised for a rebound. It is rare for a publicly traded technology stock to move down less than the NASDAQ on a down day, up slightly more on an up day, and retain a share price range bound for close to 3 weeks.
Data from comScore (NASDAQ:SCOR) and Pals Are of Limited Value
Web analytics, at most, are only good for evaluating consumer traffic. Most consumers are not savvy about how their data is collected and cannot effectively fight an invasion into their privacy. This is not true of enterprises. Web analytics are completely unreliable for judging enterprise activities. To gather intelligence, companies like comScore and Alexa may employ a number of methods which are blocked or rendered useless by IT departments. Taking a closer look:
Also, considering that companies like comScore and Alexa install software on a user's computer to track their behavior and IT frequently locks regular employees from installing anything, the value of web analytics is more doubtful than ever. My research shows:
How can the study of individuals who do not value their privacy be used to draw a conclusion on how others behave? How can 0.11% of the world be considered a statistically large sample size?
As for the other big player in the web analytics space, Alexa, it is classified as trackware by Symantec and adware by McAfee. It is voluntarily installed by people who want to use it to make searches, and the validity of their data is also questionable as I do not see businesses as willing participants.
The 800 Pound Gorilla in a Room Full of Ants
BlackBerry's enterprise software is poorly understood by the public. EMM and MDM by itself is a topic that can get quite unwieldy to discuss. In a nutshell, EMM is the umbrella product and MDM is just one of many sub-products. Over at Berkley Technical Services, they provide an excellent detailed overview of the entire field if one is interested in deciphering the jargon.
Personally, what I find to be an infinitely more startling and interesting subject to get into surrounds all the information readily available from Google's Play Store. If we stick with the well-known IDC statistic that 81% of the world is on Android, then the fate of BlackBerry and other EMM providers on the Android platform is very important to monitor. Below is a table detailing various companies in this field. All products are grouped by company and the key product is highlighted. Ratings, the total number of reviews, the total number of installs (downloads), and the last time each company updated their offering is also provided: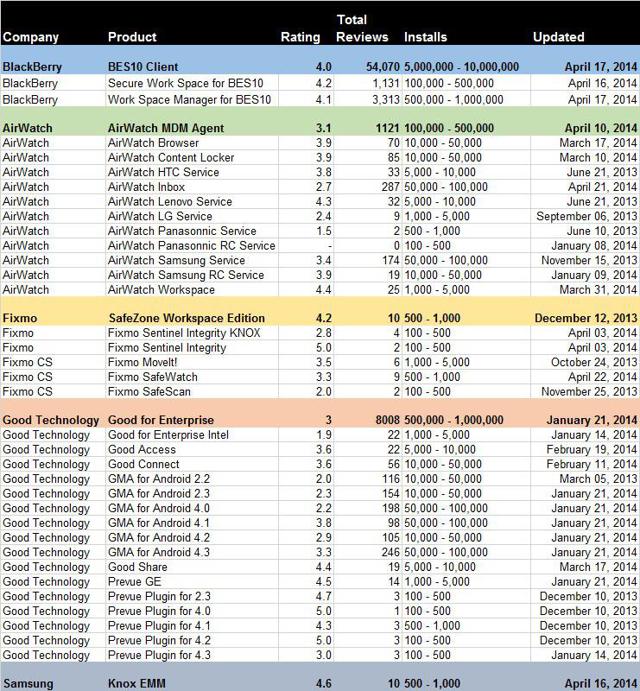 Looking over the data, the following conclusions can be made:
Overall, I was very satisfied with having gone through the process of researching the players in EMM and MDM. What the mainstream media could not tell me, Google paved the way to greater knowledge.
How Samsung Knox Adds Headaches and Costs to IT
Back in February of last year, Samsung announced that they would launch Knox to compete with BlackBerry in BYOD. Information now supports the conclusion that it was hype. A more truthful announcement should have said Samsung is announcing Knox to support some Samsung devices. Galen Gruman's article, The Truth About Samsung Knox for Android Security is very telling. Though it was published in November of last year, my visit to the Samsung Knox page reveals that full support for all Samsung devices is not yet available 5 months after the article's publishing. And it is actually now well over a year since the launch announcement. Vaporware? That just might be the way to describe it.
Promises and availability issues aside, companies are expected to pay $43.20 per year per device for Knox. They are also expected to pick an EMM or MDM to work with, in addition to working with Samsung. Knox is like BlackBerry Balance, meant to separate work and personal information. For your Samsung phone to do more, you need to also go with one of their partners. Even without thinking about supporting the iPhones on the network, the IT professional is already seeing their workload multiply. If anything goes wrong, as part of their troubleshooting, they have to consider Samsung Knox and the EMM/ MDM. Running circles calling the tech support of two largely unrelated parties is not going to be fun. Besides which, if the Samsung phones are on Knox, what of the iPhones and BlackBerries on the network? More headaches and things to think about.
Below is a look at Samsung's pricing. The "You will need" section can be a deal breaker to a company looking forward to true BYOD: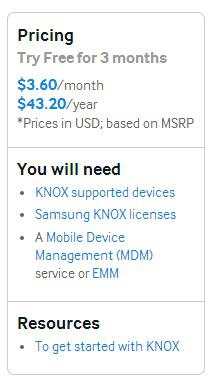 How BlackBerry Wins on BYOD
In contrast to competitors, BlackBerry's BES10 is an offering with all the details laid out nicely on one page: what you see is what you get.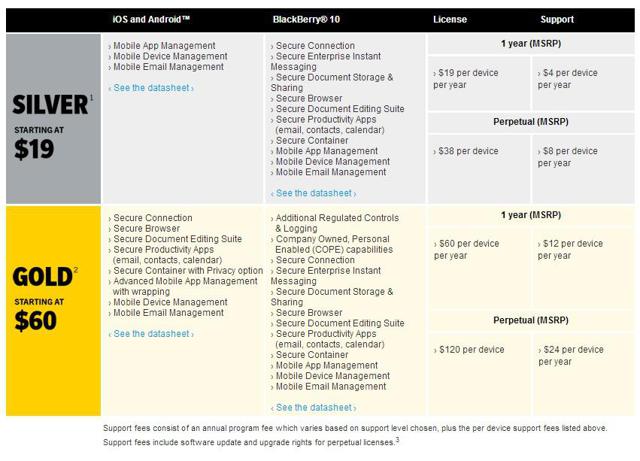 Given BlackBerry's pricing strategy and service offerings, the stress is not put on the IT department to gather all the information about the various vendors and try to describe what each will and will not offer to management to get budget approval for services. Samsung knows this is very likely to happen and has, in its infinite wisdom, tried to make the process easier by building a webpage that allows one to compare the service offerings from 3 MDMs at a time. Samsung's alternative is an in-house EMM, and that link points to a page describing a service that is not yet available. If you scroll down, you will see the words, "Coming Soon." It all becomes as complex as an executive search and hire: the IT department needs to go out and do that much more work; and then they have to answer questions from management and accounting. The decision makers want security, privacy, and peace of mind but while trying to decide if they will approve of a purchase, they will grill the IT people. Also of note is the fact that IT staff at small and large firms sometimes have to agree to be on call. If that person is able to influence the decision in such a way that they can reduce the number of calls they get in the middle of the night, they certainly will. BlackBerry is tested. The competition is all fresh to the field.
Disclosure: I am long BBRY. I wrote this article myself, and it expresses my own opinions. I am not receiving compensation for it (other than from Seeking Alpha). I have no business relationship with any company whose stock is mentioned in this article.