Facebook (NASDAQ:FB) is proving its status as a well-managed corporation with a bright future. (That Facebook had a controversial, complex IPO is a matter of public record. Facebook faced unprecedented challenges during its birth as a publicly held company.) While recognizing the demands of the public, Facebook had to chisel out a course that maintained autonomy.
Proving Critics Wrong
As Facebook continually refines its business model, the social media giant is repeatedly proving critics wrong.
Critically, Facebook has created an ad revenue machine that shows no sign of slowing. Despite some prominent counterexamples, most people are trusting enough to share personal details with Facebook. With so much intelligence on hand, it is no wonder FB has achieved amazing new click-through levels. According to the analysts at Adobe, FB's click-through rate for Adobe clients skyrocketed by 160 percent in the past 12 months. One can only explain this dynamism in terms of Facebook's world-class team of data gatherers and analysts.
At the same time, there's no doubt that broader cultural trends are working wonders for Facebook's earnings. The spread of mobile devices can only accelerate the evolution of FB's ad business. In Facebook's last earnings report, it was revealed that the company's revenue had grown by 76 percent. Since the majority of FB advertising is viewed on smartphones and tablets, FB's ad business has the potential to drive the company's growth for years.
Furthermore, FB won't long have to rely on users of its own app to click on ads. At the end of April, FB is rolling out a brand new ad network with much potential. With this app, FB's game-changing network ads will start appearing on a host of other apps.
Ahead of the Pack
Many, including us, were concerned that Facebook had over-extended itself with the enormous acquisitions of WhatsApp and Oculus-a combined, approximate $21
billion. Of course, FB's imaginative acquisitions also play into the long-term health of the company. WhatsApp recently added 500 million active users to Facebook's cache.
Facebook is also beating out competitors, such as Google (GOOG, GOOGL) with mobile ad revenue profits-gradually appropriating market share from these giants.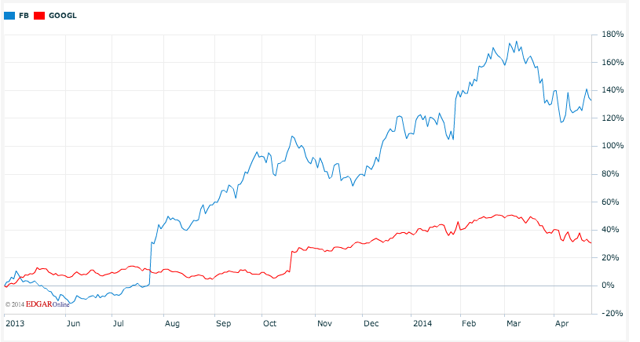 (Nasdaq.com)
A Workhorse Stock, Investors' Future
With earnings right where they need to be and numerous positive trends in play, FB is poised to become a workhorse stock for the investor of the future.
Facebook is mobilizing the many talents in its camp to solidify its gains so far. It is increasingly useless to try to fit Facebook's story into the mold of the flash-in-the-pan success. Unlike companies like Groupon and Myspace, Facebook has the proven ability to refashion familiar elements into a lasting business model.
We are optimistic on FB stock in 2014--particularly as the company eclipses its competitors--and suggest other investors be so, as well.
We invite readers wishing to read and join the discussion about Facebook to click the +FOLLOW button above the title of this article.
Disclosure: I have no positions in any stocks mentioned, and no plans to initiate any positions within the next 72 hours. I wrote this article myself, and it expresses my own opinions. I am not receiving compensation for it (other than from Seeking Alpha). I have no business relationship with any company whose stock is mentioned in this article.