Chipotle Mexican Grill's (NYSE:CMG) share value has hiked by 52% in one year. The market has behaved this way over the prospects of the company having outgrown its rivals. With more and more news and research conducted regarding the damaging impact of genetically modified ingredients and obesity caused by big restaurant franchises, small businesses that have chosen the healthier side of the food business have seen their revenues and earnings grow.
CMG released its first quarter results on April 17th and investors had some hale and hearty results. In this article, I will take you through a brief look at the company's performance. We will then see what up growth CMG offers for those who wish to include the company in their portfolio.
First Quarter

Source: Earnings Release
CMG's revenues grew 24.4% to $904 million in its last period driven by an increase in same store sales of 13.4% and from the opening of 44 new restaurants. Comparable sales grew because of higher traffic and by a smaller proportion through an increase in average check received by clients.
Higher commodity costs driven by inflationary pressures on beef, avocados, and cheese prices increased the total food expense for CMG, which as a percentage of sales grew 150 bps to 34.5%. These costs then offset favorable sales leverage in labor and occupancy leading to a 40 bps decline in the restaurant operating margin that equaled 45.9%.
General and administrative costs rose 130 bps to 7.4% of revenue due to higher non-cash, non-economic stock compensation expense, and from some higher litigation costs. This produced diluted earnings per share of $2.64, reflecting an increase of 7.8% from the same period a year ago.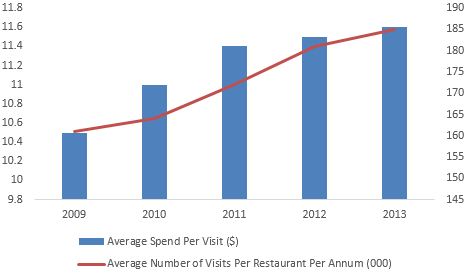 Source: Trefis
The company's quarter justified consumers' preference for healthier choices. This was seen as comparable sales grew and can be confirmed with the higher number of visits per restaurant observed together with bigger pay check over the past several years (see graph above). Profits that didn't improve as much as the top line should continue to improve in the future because CMG has decided it will raise menu prices company wide for the first time in three years. The action will be taken in the current quarter by increasing the rates between mid-single digits. Raising prices may not interfere with demand as the company's marketing campaign will allow buyers to be aware of the quality being offered and make them run a cost-benefit analysis of what they will get in return.
Expansion & Improvement of Products
The company recently announced its plans to continue the expansion of Sofritas, the vegan tofu offered for non-meat lovers. The product has been so successful that it now accounts for 4% of CMG's entrée product mix in the 1000 restaurants it is presently served in. Moreover, it has been so widely accepted by meat lovers that they account for nearly half of its sales. The company expects that the product will be served at the 1600 plus restaurants it caters by the end of this year.
While this is just a small part of the top line there are other improvements that continue to make CMG more prominent in the eyes of the health conscious. CMG is on track to becoming completely non-GMO. It has gone to such an extent that last year it became the first local restaurant chain to voluntarily disclose GMOs in ingredients and find non-GMO replacements.
Today, it has eliminated practically all of its GMO ingredients. The company claims that its corn and flour tortillas are the only foods now served that are made using ingredients that contain GMOs but that it is testing new organic recipes. This endeavor combined with marketing, such as the Farmed and Dangerous 4 episode series launched on Hulu, designed to encourage people to be inquisitive about the source of their food means that the brand is strong enough to attract consumers and will be well established by the time large franchises choose to offer better alternatives.
International Arena Is Still Untapped
Even if CMG becomes saturated within the local market there is the option of international expansion. The company also runs ShopHouse, a fast-casual attempt at Southeast Asian food and Pizzeria Locale which focuses on pizzas. CMG recently opened its third restaurant in Paris and now has 10 restaurants in Europe including six in London and one in Frankfurt. The backing of successful Mexican cuisine and the ability to post double digit growth over the past several periods mean that in total the three brands could be used to fund growth and investors profits sponsored by tested experience.
Bottom Line
CMG has already proven its ability to deliver returns. It has experienced revenue and net income growth above its peers at three year averages of 20.5% and 22.3% respectively. At the same time, chains like McDonald's (NYSE:MCD) have found it hard to bring in customers. With stronger marketing and this year's plan to become fully Non-GMO along with higher prices, CMG may continue providing the returns it has done in the past. Given the above reasons, I believe CMG remains a good investment. Therefore, I recommend buying the stock.
Disclosure: I have no positions in any stocks mentioned, and no plans to initiate any positions within the next 72 hours. I wrote this article myself, and it expresses my own opinions. I am not receiving compensation for it (other than from Seeking Alpha). I have no business relationship with any company whose stock is mentioned in this article.