In April of 2014, Ford Motor Company (NYSE:F) announced its intention to find a new CEO to replace Alan Mulally, who has held the position since 2006. The news gave the investment community pause, wondering why the company feels a need to change the components of its winning strategy at this time.
The Mulally Years
Ford had a decade of bad sales, shadowing the company when current CEO Alan Mulally stepped into the leadership role. Mulally had lengthy experience in the aeronautical industry, having started with Boeing right out of college. Allen Mulally came to Ford during the late 2000s when the recession had thrown auto sales, as well as many other industries, into the doldrums. Between 2006 and 2008, Ford lost $30.1 billion.
As part of the company's vision for the future, "The Way Forward," Mulally instituted strict cost-cutting measures and even suspended dividends to shareholders. Ford then began regaining market share and avoided the need for government bailout that GM (NYSE:GM) and other car companies were forced to accept to avoid bankruptcy in 2008. Under Mulally's leadership, Ford posted $42.3 billion in earnings from 2009 to 2013.
Changing of the Guard
Mulally has stated he would be willing to stay with the company through the end of 2014. However, news accounts indicate that Ford is ready to make the jump to a new CEO in coming months.
Mark Fields, Ford's current chief operating officer, is being named as the most likely candidate for leadership of the company. As former CEO at Mazda in 2000, Fields presided over the turnaround of that company. As COO of Ford, Fields has also worked alongside Mulally, which promises to provide a smooth transition for the company, as well as continuity for its current strategy that is well under way. Field gained a reputation as being Mulally's "truth-teller," willing to give bad news to the boss when needed. He is likely to understand that value of that clear-sightedness from others as he takes the reins of the company.
Company Outlook - The Way Forward for Ford Investors
Naming Mark Fields as candidate as CEO indicates that Ford is confident about its current strategy to keep the company competitive in the rapidly changing marketplace.
The company's emphasis on alternative energy vehicles has made it one of the leaders in the industry, as well, in a time of increasing demand for these efficient products. See our previous articles on Nissan and Tesla for additional information.
Its reliance on strict controls and forward-thinking designs is likely to keep the company in the foreground for some time to come, particularly while its rival General Motors takes time to regain its footing after a massive recall, due to faulty ignition switches, and ongoing litigation (see chart below).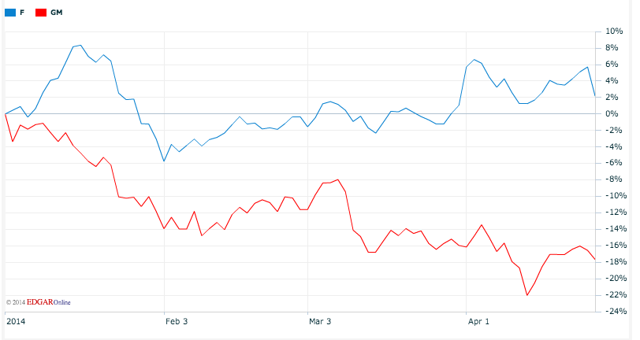 Click to enlarge
(Nasdaq.com)
We recommend current shareholders continue to be long F in 2014, despite the impending leadership change.
If you are interested in reading more about thee automotive industry, please click the Follow tab above this article.
Disclosure: I have no positions in any stocks mentioned, and no plans to initiate any positions within the next 72 hours. I wrote this article myself, and it expresses my own opinions. I am not receiving compensation for it (other than from Seeking Alpha). I have no business relationship with any company whose stock is mentioned in this article.