Phase III SYNERGY Trial in First Line Metastatic Prostate Cancer Fails, Now What?
OncoGenex Pharmaceuticals (NASDAQ:OGXI) today announced results from the Phase III SYNERGY trial. Top-line survival results indicate that the addition of custirsen to standard first-line docetaxel/prednisone therapy did not meet the primary endpoint of a statistically significant improvement in overall survival in men with metastatic castrate-resistant prostate cancer (CRPC), compared to docetaxel/prednisone alone (median survival 23.4 months vs. 22.2 months, respectively; hazard ratio 0.93 and one-sided p value 0.207). The adverse events observed were similar to custirsen's known adverse event profile.
Clearly, this was not the expected outcome, Oncogenex's market cap has been cut by more than -58% at the time of this writing. No new or unexpected adverse events were reported.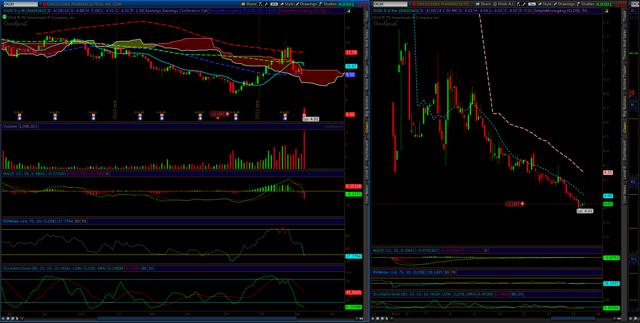 This increased benefit in the control arm is suspected to be due to the fact that 3 potent new agents have been approved since the SYNERGY trial began in 2010 (Xtandi and Zytiga). And in conjunction with the fact that within the SYNERGY trial's inclusion criteria was a requirement that patients "must be willing to continue primary androgen suppression with gonadotropin-releasing hormone (GnRH) analogues (either agonists or antagonists) throughout the study, unless treated with bilateral orchiectomy." Based on this it is likely to be found retrospectively that a large proportion of patients in the control arm were treated with Xtandi or Zytiga, which are very efficacious agents that incrementally increased the bar.

We would note that Zytiga did not meet statistical significance for overall survival, but did with radiographic progression free survival (see tables and Kaplan-Meier curves below). The median time to initiation of cytotoxic chemotherapy was 25.2 months for patients receiving ZYTIGA and 16.8 months for patients receiving placebo (HR=0.580; 95% CI: [0.487, 0.691], p<0.0001).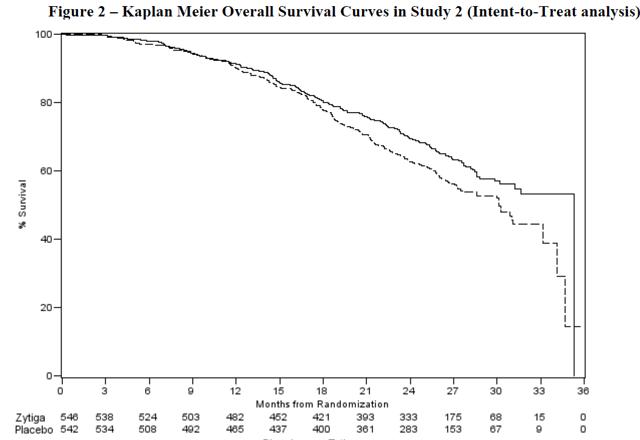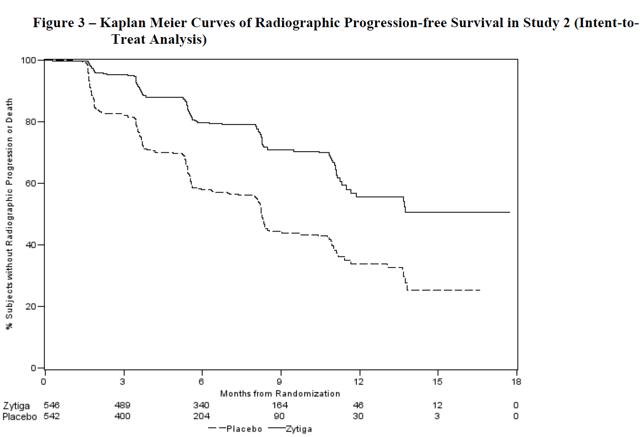 It is possible that a higher proportion of patients in the control arm received Zytiga or Xtandi prior to custirsen in the SYNERGY trial. Ideally, this would be normalized between the treatment group and control groups by having an equal number of Xtandi and Zytiga patients in each group. Xtandi's Phase III trial in second-line therapy was most similar to the SYNERGY trial in design and primary outcome definition (results in table below).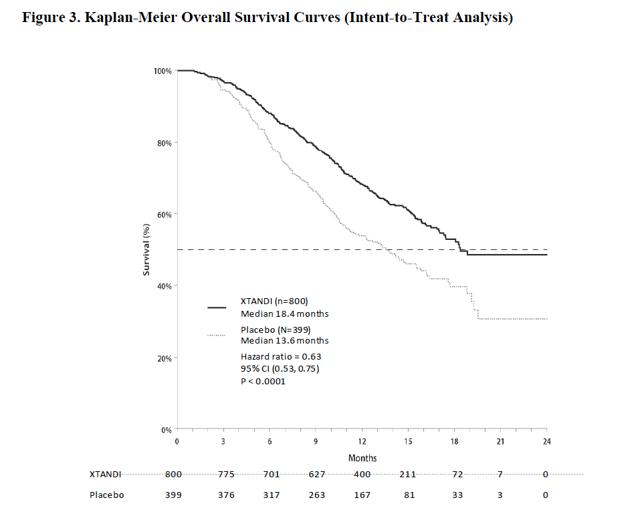 The SYNERGY trial began enrollment prior to approval of both these agents. Secondary analyses have not been completed for the SYNERGY trial and it will be important to determine if there is a progression free survival benefit seen, which would reassert some confidence in the first-line setting, and custirsen's commercial viability in other indications.
Based on the proposed mechanism of custirsen, enhancing chemosensitivity through the genomic knockdown of Clusterin expression, a well-established mechanism of treatment resistance, thereby reducing tumor cell survivability through cytotoxic chemotherapy, it is possible that in the AFFINITY trial examining custirsen in the second-line metastatic castrate resistance prostate cancer setting could have a more favorable outcome on the biological basis that patients in this setting are heavily pretreated with chemotherapy and will have significantly higher levels of Clusterin conferring more chemo-resistance.
This mechanistically favors a better outcome in the second-line setting in the AFFINITY trial, although our concerns remain that these patients will also have likely been pretreated with Xtandi or Zytiga, which may lead to the patient's tumor taking on a different molecular phenotype through an unknown mechanism that renders Clusterin pathway less relevant for improving outcomes.
One analyst asked about Biomarker collection for analyses, but management only conveyed that serum Clusterin levels were measured at different time points throughout the trial. While Clusterin may be measurable in the serum, it is not as indicative as intra-tumoral measurement would be; of course there are many barriers to being able to accomplish this on a wide scale. According to management, lower serum Clusterin levels do correlate with clinical outcomes. But pending full analyses this assertion may call into question the durability of this hypothesis.
Still, it may be too early to write off custirsen and we would exercise patience until the first interim futility analyses of the Phase III ENSPIRIT trial with custirsen in NSCLC or full analyses of the SYNERGY trial are released in September 2014 (tentatively). If secondary analyses do show positive signs with progression free survival, or subset analyses demonstrate that certain segments of the patients based on Clusterin expression did derive survival benefit, this would be favorable, and we would remain long. Similarly, if the ESPIRIT trial in NSCLC passes the interim futility analysis, this would reassert biological rationale of targeting Clusterin and shares could see meaningful upside from current levels. Also, Phase II apatorsen data in advanced bladder cancer will read out in 2H14 as well, emphasizing that these two compounds have distinct mechanisms of action.
We anticipate a full breakdown of the (GnRH) analogues used in both study groups in the SYNERGY trial, but as mentioned previously it will only be elucidated after full analyses are released at a future medical conference in 2H14, management indicated they would like to be able to finish analytics to present at the EUROPEAN SOCIETY FOR MEDICAL ONCOLOGY (ESMO) September 26-September 30, 2014.
Conclusions:
Oncogenex is trading at <2x cash, with 1 oncology asset (custirsen) in Phase III trials for both first/second line metastatic castrate resistant prostate cancer and second line non-small cell lung cancer (NSCLC). Apatorsen, targeting Hsp27, is being studied in at leat 7 Phase II trials in advanced bladder cancer, prostate cancer, NSCLC, and metastatic pancreatic cancer. Altogether, Oncogenex has multiple shots on goal, across tumor types with 2 late stage assets. Given today's 61% decline, Oncogenex' sports a market cap of $57M, zero debt, and $39M in cash or $2.67 per share or 31% downside to 1x cash. Clearly, sentiment in the stock has significantly discounted the potential of these late stage assets effectively turning Oncogenex into a call option. Shares could regain momentum pending interim futility analyses in NSCLC with custirsen and/or full analyses of the SYNERGY trial showing a benefit in progression free survival. Phase II apatorsen data in advanced bladder cancer will read out in 2H14 as well, which could reinvigorate its shares later this year. After today's sell-off the risk-reward from here is to the upside.
While there are no rumors on the Street or evidence elsewhere, a well-capitalized early/mid-stage biotech firm with an appetite for risk could pick up Oncogenex at a 100-200% premium for only ~$120-$170M gaining access to a broad late-stage oncology pipeline.
Conference Call Highlights:
Topline indicated custirsen plus Docetaxel and prednisone did not improve overall survival.
Secondary analyses have not been completed yet, progression free survival at 140 days and day 225, PSA at 36 months. Will have to do significant analyses to identify which patients will be most likely to benefit from custirsen.
No new adverse events.
Unexpected results considering the large body of evidence in clinical and preclinical data to suppress custirsen levels.
Phase I proof of concept showed dose dependent knockdown >90% of

Clusterin expression in normal and tumor tissue.

Phase II randomized similarly designed to Phase III SYNERGY trial showed an overall survival advantage, given inconsistencies between Phase II and Phase III results, OGXI and TEVA reviewing next steps, need to evaluate how 3 new therapies approved since custirsen started clinical development impacted the outcome in SYNERGY, if any.
Will continue to pursue this approach, targeting treatment resistant mechanisms with the ongoing AFFINITY trial within second line mCRPC, began in August 2012, expect to enroll 630 patients by end of 2014, FDA granted fast track designation with AFFINITY trial.

Clusterin is increased in expression from chemo and may have more benefit in more heavily pre-treated patients.

Phase III ENSPIRIT trial with locally advanced or metastatic NSCLC, progressing after first line therapy randomized to receive standard of care docetaxel or with standard of care and custirsen. Expect first interim futility data in 2H14.
Apatorsen, targeting Heat Shock Protein 27(HSP27), contributes to cancer cell survival and migration. More aggressive tumors produce more Hsp27. 6 ongoing investigator initiated trials, numerous previous preclinical trials have shown strong activity.
Being evaluated in 7 Phase II trials across solid tumors bladder, lung, pancreatic, and prostate.
Management concluded the update saying they have sufficient funding through 1Q15, with several milestones until then. The BOREALIS-1 Phase II trial in advanced bladder cancer with apatorsen. Complete Affinity enrollment by end of 2014, and finally an interim futility analysis in the AFFINITY trial.
Q&A:
William Blair:
How did this result impact in your mind the activity in custirsen in other indications, how did it affect your confidence?
Doesn't affect confidence with other programs, it's common that trials in one indication fail, doesn't necessarily predict future efficacy in other cancers.
The evidence suggests that more advanced pretreated patients have higher

Clusterin expression, so we think it could have more efficacy in the sicker second-line population.
Apatorsen is an entire different mechanism and biology. SYNERGY results do not translate into apatorsen programs.
Howard Lang:
What biomarker data information has been collected?
Serum Clusterin was measured throughout trial, haven't even seen that data yet. Clusterin are most important intratumoral levels, it is secreted by the tumor and can be measured via serum measurements, there has been data that showed lower serum

Clusterin levels correlate with outcomes.
AFFINITY vs. SYNERGY trial, in SYNERGY trial the change in the treatment landscape in prostate cancer has utilization of Xtandi and Zytiga being used earlier and potentially after docetaxel, what this means for the future AFFINITY trial is that it will provide a much cleaner read on efficacy and survival not clouded by post study therapies.
Combination strategies across several tumor types, to identify which patient groups respond best, in the case of SYNERGY where patients have already developed resistance, versus AFFINITY as second line should have, be more heavily pretreated and thus higher

Clusterin levels and more resistance.
The ENSPIRE trial, is in the second line NSCLC setting so these patients will be more heavily pretreated, and the tumor types express high levels of

Clusterin and others that lead to resistance, more so than the front line setting.
Stifel:
Commercial insight in second line chemo vs. first line opportunity?
Can't give many specifics, 300,000 men are dying annually from mCRPC, nothing is really available, but the market should be a robust one.
Venue for a presentation for full-line data?
Not at ASCO, as for other conferences, needs time to do analytics, and will try and get into next available conference, ESMO in the Fall possible.
How many additional apatorsen studies readout in 2015?
First is Borealis 1, 2H14, then roughly a year or so later, approximately 2H2015/1H2016.
Wedbush:
Can you discuss the Median overall survival for Clusterin in Phase II versus Phase III?
Phase III control arm 23.7 months & 16.9 months in Phase II.
Phase III 24.4 vs. Phase II 24.2.
Newer treatments approved increased median survival times it looks like.
Disclosure: I am long OGXI. I wrote this article myself, and it expresses my own opinions. I am not receiving compensation for it (other than from Seeking Alpha). I have no business relationship with any company whose stock is mentioned in this article.
Additional disclosure: Long through short options strategies