There's a saying about stocks like those in the 3-D printing cohort, "You lose your hat and your lunch, and at the end of the ride you're right back where you started".
That is if you are lucky. If you bought a 3-D printing firm like Stratasys (NASDAQ:SSYS) at the peak of the sector's craze, you may be down more than 35%.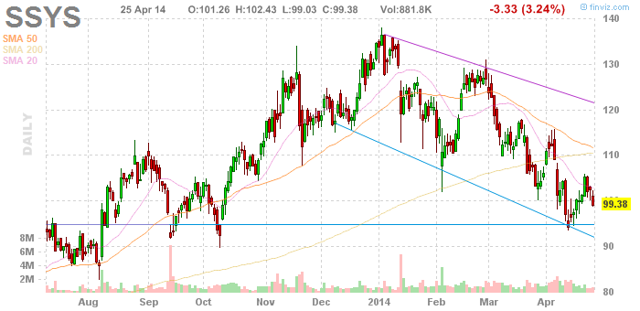 If you bought at the peak for a company like 3D Systems (NYSE:DDD), you could be facing losses in the 50% range.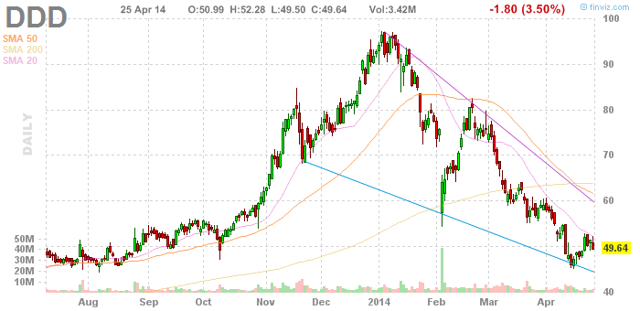 The question now facing everyone in this much-hyped sector is what's next? Is it oversold as some respected analysts say? Or is it a sell or even a short?
Printing A Bull Or A Bear
There have been some excellent articles on Seeking Alpha about 3-D printing but many are quite technical and assume a lot of prior knowledge. Authors like Andreas Hopf bring a lot to the table, but my goal here is to make things very simple.
I want newcomers to the sector to have a clear view of the 3-D landscape before taking a position in stocks like SSYS, DDD ExOne (XONE) and Voxeljet AG (VJET).
Let's begin with the big picture. 3-D printing is billed by some as a revolutionary or disruptive technology for the $10 billion dollar global manufacturing industry. The idea is that you can make almost anything, including human body parts, medical devices, jet engine parts, guns, houses, and even other printers with the right 3-D printer.
The possibilities seem as limitless as human imagination, and in many ways they are. But keep in mind that high-cost 3-D printing has been around for decades as a technology called "rapid prototyping".
One of the mistakes at the heart of overexcitement about 3-D printing is the perception that manufacturers can switch from producing complex products on conventional production lines to printing them out en masse.
That is not the case. As Meg Whitman, CEO of Hewlett Packard (NYSE:HPQ) said in response to a shareholder question, "Have you ever watched a 3-D printer print? It is like watching ice melt." She also noted that the quality of 3-D printed objects isn't as good as it should be.

3-D printing is a long, long way from being a tool of mass production. As far as industrial use is concerned, it is a mostly tool to make prototypes of new parts rapidly. Instead of machining away excess raw material to create a prototype, 3-D printers use an "additive" approach, laying down droplets or layers progressively to grow a new 3-D object.
This is a design tool for industry, not a high production machine, not yet anyway.
How GE Really Benefits From 3-D
When General Electric (NYSE:GE) adopts a new technology, people pay attention. The conglomerate is currently using 3-D printers to manufacture key parts for its next-generation Leap jet engines.
Supporters of 3-D printing stocks say GE is using the technology to build more than 85,000 fuel nozzles for its powerful new engines. While that sounds impressive, it's not strictly accurate.
3-D printing is used to make a better prototype for GE, not to make 85,000 sophisticated individual parts.
A recent Bloomberg article explained the technology's benefits and limitations very clearly:
"Usually the nozzles are assembled from 20 different parts… 3-D printing can create the units in one metal piece… The process is more efficient and can be used to create designs (emphasis added) that can't be made using traditional techniques". GE says. "The finished product is stronger and lighter than those made on the assembly line and can withstand the extreme temperatures (up to 2,400F) inside an engine."
High-end 3-D printers can make metal devices, but GE explains that current printers just aren't fast and efficient enough for mass production of sophisticated finished parts.
The Voxeljet Problem
Germany-based Voxeljet makes high-cost industrial 3-D printers of the type that GE uses for its jet engine nozzle prototypes. Voxeljet printers target the aerospace, automotive, construction, medical devices and heavy equipment sectors.
As futuristic as that sounds, the reality in terms of share pricing is a little more prosaic.
In last month's earnings report Voxeljet reported revenue of $5.1 million, up 78% from the year-earlier quarter. The company said it lost 23 cents per share, considerably worse than the consensus estimate.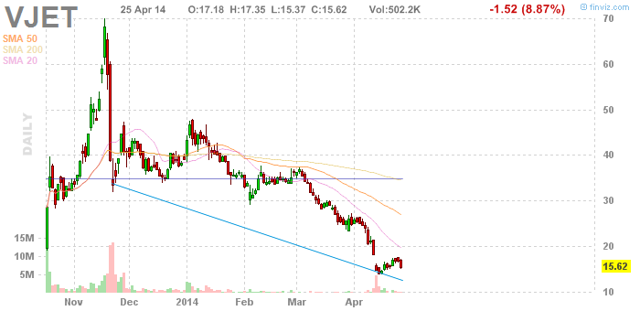 Voxeljet sold all of three 3-D printers in Q4 compared with just one in Q4 2012. It has a backlog of seven printers worth less than six million dollars.
Although Voxeljet enjoyed an explosive IPO last year, the company is now trading below its offering price and is still valued at more than $285 million. Putting even more stress on Voxeljet valuation is an allegation by Investors Business Daily and short-seller Citron research that the company is financing loans to its own customers.
This does not seem like a sustainable valuation or business model.
What About The Mass Market?
One of the other sources of excitement fueling the high valuation of American 3-D printing stocks is the prospect of widespread consumer acceptance as prices fall to more affordable levels.
At the recent Consumer Electronics Show 3D Systems unveiled a dozen new printers, including a sub-$1,000 version of its entry level Cube printer.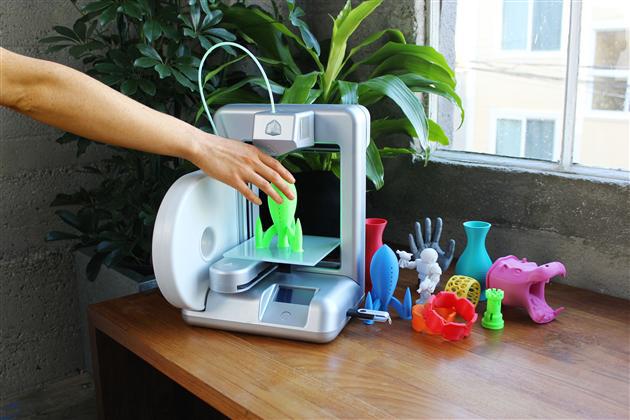 Well, it may seem affordable to some families, but is it worthwhile? As you can see in the demonstration picture above, the Cube appears to be good for making toys, trinkets and possibly resin-based jewelry. For the most part these are things that are squirted out of injection molding machines at a cost of pennies a piece.
What about making some great-looking artistic or industrial designs? It has been done with some success, but unless you have access to pre-existing designs you will be obliged to install and learn to use some difficult software in order to create or scan something original in three dimensions. Only a truly dedicated designer or hobbyist is likely to take on this challenge and expense in the early years of 3-D printing as a consumer technology.
The Earnings Picture
In the end, stock valuation should be all about earnings and future earnings. But even after their plunge 3-D printing companies in the U.S. remain richly valued.
That's even true of ExOne which saw its shares sell off sharply in late March after announcing terrible quarterly earnings. Printer sales were down 22% year-over-year. Revenue for the full year came in at $40 million, a full $10 million short of what the company had guided for. The company also gave weak guidance for 2014.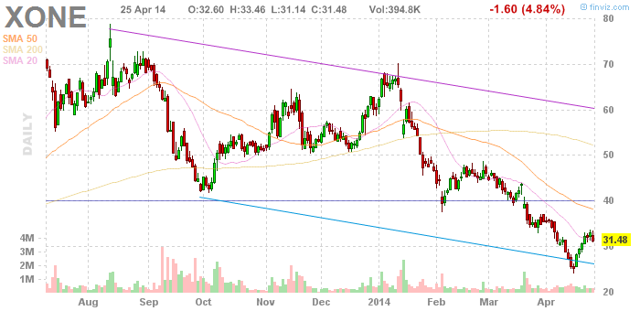 Remarkably, ExOne is still valued above $450 million dollars and it is still getting analyst support. A few days after its dismal earnings report, BB&T Capital upgraded ExOne from Hold to Buy with a price target of $50. Analyst Holden Lewis said investor expectations have "reset", and he noted a more visible path toward growth. He argues:
As investor pessimism has pressured the stock, management optimism has risen with signs its technology is being embraced. We believe this dynamic, where the stock has fallen even as business prospects have improved and earnings expectations have reset, argues for a more favorable rating.
BB&T also rates Stratasys and 3D Systems as a buy. UBS and JP Morgan are also supporters of Stratasys, rating the 3-D printing company a buy. JP argues that "growth prospects for SSYS and the broader 3-D printing/additive manufacturing space remain compelling". The company reports earnings May 9th. Analyst sentiment on 3D Systems is mixed as the company goes into earnings near the end of April.
Are the analysts right? Stratasys has a market cap of almost $5 billion and a Forward P/E multiple of 33.95. 3D Systems has a valuation of more than $5 billion and an even more staggering Forward P/E multiple of 41.13. ExOne has a dizzying Forward P/E multiple of 115.31.
Despite the tumble these stocks have taken, they are very expensive - too expensive for me to recommend.
What About The Newcomers?
As if multi-billion dollar valuations for companies with multi-million dollar revenues wasn't bad enough, there's more potential trouble on the horizon. Hewlett-Packard's Meg Whitman recently suggested that the computing giant could enter the 3-D printing market in June of this year.
CEO Whitman says there will definitely be a big technology announcement in June, and HP's much-anticipated entry into 3-D printing will focus on the business market. To my eyes that seems like a huge competitive threat to existing companies, although some analysts actually see it as a positive for established firms.
According to Forbes, RBC Capital Markets sees Meg Whitman's comments as a potential boon to companies like 3D Systems and Stratasys because it "validates the viability of 3-D printing technology". That makes little sense to me.
What's more, I have seen no analyst take on the even greater threat of a major Chinese or Korean competitor entering the market as well, opening up the possibility of cutthroat pricing in the industry.
Conclusion
I don't mean to throw the baby out with the bathwater in this summary of the 3-D printing scene. My main worry is that ongoing hype even from respected analysts will lead some investors to go long on stocks that have not yet found their bottom.
Without doubt, 3-D printing is going to lead to some great innovations. But keep in mind that it is not fundamentally new technology. Only its applications and consumer-level availability are new.
On the application side, I believe medical technology and organ replacement will be the areas that will generate the most innovation. In this field 3-D printers will be able to create scaffolds that stem cells are able to grow on. Printers have also laid down layers of living cells to generate small organs like two-chambered mouse hearts. The potential here is revolutionary.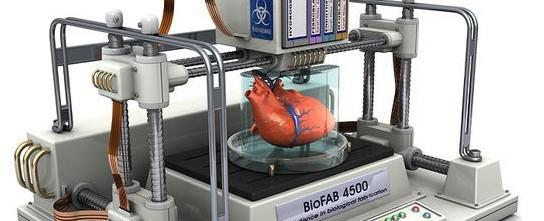 As for availability, low-priced 3-D printers may be adopted enthusiastically by hobbyists and independent inventors, and they are likely to come up with some great ideas. But true mass acceptance will have to wait for even lower prices, faster machines and easier software.
In fact, we have already seen stories about amazing creations from home 3-D printers, but the benefits of these innovations will likely flow to the creators, not to the printer manufacturers.
I would be cautious about shorting these companies because they have already been beaten-down. Making the picture even more complicated, there is currently a lot of investor and analyst hype attempting to give these companies a boost. That ongoing hype could frustrate shorts.
In summary, I do look forward to the exciting creations that will come from 3-D printing but I am not prepared to take a risk on these stocks moving in either direction.
Disclosure: I have no positions in any stocks mentioned, and no plans to initiate any positions within the next 72 hours. I wrote this article myself, and it expresses my own opinions. I am not receiving compensation for it (other than from Seeking Alpha). I have no business relationship with any company whose stock is mentioned in this article.