Are you an ultra-contrarian, risk tolerant, value investor looking to somehow capitalize on the Russia-Ukraine crisis? I may have an idea for you. I've been looking for opportunities in Russian companies in the last few days and I think I've found a solid one in Sberbank (OTCPK:SBRCY).
Credit to Value and Opportunity, Kerrisdale Capital, and Justin Grant, whose articles I have linked and will be referencing throughout.
Sberbank stock is extremely cheap and declined a great deal more than other prominent Russian stocks as a result of the recent headlines. The company has put up phenomenal numbers over the past 5-10 years and has guided to continued high-octane performance. Under-leverage in Russia, strength in oil prices, a strong economic moat through scale, and a strong financial position from a risk management point of view make it reasonable to believe the company will continue to prosper. The company is very well-managed and seemingly shareholder-friendly. Other analysts and investors are in agreement that Sberbank has a lot to offer relative to the current price.
Business Overview
Sberbank is far and away Russia's largest bank, with a retail branch network 10x the size of its nearest competitor, ~45% retail deposit share, ~29% of aggregate banking assets, 34% corporate loan share, 33% retail loan share, and 27% of aggregate banking equity. The company is 50% +1 owned by the Bank of Russia, Russia's Central Bank.
Indicators
Kerrisdale
Sahm Adrangi, who manages $250M at Kerrisdale Capital, took his position in Sberbank late last October. As of Feb 28, Sberbank was still weighted 5% in Kerrisdale's portfolio, its 5th largest position. When his article was published in late October, Sberbank ADRs were trading around $13 and shares on the MICEX were around 105 RUB. Now they are at $8.07 and 69.91 RUB respectively, with the shares down 33% and the ADRs a bit more due to devaluation of the RUB. Obviously the facts have changed a great deal with the Russia-Ukraine crisis having developed since, but I still like the idea that I am now able to buy stock in what I believe to be a solid investment at a much lower price than a top performing hedge fund.
The Chart
In my search for ways to capitalize on Russia-Ukraine, one thing I noticed was that many Russian cos. are very cheap, but have been so for years and have not tanked too extremely on the 2014 news. Take Gazprom (OTCPK:OGZPY) for example. The company is really cheap, but its peak P/E in the last 2 years is a measly 3.8 and it has only dropped 16% in 2014 despite arguably being the most threatened by what's going on. What I'm trying to do with this investment in Russia is identify a stock that fits traditional value investing standards as an attractive long term investment, but also protect myself and set myself up for quick gains ("catalyst") and in turn better annualized returns by getting in on something that has declined a great deal due to the Russia-Ukraine news and that will likely make up much or all of that ground when people get sick of reading about the conflict and/or it is resolved somehow.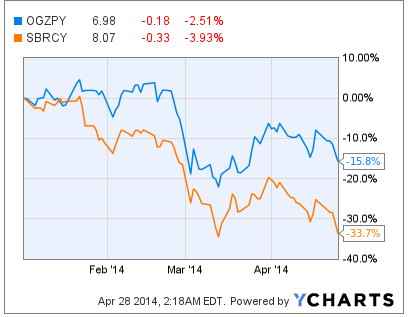 Sberbank has tanked much more severely than other prominent Russian companies and for that, I think it is the best contrarian play of the bunch. A very nice return of about 50% can be caught on the way up if the stock only reverts to its pre-crisis level.
Analysts
Analysts are extremely bullish on Sberbank: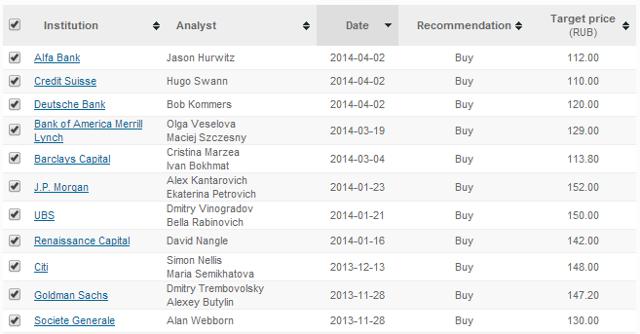 These recommendations are recent and the PTs are plenty high.
Moody's
Moody's issued a press release announcing that it was considering lowering its credit rating on Sberbank, among other Russian banks. The rationale is that:
Sberbank's medium-term financial performance and asset quality trends will be exposed to much weaker economic and financial market conditions, as the investment climate and domestic demand have deteriorated
But the PR goes on to say:
At the same time Moody's acknowledges that Sberbank's financial fundamentals remain robust with a strong profitability profile and risk absorption capacity. Sberbank's short-term refinancing need is limited and its funding base principally relies on customer deposits with a loan-to-deposit ratio of around 100%.
Shareholder-Friendly?
Major concerns investing in any Russian company are the possibility of fraud, poor corporate governance, weak reporting standards, etc. It's a very different investing environment than the U.S.
For that reason I made a point to try to determine whether Sberbank's governance is satisfactory. I'm not entirely convinced, but what I found was reassuring.
Adrangi points out the company's Committee for Minority Shareholders Relations, healthy dividend, and the following which I thought was very insightful:
One cannot understate the importance of Sberbank to Russia's reputation. As a large, liquid, publicly traded state-controlled institution, the treatment of minority shareholders in Sberbank will have enormous repercussions for Russia's future FDI.
The company's CEO and Chairman, Herman Gref, held a powerful position in Putin's cabinet for 8 years and is apparently a close friend of Putin's. The company's investor relations site is top notch. I was particularly impressed that they provide detailed financials going back to 2003 on one page (why can't more companies do this?).
Finally, let's not forget the Russian government's 50% + 1 stake. The government is planning to cut its stake in half in the next few years and acting against minority shareholders risks them getting an unattractive exit price.
Performance
Sberbank has performed excellently. The company's numbers are definitely the best of any bank I've analyzed. Much of the performance has been fueled by inflation in Russia, but even adjusting for inflation, the results are still quite impressive.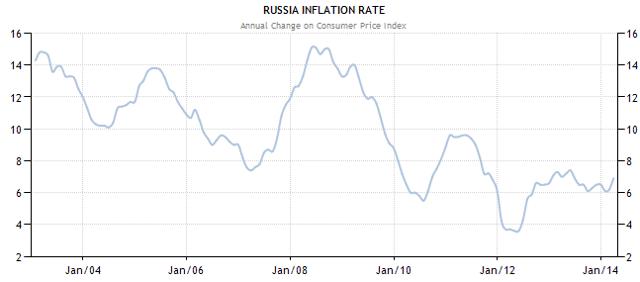 I will not detail everything, only enough to make it clear that the company has put up. All of this was gathered and calculated from the company's aforementioned 11 year financials page.
EPS up 2445% from .66RUB to 16.8RUB over last 10 years or 38% annually
EPS up 273% from 4.5RUB to 16.8RUB over last 5 years or 30% annually
Total deposits up 914% from 1190B RUB to 12064B RUB over last 10 years or 26% annually

Vast majority of funding is from deposits (around 10x deposits/debt) so the company is insensitive to the recent rises in ST interest rates

NPLs/Gross loans has declined every year in the past 4 years from 8.4% in 2009 to 2.9% in 2013
Book value up 1293% over last 10 years from 135B RUB to 1881B RUB or 30% annually
11 year average ROA 2.08%
11 year average ROE 20.16%
2013 year-end Tier 1 capital ratio 10.6%
You get the point. The company has executed on its 5 year strategic plans in the past and the current one contains optimistic goals:

These are a gradual step down from the historical numbers, but still excellent given the much larger starting base.
Valuation
Rather than try to assign Sberbank an appropriate discount valuation right away because of the country risk, I instead valued the company as if it were a U.S. company and then assigned the country risk afterwards.
In the U.S., first-rate banks and insurers with high ROE and strong long term growth and market position typically trade for 10-13x earnings. Financial companies in general (that don't have large amounts of treasury stock to distort BV) typically trade for a P/B multiple equal to about 11x ROE. Sberbank's performance over the last 5-10 years is actually more impressive than any of the U.S. financial companies I've looked at, so I think my fair value estimates are conservative for what Sberbank would trade for if it were a U.S. company.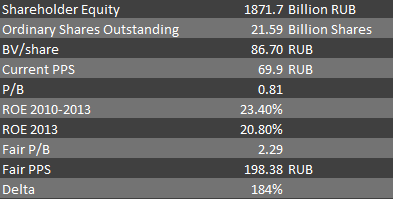 Using the two methods above, I came up with similar upside of almost 200%.
Great, but Sberbank is a Russian company and that won't change. It won't trade at the premium that U.S. stocks trade for and doesn't deserve to. However, even cutting my fair price per share (PPS) target in half for country risk, the stock is still very cheap.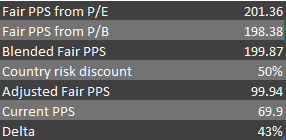 Prospects
Russia has very little debt (both state and private) relative to other countries. Here's some statistics, some of which Adrangi brought in play: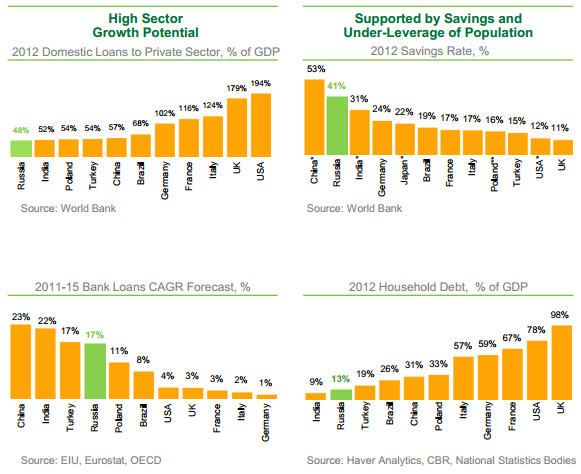 This has two key implications:
There's much more room for Sberbank to penetrate with new loans and deposit growth.
Russia should be able to withstand crazy times, such as a period of low oil prices, by taking on additional leverage if necessary.
As previously mentioned, Sberbank has guided to solid performance in the next few years through 2018. The company is well-positioned with NPLs the lowest they've been as a percentage of gross loans in 4 years, a funding base dominated by deposits that makes the company insensitive to increases in ST rates, and Tier 1 Capital of 10.6%.
The kicker is oil prices and while a large decline would take its toll on the entire Russian economy, oil prices have been increasing pretty consistently for 15 years and again, Russia could lever up in a worst case scenario.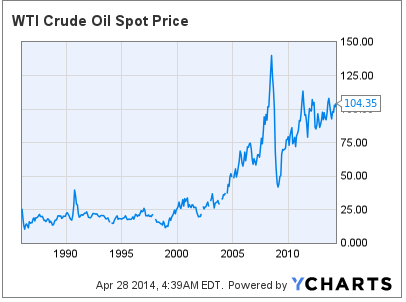 I think Sberbank will do quite well.
Conclusion
The Russia-Ukraine situation has the investment community very negative on Russia, but there are inevitably those who see opportunity in the crisis. For those like me, I offer long Sberbank as my best way to capitalize on the sell-off. While I do plan on buying shares some time this week, it will probably only be a 5% position. I am not comfortable exposing myself any more than that to Russia.
Disclosure: I have no positions in any stocks mentioned, but may initiate a long position in SBRCY over the next 72 hours. I wrote this article myself, and it expresses my own opinions. I am not receiving compensation for it (other than from Seeking Alpha). I have no business relationship with any company whose stock is mentioned in this article.
Editor's Note: This article discusses one or more securities that do not trade on a major U.S. exchange. Please be aware of the risks associated with these stocks.