It's funny, I Googled the words "predictable income" and none of the Top 20 articles featured REITs. Why is that I wondered? Is it because I never wrote an article with the words "Predictable REIT Stocks" in the title?
Well, there's a first time for everything and hopefully this article generates some page views (thanks for reading), but more importantly, I hope it provides investors with some of the most predictable income alternatives on the planet.
It's true that the world is scattered with stocks that pay dividends, as the equity markets provide an attractive opportunity for investors to receive predictable income while retaining the possibility of share price appreciation. A dividend is an important barometer for investors, as it provides certainty about a company's financial well-being. As Josh Peters wrote in "The Ultimate Dividend Playbook":
A company's pattern of dividend payments - it's dividend record - can offer valuable clues to underlying corporate performance, clues just as valuable as those provided by earnings reports and other financial data, and definitely more useful than the conclusions someone might draw from looking at a three-month stock chart.
Dividends are also attractive for investors looking to secure current income. Companies that have a long-standing history of stable dividend payouts would be negatively affected by cutting or omitting dividend distributions. Likewise, these companies would be positively affected by increasing dividend payouts or making additional payouts of the same dividends. Furthermore, companies without a dividend history are generally viewed favorably when they declare new dividends.
Why REITs?
The primary attraction to REIT dividends is the fact that there are no options for companies to pay or not to pay a dividend, since by law, REITs are forced to pay out at least 90% of their otherwise taxable income. The dividends that REIT investors receive out of earnings haven't been reduced by taxes at the corporate level, making REITs tax-efficient conduits for real estate income. Simply said, REITs are forced to do so to retain their REIT status.
Alternatively, non-REITs are less consistent in that companies can decide to pay, sustain, or cut dividends. With the threat of rising rates, unemployment, and the many uncertainties ahead, these non-REIT payers can choose to conserve cash and very possibly cut dividends or at least not increase them. Ben Graham explained the value proposition for paying out dividends in "The Intelligent Investor":
Paying out a dividend does not guarantee great results, but it does improve the return of the typical stock by yanking at least some cash out of the manager's hands before they squander it or squirrel it away.
Another consideration with REITs is that they also have a history of consistently raising their dividends, resulting from cash flow growth that can come organically from rising rents and occupancies, or externally from development and acquisitions. It's much easier to predict the future value of a REIT due to the contractual make-up of the revenue streams.
For example, I wrote an article yesterday on STAG Industrial (NYSE:STAG) and I based my BUY target of $25 per share on STAG's predictable earnings history, its consistent dividend record, and its robust Funds from Operations (or FFO) guidance. Collectively, I was able to predict the most likely price that STAG would climb. Without contractual leases in place, it would be hard (or even impossible) for me to predict the likelihood that STAG would maintain and grow outsized-earnings.
With non-REITs, there is much less predictability with future earnings. For example, I bought a "flyer" (pun intended) a few months back in Air Lease Corporation (NYSE:AL). I did my research, but it was harder for me to forecast the earnings stream for a portfolio of 193 airplanes. This company is not a REIT, so I had an even harder time trying to predict the profitability of the worldwide aircraft firm. Because Air Lease does not have to pay a dividend (it's a measly .30%), there's no discipline by the management team to reward investors. I am happy with this "flyer," though, as Air Lease has climbed from $31.49 to $34.68 (in less than 90 days).
To get a better handle on the REIT vs. non-REIT alternatives, I recently dialed up Brad Case, PhD, Director of Research with NAREIT and he provided me with his thoughts on the value proposition of owning REIT shares:
Over the past 20-plus years, listed equity REITs have provided 30% more dividend income than small-cap value stocks in the Russell 2000V, with 43% less variability. If you invested $10,000 in the FTSE NAREIT All Equity REITs index at the end of 1991, by the end of March 2014 you would have received $21,893 in dividends, an average of $984 per year compared to just $753 from small-cap value stocks.

With listed equity REITs you would never have received less than $148 in dividends in even the worst quarter, whereas with small-cap value stocks that would have happened 31 times. Compared to large-cap stocks the differences are even bigger: $984 in average yearly dividends from listed equity REITs compared to just $487 from stocks in the S&P 500, and 67 quarters in which dividends from large-cap stocks were less than even in the very worst quarter for REITs.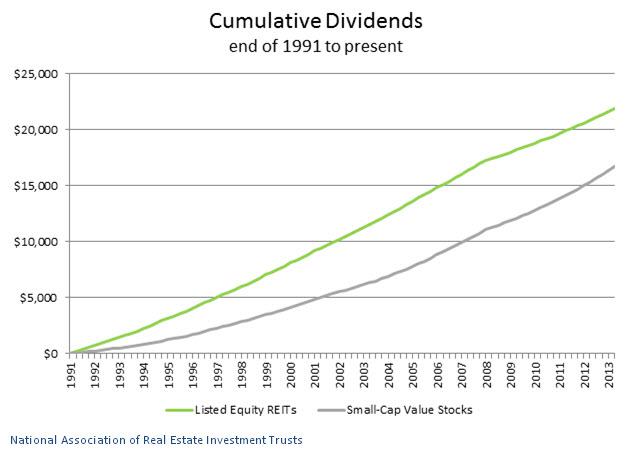 The Power of Predictable REIT Income
The power of predictable dividends is a reflection of the same disciplinary concept that Harvard Professor Michael Jensen described in a research article (Agency Costs of Free Cash Flow, Corporate Finance, and Takeovers) that has been cited over 13,500 times. In the article, Jensen describes the free cash flow hypothesis whereby a company with too much free cash flow would result in internal insufficiency and waste of corporate resources, thus leading to agency costs as a burden of stockholder wealth.
Now, keep in mind, REITs don't have that problem since they are forced to pay out 90% of taxable income in the form of dividends. As Jensen explains:
Payouts to shareholders reduce the resources under managers' control, thereby reducing managers' power, and making it more likely they will incur the monitoring of the capital markets which occurs when the firm must obtain new capital. Financing projects internally avoids this monitoring and the possibility the funds will be unavailable or available only at high explicit prices.
Jensen's free cash flow hypothesis states that when a company has generated an excessive surplus of free cash flow and there are not profitable investment opportunities available, management tends to abuse the free cash flow in hand, resulting in an increase in costs. As Jensen went on to say:
Managers with substantial free cash flow can increase dividends or repurchase stock and thereby pay out current cash that would otherwise be invested in low-return projects or wasted. This leaves managers with control over the use of future free cash flows, but they can promise to pay out future cash flows by announcing a "permanent" increase in the dividend. Such promises are weak because dividends can be reduced in the future. The fact that capital markets punish dividend cuts with large stock price reductions is consistent with the agency of free cash flow.
Clearly companies that are not forced to payout dividends are much more susceptible to abuse, waste, and likely under-performance. So as Brad Case explained (above), REIT returns have systematically performed better than non-REITs. The value proposition for owning predictable REIT income is simple: I like squirreling my own money away! Don't you?
It's Time for Some Tactical Dividend Decisions
I believe now is a great time to take a more tactical approach to your dividend income based upon the premise that REIT prices are moving back up in line with a growing economy. I'm not advocating that investors should "load up the truck" with REIT income, but I do consider a 10% to 20% slice of highly predictable REIT income sound. Remember, a lot of interest rate risk has already been baked into REIT shares, and that has provided a better "margin of safety" for dividend income investors.
Conversely, an income investor should also take advantage of the market opportunity to increase dividend income. An intelligent dividend investor should recognize that now is a terrific time to put money to work, and while REIT prices are down (from the highs over a year ago), fundamentals are strong and the economy is improving. Many REITs are now increasing dividend payouts, and that's the best possible evidence that the security is safe and management has an alignment of interests (with shareholders).
Typically, a company with an established trend of increasing its dividends will raise them again next year and the year after that and the year after that... unless it becomes impossible to do so. It's hard to stop a train!
Yesterday someone asked me to provide a list of 5 REITs that would be good for a first-time REIT investor. After thinking about the question, I decided that the best answer would be to recommend 5 REITs that enjoy an attractive record of dividend predictability. Obviously, the entry price for the shares is also important, but this list of 5 REITs would certainly qualify as durable sources of predictable income.
Obviously, past performance is no guarantee of future success; however, these 5 REITs have certainly demonstrated that they can take a financial punch and keep dishing out income. Take a look at the chart below and you will see that Ventas, Inc. (NYSE:VTR), Realty Income (NYSE:O), W.P. Carey (NYSE:WPC), HCP, Inc. (NYSE:HCP), and Omega Healthcare Investors (NYSE:OHI) are all reliable REITs:

These 5 REITs have all increased their annual dividends and they are continuing to provide solid patterns of predictability:

A few months ago, I introduced a new portfolio called the Disciplined and Durable Dividend Portfolio (The "3D" REIT Portfolio). The list of REITs (in my new portfolio) include a few Dividend Aristocrats (an S&P rating system whereby companies must have at least 20 years of paid and increased dividends), Dividend Champions (as defined by DRiP Resource Center as a company that has raised its dividends for at least 25 consecutive years), Dividend Contenders (as defined by DRiP Resource Center as a company that has raised its dividends for 10-24 straight years), and REITs that maintained dividends (never cut). In just 100 days, my "3D" portfolio has returned over 12.4%.

There's no way that I can predict the future. I'm just not good enough to time market movements and besides that, I'm not looking for instant gratification. However, by investing in REITs (and paying close attention to profit margins or FFO), I can intelligently forecast profitability and the likelihood of future dividend payments.
One of the best ways to hedge against inflation is to focus on REITs that are likely to boost their dividends on a regular basis. I heard someone say that they "don't always do much predicting, unless they get a really strong feeling about it." That's why I wrote this article: I wanted to tell you that it's important to own REITs with predictable dividends. Good luck.
For more information on the 5 REITs mentioned you can click the tickers to go my articles: VTR, O, WPC, HCP, and OHI.
Source: SNL Financial
Disclaimer: This article is intended to provide information to interested parties. As I have no knowledge of individual investor circumstances, goals, and/or portfolio concentration or diversification, readers are expected to complete their own due diligence before purchasing any stocks mentioned or recommended.
Disclosure: I am long O, DLR, VTR, HTA, STAG, UMH, CSG, GPT, ARCP, ROIC, MPW, HCN, OHI, LXP, KIM, WPC, AL. I wrote this article myself, and it expresses my own opinions. I am not receiving compensation for it (other than from Seeking Alpha). I have no business relationship with any company whose stock is mentioned in this article.