Visa (NYSE:V) posted solid FQ3 EPS of $0.97, $0.04 better than analyst expectations. Revenue rose 23.3% from a year ago to $2.03B.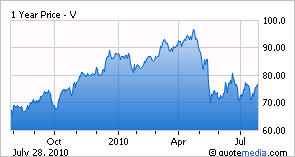 Payment volume growth was +14% to $903B. Total processed transactions grew 14% to 11.7B.
In Visa's press release, CEO Joseph Saunders acknowledged the uncertainty surrounding the upcoming financial regulatory overhaul:
It goes without saying, the U.S. debit market will undergo changes following implementation of the Wall Street Reform and Consumer Protection Act next year. While it is too early to fully and accurately gauge the impact of the legislation, Visa has demonstrated an ability to manage our business through periods of change. The global shift from cash and checks to digital currency is a powerful force that continues unabated, providing tangible benefits to consumers, merchants, and governments worldwide. I continue to have strong confidence in our prospects for long-term growth driven by Visa's highly resilient network business model, our continued investment in innovation and the expansion of our global reach."
Shares closed down 1.9% on Wednesday to $75.18. They rose about 0.2% in after-hours trading.
Here's Visa's Q3 press release.