By: Craig Bowles
Overview
Expedia, Inc. (NASDAQ:EXPE) is slated to report 1Q 2014 earnings after the bell on Thursday, May 1st. The earnings release is expected at approximately 4:00 p.m. EST followed at 4:30 p.m. with a webcast presentation available through Expedia Investor Relations. This economically sensitive company is one of the top two global online travel agents and could therefore influence direction of the index futures and other broad market gauges.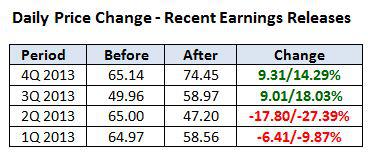 Outliers & Strategy
Key measures:
Adjusted Earnings Per Share: The current Street estimate is $0.15 (range $0.07 to $0.31) (Source: Yahoo! Finance). Estimates have been reduced from 33c during the last three months and the broad range of analyst estimates reflects a lack of confidence in predicting Expedia's number.
Revenues: Analysts expect an increase of 16.6% y/y to $1.18 bln (range $1.13 bln to $1.25 bln).
Expedia shares trade at 41.5x trailing earnings, well above the 5-year average of 25.0x and industry's 26.7.
Expedia shares have a 1-day average price change on earnings of 9.27%. Options are pricing in an implied move of 12.84% off earnings.
Recent News
04/13 Google continues to push deeper into providing hotel bookings, which could mean interesting things for Google's long history with travel-related names like Priceline, Expedia, and TripAdvisor, according to a post on TheMotleyFool.com.
04/10 Susquehanna boosted estimates and increased their price target on Expedia from $75 to $84, according to a post on StreetInsider.com.
04/10 FBR said its data through February indicates that Expedia is on track to show Q1 U.S. bookings growth in the 25%-30% range versus a high-teens consensus, according to a post on FinancialContent.com.
03/04 Morgan Stanley reiterated an Equal-Weight rating on Expedia after comments by the CFO suggested sales and marketing spending are unlikely to see near-term leverage, according to a post on Benzinga.com.
Technical Review
Expedia has given back much of the upside that followed the previous earnings release and shows a $67.50-$74.00 balance area. Highs show a subtle upward trend which the stock had gotten above but has corrected back to. Downside corrections have been increasingly violent in recent years but could find initial support at the $62 200-day moving average. (Chart courtesy of StockCharts.com)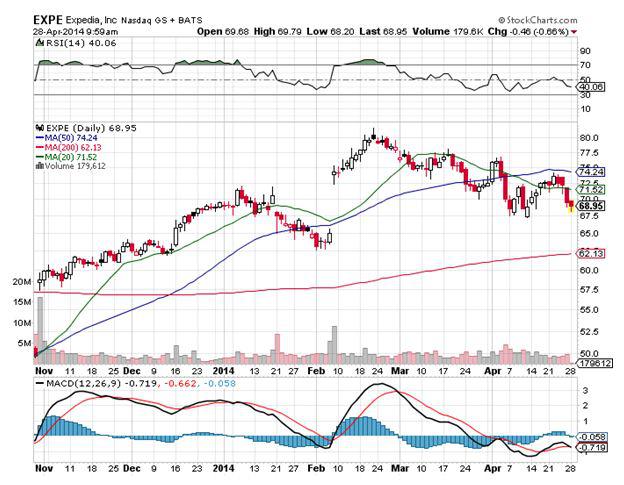 Summary
As great a company as Expedia is, being the king of global travel booking has a severe downside when global chaos emerges as we found out in 2008. Expedia has beaten estimates three out of the last four quarters and should be assisted by estimates having been more than halved from three months ago. The stock was punished after a 2c beat, so probably needs to beat estimates by more than that. A 3-4c beat would put EPS closer to the middle of the analyst range of 19c. Q1 bookings were running ahead of estimates through February and $1.19 bln is the middle of the analyst range, so might be more of a focus. Given the P/E is still well above Expedia's 5-year average, risk on a downside move is enhanced.
DISCLAIMER: By using this report, you acknowledge that Selerity, Inc. is in no way liable for losses or gains arising out of commentary, analysis, and or data in this report. Your investment decisions and recommendations are made entirely at your discretion. Selerity does not own securities in companies that they write about, is not an investment adviser, and the content contained herein is not an endorsement to buy or sell any securities. No content published as part of this report constitutes a recommendation that any particular investment, security, portfolio of securities, transaction or investment strategy is suitable for any specific person.
Disclosure: I have no positions in any stocks mentioned, and no plans to initiate any positions within the next 72 hours. I wrote this article myself, and it expresses my own opinions. I am not receiving compensation for it (other than from Seeking Alpha). I have no business relationship with any company whose stock is mentioned in this article.