by Carla Fried
The news that TIAA-CREF is paying $6.25 billion for Nuveen Investments, a mid level asset manager specializing in municipal bonds, is merely a break even proposition for the private equity firm that bought Nuveen at the 2007 market top. Public asset managers Blackrock (NYSE:BLK), T. Rowe Price Group (NASDAQ:TROW), Invesco (NYSE:IVZ) and Franklin Resources (NYSE:BEN) managed to deliver a bit more for shareholders from the October 2007 peak, with BlackRock the true standout: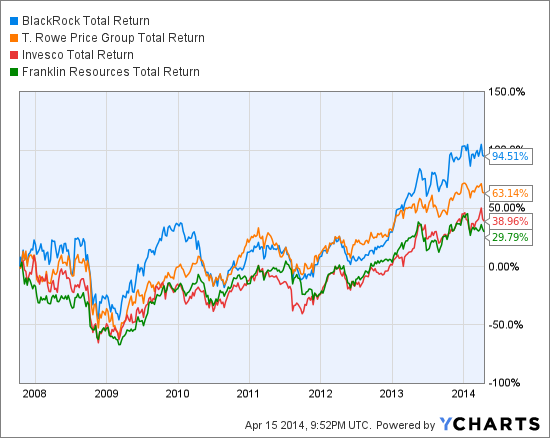 BLK Total Return Price data by YCharts
From a valuation standpoint, it's Franklin Resources that looks most compelling right now. The umbrella firm includes the mega Franklin bond fund operation, the Templeton international fund shop and the equity value funds from Mutual Series. Here's Enterprise Value/EBITDA: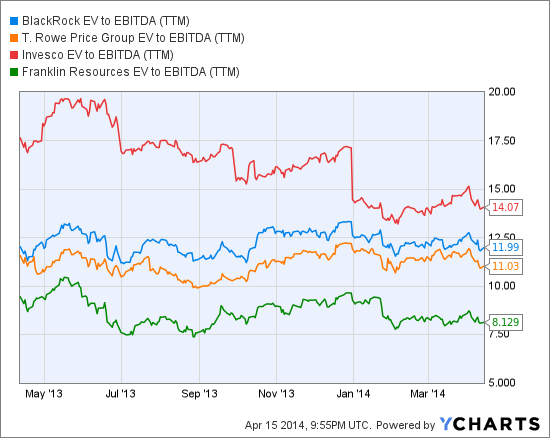 BLK EV to EBITDA (TTM) data by YCharts
And PE ratio: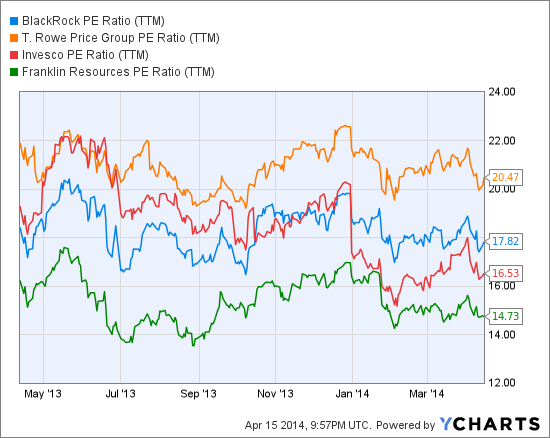 BLK PE Ratio (TTM) data by YCharts
Current assets under management at Franklin Resources are north of $880 billion. And not a penny of that is sitting in low-fee index funds. Collecting plump management fees on its actively managed funds helped push Franklin Resource revenue up 11% in the fourth quarter of 2013 compared to the year-earlier period. Given the stickiness of the (retail) money management business -- once you're a client, the cost of switching is a deterrent to moving elsewhere -- revenues are highly dependent on market moves. Though even in the severe 2008-2009 selloff, the revenue slide was short lived and quickly recouped: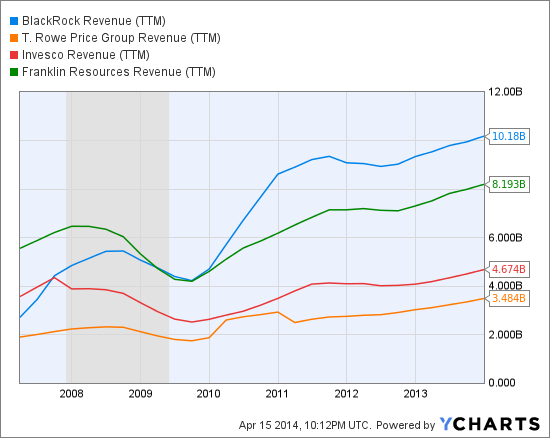 BLK Revenue (TTM) data by YCharts
The company has built out a fairly diversified operation. Roughly 40% of assets are in stock funds, another 40% in bond funds with the remainder in hybrid portfolios that mash up both asset classes. Moreover, 35% of assets are held by foreign account holders, giving the company a global reach.
In the first quarter of 2014 the $4.8 billion Oakmark Select mutual fund established a 4.2% position in Franklin Resources. For the unfamiliar, Oakmark Select takes a serious deep-value approach to investing. According to the managers' first quarter note to shareholders, Franklin Resources offers just that: "The company is selling for less than 14x our estimate of this year's EPS and just over 11x adjusting for net cash and securities. In our view, this is a cheap price for a well-run company in such an attractive industry."
The $13 billion Oakmark Fund (the more diversified of the two funds) has owned Franklin Resources for two years; the 2.25% position puts Franklin Resources in its top 10 holdings.
Morningstar (NASDAQ:MORN) concurs on Oakmark's cheap assessment of Franklin Resources. Morningstar says the wide-moat stock currently trades at a 20% discount to Morningstar's estimate of fair value; the overall market trades right at fair value. (Full disclosure: Morningstar is an investor in YCharts.) That puts Franklin Resources in the current portfolio for the Market Vectors Wide Moat ETF (NYSEARCA:MOAT) that tracks Morningstar's select index of wide-moat stocks.
Even though Franklin Resources is a Dividend Aristocrat (increasing the dividend in each of the past 25 years) the pace of payout growth has been on the moderate side, as the dividend payout ratio is below 15% of earnings and less than half of available cash.
As Oakmark's management team points out, Franklin insiders own more than one-third of outstanding shares. Perhaps management is not terribly interested in paying tax on dividends. That said, shareholders have benefited from a long-term buyback strategy that reduced outstanding shares by nearly 20% since 2006.
While that has certainly given an extra tailwind to EPS, Franklin Resources clearly isn't playing around to artificially pump up results. Net income growth over the past five years, while lagging EPS growth, is still quite impressive:
BEN Net Income (Annual) data by YCharts
Disclosure: No positions