Bank of America (NYSE:BAC) had a rough day yesterday. The stock went down by more than 6% in yesterday's trading session after it was announced that the bank will have to halt its substantial share repurchase program and to suspend its dividend increase because of a crucial error the bank made in calculating its regulatory capital. The error, made over several years, apparently resulted in Bank of America reporting $4 billion more in regulatory capital than it actually had. Not surprisingly, the capital action plan, which Bank of America submitted to the Federal Reserve Board for approval earlier and which proposed a dividend hike to $0.05 per share in Q2 2014 and a new $4 billion common stock repurchase program, does not look like to find the approval of regulators now.
Bank of America was also quick to disseminate updated capital ratios and filed an 8-K with the U.S. Securities and Exchange Commission with respect to the downward revision of its capital base [emphasis added]:
CHARLOTTE - Bank of America Corporation today announced a downward revision to the company's previously disclosed regulatory capital amounts and ratios due to an incorrect adjustment related to the treatment of certain structured notes assumed in the Merrill Lynch & Co., Inc. acquisition in 2009. The reduction in the regulatory capital amounts and ratios has no impact on the company's historical consolidated financial statements or shareholders' equity, which were properly stated in accordance with accounting principles generally accepted in the United States of America (GAAP).

On April 16, the company issued a press release announcing preliminary financial results for the quarter ended March 31, 2014. As part of such release, the company included estimated preliminary Basel 3 capital amounts and ratios as well as Basel 1 capital amounts and ratios for 2013. Subsequent to the press release, the company discovered an incorrect adjustment being applied in the determination of regulatory capital related to the application of the fair value option to certain legacy Merrill Lynch structured notes resulting in an overstatement of its regulatory capital amounts and ratios. The company correctly adjusted for the cumulative unrealized change on structured notes accounted for under the fair value option, but it incorrectly adjusted for cumulative realized losses on Merrill Lynch issued structured notes that had matured or were redeemed by the company subsequent to the date of the Merrill Lynch acquisition.

As a result, the company is making the following adjustments to the previously announced estimated preliminary capital ratios for the first quarter ended March 31, 2014: the estimated Basel 3 Standardized transition common equity tier 1 capital ratio was revised to 11.8 percent, down 5 basis points; the estimated tier 1 capital ratio was revised to 11.9 percent, down 21 basis points; the estimated total capital ratio was revised to 14.8 percent, down 21 basis points; and the estimated tier 1 leverage ratio was revised to 7.4 percent, down 12 basis points.
The revision of Bank of America's regulatory capital and ratios and suspension of its shareholder remuneration plan is mainly one thing: Embarrassing. But one thing it is not: An economic setback.
The bank can be sure to incite a mocking debate about the competency of its accounting department and might even trigger a larger discussion about the reliability and difficulty of measuring bank capital. However, it is important to realize that the revision of Bank of America's regulatory capital is not affecting its income statement. In other words, the hefty decline in yesterday's share price is a combination of two things: First, increased anxiety over the reliability of bank ratios (which is likely to spread to other banks as well and might lead to higher scrutiny for Bank of America's peers as well) and secondly, punishment for the suspension of Bank of America's capital action plan.
I certainly believe that the accounting mishap is not helping Bank of America's reputation, which already was tainted as a consequence of the bank's role in the financial crisis, but began to improve lately. As I have said many times before, negative news headlines are great buying opportunities for investors who are in for the long-term and who couldn't care less about short-term, anxiety-driven volatility.
Technical picture
Yesterday's news and sell-off have driven Bank of America shares deep into oversold territory. The Relative Strength Index indicates a value of 28.43 which indicates that Bank of America's stock is highly oversold in the short-term. I believe the current sell-off in Bank of America shares offers an interesting investment opportunity -- both for long-term investors as well as for traders trying to play a technical bounce.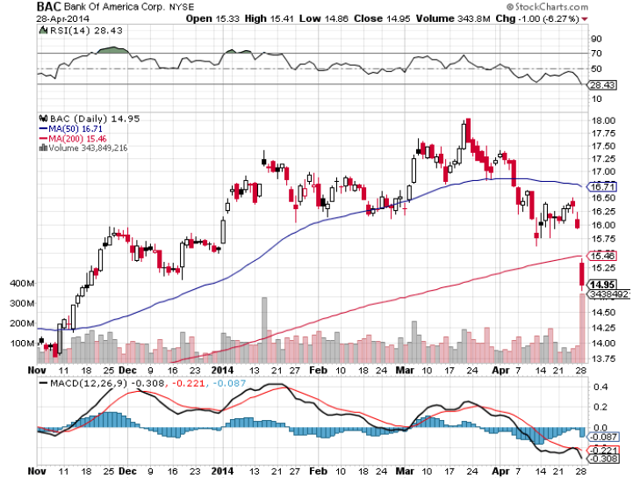 Click to enlarge
Conclusion
Let's be real here: Bank of America's inability to correctly calculate its regulatory capital and the inability of its regulator to catch the mistake are embarrassing and shouldn't have happened. But sometimes mistakes do happen and the market needs to deal with it on an unemotional basis. The company already stated that its income statement won't be affected by the recalculation of its regulatory capital. In fact, the sell-off is largely attributable to investors/speculators who are put off by the fact that they will have to wait a couple of quarters longer to get a higher dividend and to benefit from share repurchases. I think Bank of America's capital deployment program will be pushed further down the road, but will ultimately be implemented -- just with delay. Whether the bank repurchases $4 billion worth of its own shares in 2014 or 2015 is of total irrelevance to long-term shareholders.
I believe the current sell-off offers investors a textbook opportunity to purchase an undervalued banking franchise at a discount because of negative newspaper headlines that depress Bank of America's share price in the short-term. Contrarian investors who seek exposure to the financial services industry could consider an investment in Bank of America and take advantage of the current selling pressure. Strong, long-term BUY.
Disclosure: I am long BAC. I wrote this article myself, and it expresses my own opinions. I am not receiving compensation for it (other than from Seeking Alpha). I have no business relationship with any company whose stock is mentioned in this article.