Below is an updated look at the current weightings for each of the ten sectors in the S&P 500. As shown, Technology still sits at number one with a weighting of 18.43%. Financials ranks 2nd at 16.07%, followed by Health Care in 3rd (13.18%), Consumer Discretionary in 4th (11.77%), and Industrials and Energy sitting at #5 and #6 (~10.7%). Consumer Staples ranks 7th with a weighting of 9.99%, and then Materials, Utilities and Telecom are at the bottom of the barrel with weightings between 2.5% and 3.5%.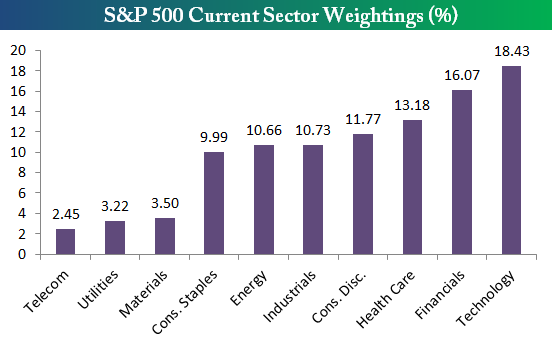 So how have the various sector weightings changed since the end of 2013? As shown below, Energy, Utilities, Consumer Staples, Health Care and Telecom have all seen increases in their S&P 500 weightings this year, while Materials, Financials, Technology, Industrials and Consumer Discretionary have lost share. You don't have to be a rocket scientist to identify the defensive rotation that has occurred. Throughout the bull market, the cyclicals have led the way, but over the first four months of this year, investors have rotated out of the cyclicals and moved into the non-cyclicals. This could be a short-term phenomenon after such a strong 2013 campaign for the market, or it could be a signal that the economy is set to struggle in the months and quarters ahead in the face of a tapering Fed. We know that the Yellen-led Fed, which is meeting this week, is hoping the economy can stand on its own as it exits QE. If the economy is able to stand on its own, the long-term prospects of this bull market should be fine. If it can't, the rotation out of cyclicals and into defensives could last a lot longer than four months.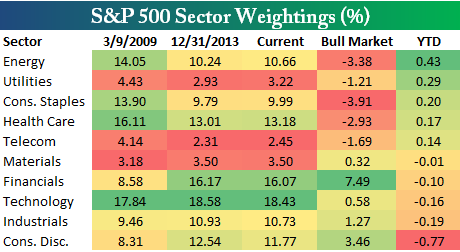 Below are long-term charts of the sector weightings for the S&P 500. For each sector, the red line represents its average weighting in the index going back to 1990, so you can see which ones are currently above or below their long-term averages.