Suncor Energy (NYSE:SU) reported the best financial quarter in its history. The company reported record cash flow and operating earnings in Q1/2014 while GAAP earnings was slightly lower to a large FX impairment charge on its US denominated debt.
Given I wrote numerous Suncor articles on SA already, I will focus on the analysis of the latest quarter and its impact on the investment thesis.
Q1/2014 Results:
"We delivered the best financial quarter on record. Investments made at Oil Sands increased our operational flexibility, allowing us to produce higher margin barrels. Our integrated model combined with improved market access allowed us to maximize the value of every barrel we produced"

Steve Williams, Suncor's CEO
Table 1 summarizes the Suncor's results. Operating earnings and cash flow were $1,793 million ($1.22 per share) and $2,880 million ($1.96 per share) respectively. Sell-side analysts only modeled $0.92 per share in operating EPS so the 33% beat is impressive.
Although GAAP earnings of $1,485 million ($1.01 per share) was weak, it is 50% above the average run-rate in the last 4 quarters. GAAP earnings were impacted by a negative impairment charge of $308 million on the revaluation of its US denominated debt. Because Suncor reports in Canadian dollars and its debt is denominated in US dollars, a charge has to be recorded on the financials to reflect any changes in the USD/CAD rate during the quarter. However, investors should view this FX impairment charge as mere noise.
Table 2 summarizes the Suncor's production in Q1/2014. Total upstream production was 545,300 barrels per day (bbls/d). Oil Sands production was 424,400 bbls/d and conventional E&P production was 120,900 bbls/d.
Table 1: Summary of Earnings, Operating Earnings and Cash Flow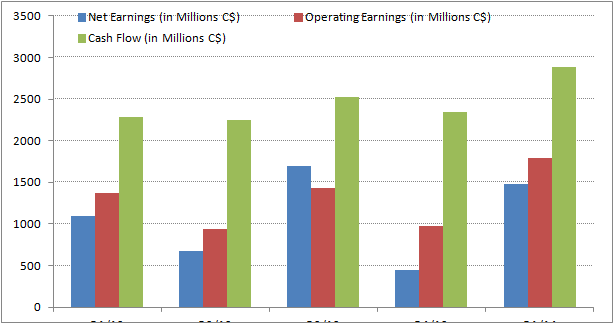 Source: Suncor Q1/2014 Report
Table 2: Quarterly Production Numbers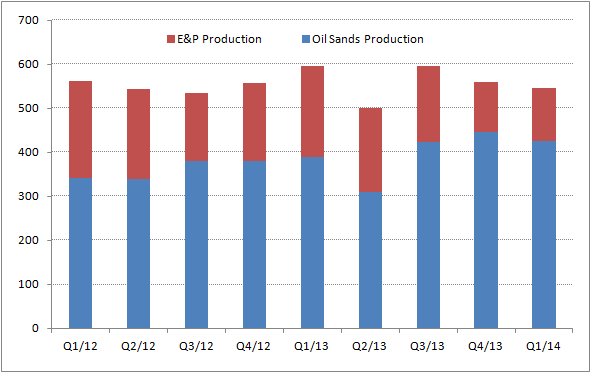 Source: Suncor Q1/2014 Report
Oil Sands:
Oil Sands production growth of 8.8% year-over-year is healthy. After a major turnaround at its U1 upgrader last year, Suncor has the ability to ramp up production of SCO, which increases the profitability of its product mix. The better sales mix raised the average realized oil price to $93.63/bbl, $15.22/bbl higher than the $78.41/bbl realized in Q1/2013. On the negative side, oil sands cash costs increased to $35.60/bbl because of higher natural gas prices. Excluding the impact of higher gas prices, adjusted cash cost was $33.50/bbl, in line with its 2014 guidance of $31.50-$34.50/bbl. The guidance was left unchanged. Therefore, management is confident in reducing costs further in the next 3 quarters despite higher costs in Q1.
Market access is important to Suncor and the company has made considerable progress tackling this issue. Mr. Willams already signaled to investors and analysts that its current 600,000 bbls/d export capacity is not dependent on Keystone XL. The company is shipping over 35,000 bbls/d of feedstock to its Montreal refinery, which will improve refining margins as feedstock from Western Canada is much cheaper than feedstock imported internationally. The company also began shipping 70,000 bbls/d on the Keystone South pipeline, which will provide Suncor access to the Gulf Coast. Finally, the Line 9 reversal in Ontario should benefit Suncor as it will bring additional cheap feedstock from Western Canada into the Montreal refinery starting in 2015.
Capital Allocation Update:
One of Mr. William strategic pillars is capital discipline. He returned excessive capital back to shareholders via dividends and buybacks. The company has raised its dividend by 54% in April last year and again by 15% in February.
Suncor has canceled over 8% of its float since its share repurchase program began in 2011. The purchases continued in Q1/2014 with the company purchasing $384 million at an average weighted share price of C$36.73, much lower than the closing price of C$41.34 prior to the Q1/2014 earnings report (April 29 close). The value added repurchases not only distribute excessive capital, but also it increase the intrinsic value per share by purchasing shares below actual intrinsic value, which is at least above C$40 in my opinion. The current repurchase program still has $1.4 billion left, implying Suncor can further decrease its float by 2.3% if it completes the current program. With free cash flow generation of $3 billion per annum, the company can at least spend $1.5 billion on share purchases given its dividend commitment is only $1.35 billion currently.
Investment Thesis:
Suncor is a compelling energy name to own because its CEO has implemented a shrewd strategy of focusing on capital discipline, operational excellence and profitable growth. While Suncor's three strategic pillars may sound obvious, many CEOs in the energy business are poor capital allocators and focus exclusively on absolute growth, not profitable growth.
In addition to Suncor's intelligent strategy, the company also has a rock solid balance sheet (debt to capitalization of 20% and net debt to cash flow of only 0.7) and a value adding integrated model as I discussed before in my prior articles.
Despite my positive outlook for Suncor, its shares are less attractive than in February when I wrote on Suncor after it reported weak Q4/2013 results. I see intrinsic value between C$45-48 per share (US$40.90-43.65). The valuation range is calculated by combining an earnings multiples approach and a cash flow multiples approach. The $45 is calculated by multiplying my estimated earnings of $3.75 for 2014 by a multiple of 12. The $48 is calculated by multiplying my estimated cash flow per share of $8 by a multiple of 6.
The Bottom Line:
Suncor's Q1/2014 demonstrates the strength of its earnings power and the shares should rally higher. Suncor has a talented CEO and his three strategic pillars have fundamentally changed the company since he took over in May 2012. Although its shares are less attractive compared to February, Suncor is still an attractive long-term investment to hold.
Disclosure: I am long SU. I wrote this article myself, and it expresses my own opinions. I am not receiving compensation for it (other than from Seeking Alpha). I have no business relationship with any company whose stock is mentioned in this article.
Additional disclosure: This article is for informational purposes only and does not constitute an offer to buy or sell any securities discussed in the article. The stock mentioned in this article does not represent financial advice. The target price presented in this article is based on current information and are subject to change without further notice. Investors are recommended to conduct further due diligence before committing capital to any investment.