mREITs such as American Capital Agency Corp. (NASDAQ:AGNC) thrive on stability. It is little wonder then that the recently completed quarter was one of its best on record, with strong book value gains ($0.56 per share) and decent dividend income ($0.65 per share). When combined, these result in a 5.1% economic return for the quarter, or 20.5% when annualized. Furthermore, American Capital's $400 million gamble on buying equity in its peers seemed to have paid off handsomely, with a large 12% gain.
Q1 2014 Overview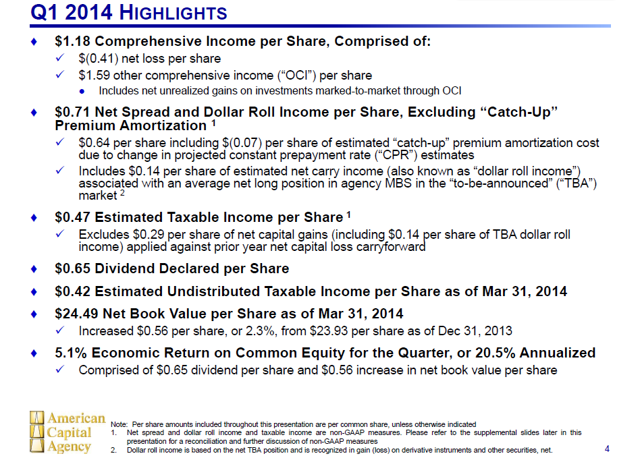 On April 28, American Capital reported its Q1 2014 results. For the quarter, the company reported total comprehensive income of $423 million, or $1.18 per common share, consisting of a $0.41 net loss per common share as well as $1.59 per share in other comprehensive income/(loss), or OCI. This compares favorable to last quarter when American Capital posted a $366 million loss, or $0.99 per share.
American Capital generated roughly $0.71 per share in net spread and dollar roll income in Q1, down 6% from $0.75 in Q4 2013. This decrease was almost entirely due to a decrease in leverage as well as a tightening of spreads, offset by gains in dollar roll income.
However, American Capital did see an improvement in its estimated taxable income. Though technically only $0.47 per share, down 28% from $0.65 last quarter, this excludes nearly $0.29 per share in net capital gains and dollar roll income. The company noted that this income was to be applied against last year's net capital loss carryforward. When adjusting for this item, American Capital would have posted taxable income of $0.76 per share.
One area of concern may be American Capital's net interest rate spread. This key metric fell to 1.19%, down from 1.57% in Q4, largely thanks to higher MBS prices pushing yields lower. However, when adding back the TBA dollar roll income, the spread improves to 1.43%.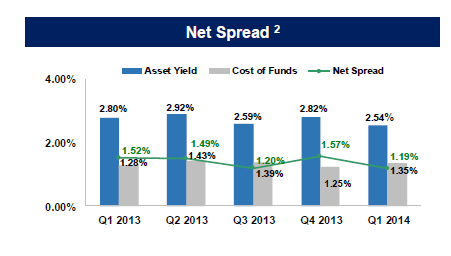 One big benefit from lower spreads are higher book values. For the quarter, American Capital's book value per share jumped to $24.49, up 2.3% from $23.93 in Q4 2013. Helping out with the book value were share repurchases, with the company buying back 3.4 million shares of stock, or about 1% of float, at an average price of $22.10 per share.
This increase in book value marks the first Q/Q rise for the company since 2012. At current prices, American Capital trades for about a 9% discount to its Q1 2014 book value.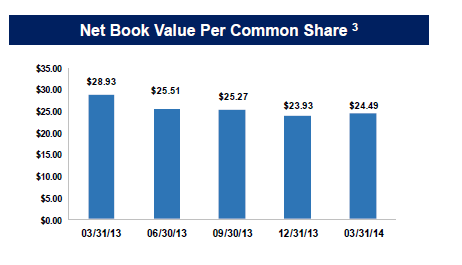 American Capital mREIT buying spree pays off big
Notice the $0.29 per share in net capital gains and dollar roll income posted by the company? If I were to speculate, part of this gain likely came from American Capital's investment into its peers.
During Q4 2013, American Capital bought about $400 million worth of stock in its mREIT peers, including about 8.2M shares, or 8.5%, of Hatteras Financial Corp (NYSE:HTS). In its press release, the company noted that $0.14 per share, or about $49 million, came from dividends and gains from its mREIT equity holdings.
Just to make this clear, with a $400 million investment, American Capital was able to make over 12%, or about $50 million, in one quarter. This was clearly an inspired and profitable move by the management.
April is looking good
Finally, American Capital appears on track for a good start to the second quarter. CIO Gary Kain noted that he remains "optimistic" about the agency MBS market given the lower origination volumes, which should "compensate" for the Federal Reserve's tapering. Furthermore, Mr. Kain added that "April has been a very good month for agency MBS providing a solid 'tailwind' for economic returns so far during the second quarter."
In a slide from its Q1 2014 investor presentation, American Capital noted that ever since the Fed started with its QE programs, MBS as a whole were under-owned by the major players in the market. Indeed, banks, money managers, and other private investors seem to be well underweight the sector. This may imply increased demand going forward, especially if the supply of fresh MBSs dwindles.
Conclusion
A 20% annualized return for the first quarter of 2014. This should be the key takeaway for investors. While I am sure there will be doubters, this quarter was extremely profitable for the company. Furthermore, given the amount of spread income (including TBA income) generated, the current $0.65 per share dividends appears to be sustainable short-term. American Capital really seems to have returned to form. Here's hoping this trend continues.
Disclaimer: The opinions in this article are for informational purposes only and should not be construed as a recommendation to buy or sell the stocks mentioned. Please do your own due diligence before making any investment decision.
Disclosure: I am long AGNC. I wrote this article myself, and it expresses my own opinions. I am not receiving compensation for it (other than from Seeking Alpha). I have no business relationship with any company whose stock is mentioned in this article.
Additional disclosure: I am long AGNC via both stock and call options.