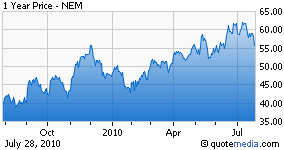 Mining giant Newmont Mining Corporation's (NYSE:NEM) second quarter 2010 earnings (excluding extraordinary charges) of $377 million or 77 cents per share fell short of the Zacks Consensus Estimate of 87 cents. However, earnings jumped 79% from $211 million or 43 cents in the year-ago period.
Including one-time charges, the company earned $382 million or 78 cents per share. Robust earnings were helped by higher gold prices, which reached a two-month high in June this year. Newmont realized gold prices of $1,200 per ounce, while copper prices were $2.33 per pound.
Although quarterly revenues climbed 34% year over year to $2.1 billion on higher gold and copper prices, it missed the Zacks Consensus Estimate of $2.2 billion. Gold production increased 10% to 1.3 million ounces at costs of $492 per ounce. Operating costs increased 16% year over year in the second quarter of 2010 based on higher costs in Nevada, at Yanacocha in Peru and at Batu Hijau in Indonesia, as well as higher-cost production from the Boddington mine.
Regional Production and Costs
North America: In Nevada, gold production saw a less than 1% rise to 420,000 ounces at a cost of $601 per ounce during the second quarter. Lower output at the underground mines of Carlin and Twin Creeks negated higher production at the Midas and Leeville mines. Costs per ounce increased 9% in the quarter. Gold production at mines in La Herradura (Mexico) increased 43% to 43,000 ounces after Newmont commenced production at the Soledad and Dipolos pits in January 2010. Costs per ounce increased 8% in the second quarter of 2010 from 2009 due to higher mining costs associated with two new pits.
South America: Gold production at Yanacocha in Peru was down 32% to 181,000 ounce due to mine sequencing and lower ore grades. Cost of sales of $389 per ounce shot up 20% due to lower production, higher waste mining and maintenance costs.
Asia Pacific: At Boddington, Newmont produced 184,000 ounces of gold and 15 million pounds of copper. Costs increased 16% and 13% to $582 per ounce and $1.55 per pound for gold and copper, respectively. The company continues to scale up production at the mine. At Batu Hijau (Indonesia), gold and copper production increased 49% and 27% to 82,000 ounces and 65 million pounds, respectively, at costs applicable to sales of $294 per ounce and $0.66 per pound, respectively. Costs increased 28% and 14% for gold and copper, respectively, due to higher waste mining and milling costs.
However, gold production at other Australia/New Zealand operations declined 3% to 256,000 ounces at costs of $549 per ounce. Production declines were driven by lower ore grades at Jundee mine and lower output due to maintenance at Tanami, partially offset by higher ore grade at Kalgoorlie and higher output at Waihi. Lower production and a stronger Australian dollar increased costs by 10%.
Africa: Second quarter gold production at Ahafo in Ghana remained flat at 132,000 ounces. However, costs declined 3% to $416 per ounce due to lower milling costs.
Margins and Liquidity
Healthy revenues moderated the rising costs and translated into operating income of $812 million, up 78% from last year's $459 million. Operating margins came in at 38%, higher than 29% in the year-ago period. Newmont has a strong liquidity position. The company recorded total debt of a mere $295 million compared to cash and cash equivalent of $3.6 billion as of June 30, 2010. Following solid second quarter results, Newmont boosted its regular dividends by 50%.
Outlook
For the full-year 2010, Newmont expects gold prices to moderate to $1,100 per ounce and copper prices are expected at $3 per pound. The company anticipates 2010 gold production of 5.3–5.5 million ounces to cost $460 to $480 per ounce. The company expects costs to decline with higher ore grades at Batu Hijau.
Newmont maintains its 2010 capital expenditure outlook of $1.4 to $1.6 billion. About 30% is likely to be invested in each of the North America and Asia-Pacific regions, and the remaining 40% at other locations. Such expenditures are related to the ramp up activities at the Akyem project in Ghana, the Conga project in Peru, Hope Bay in Canada and the Nevada project portfolio.
Zacks Recommendation
Denver, Colorado-based Newmont Mining Corporation is one of the world's largest producers of gold, with several active mines in Nevada, Peru, Australia/New Zealand, Indonesia and Ghana. We expect Newmont's gold sales to rise due to the start of the recently acquired Boddington mine in Australia and increased gold sales at the lower-cost Peruvian and Indonesian operations. However, declining ore grades are raising mining costs, prompting Newmont to reduce capital expenditure.
Currently, Newmont has a short-term (1 to 3 months) Zacks #2 Rank (Buy) but a long-term (6 months and higher) Neutral recommendation.