In our teched-out world of cheap voluminous data, investors often forget to observe the world around them to see what products are really selling. As a high school senior, I can promise that Abercrombie & Fitch (NYSE:ANF) and its associated labels, Hollister and Gilly Hicks, are the brands I see least.
This was not always the case. It was a well-accepted brand until Business Insider contributor Ashley Lutz decided to pull some skeletons out of Mike Jeffries' closet. In reaction to an excerpt about Jeffries from Robin Lewis' 2010 book, The New Rules of Retail, Lutz published an article on Business Insider under the headline "Abercrombie & Fitch Refuses To Make Clothes For Large Women."
In the article, she quotes Jeffries' 2006 interview with Salon as though it were breaking news.
We hire good-looking people in our stores. Because good-looking people attract other good-looking people, and we want to market to cool, good-looking people. We don't market to anyone other than that.

We go after the attractive all-American kid with a great attitude and a lot of friends. A lot of people don't belong [in our clothes], and they can't belong. Are we exclusionary? Absolutely. - Mike Jeffries
This inspired follow-up articles by Elite Daily, "The Voice of Generation Y," and Forbes that appeared as soon as two hours later.
The articles inspired more Abercrombie & Fitch hatred as illustrated in this very popular YouTube video titled #FitchTheHomeless.
In fact, typing Abercrombie & Fitch into the YouTube search bar gives "Abercrombie & Fitch hates fat people" as the first suggestion.
Why Most Investors Had No Clue
As a high school student with 600+ high school friends on Facebook, I was made immediately aware of each and every one of his/her intentions to forever boycott Abercrombie & Fitch. They went so far as to burn their branded clothes and post pictures of their charred remains.
From that point on, I hardly ever saw an Abercrombie & Fitch or Hollister branded piece of clothing in my school. Wearing a shirt like this risks social ostracism,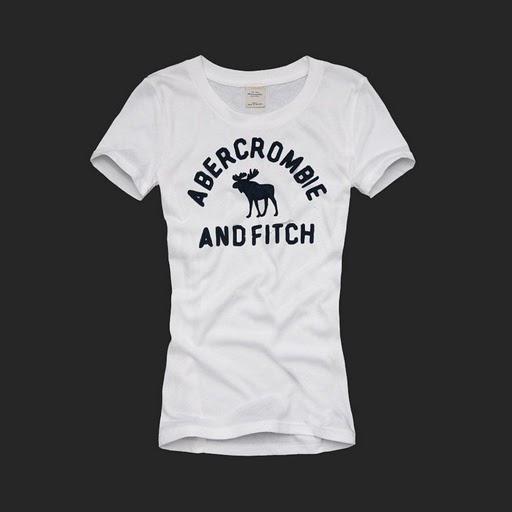 while shorts like these can be worn as long as the logo is hidden by a t-shirt.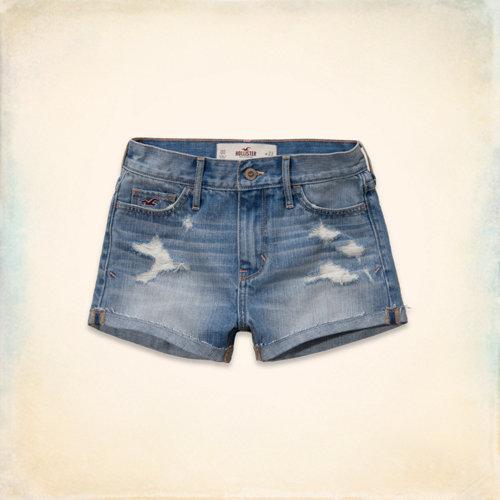 To Sum It Up
In early May 2013, a Business Insider contributor read a book published in 2010 that contained references to Jeffries' 2006 interview. Enraged, she published an article and, with the aid of social media, incited lasting youthful revolt against Jeffries' brands.
The effects are seen in the most recent financials, as it has been almost an entire year since said revolution began.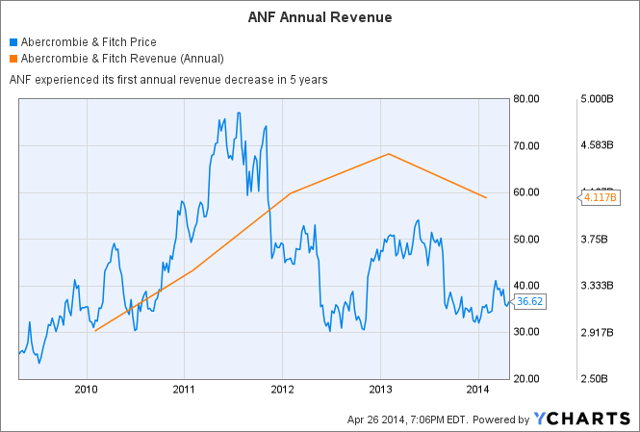 Click to enlarge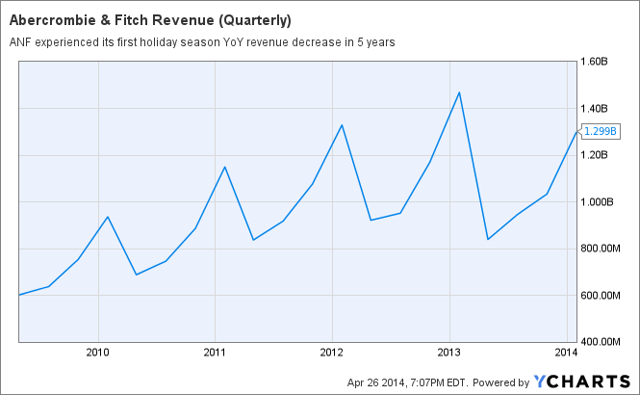 Click to enlarge
Decreasing margins were a result of increased expenditures on international expansion from 2010-2012. The effect was compounded in 2013-2014 by decreased sales.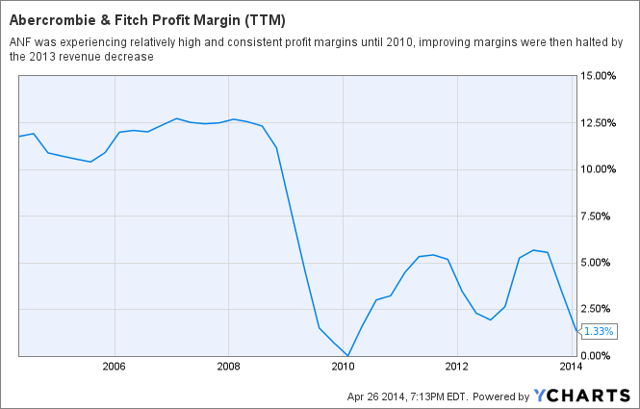 Click to enlarge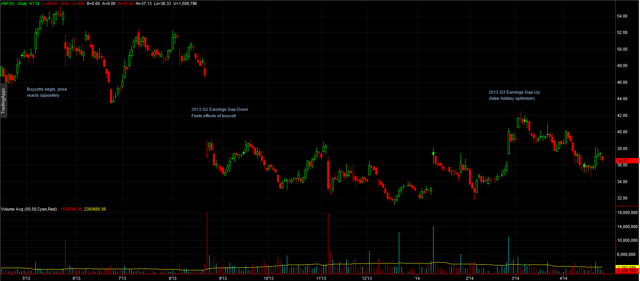 Click to enlarge
(Above chart created by author)
The Bottom Line
Investors want this stock to be a turnaround play, but teens do not want to own anything that has to do with Mike Jeffries especially when they can get the same styles from American Eagle Outfitters (NYSE:AEO). The brand name has been permanently damaged in America by recent upheaval of Jeffries' elitist attitudes and the company is not likely to see quarterly YoY revenue growth in the next few years.
Capitalize
Short Abercrombie & Fitch and intend to hold through the next few quarterly earnings reports, especially in late May where seasonality will cause a large revenue drop.
Disclosure: I have no positions in any stocks mentioned, and no plans to initiate any positions within the next 72 hours. I wrote this article myself, and it expresses my own opinions. I am not receiving compensation for it (other than from Seeking Alpha). I have no business relationship with any company whose stock is mentioned in this article.