"Fortune Favors The Bold"
This maxim's earliest recorded use is by a second century BC playwright. The phrase means that Fortuna, the Goddess of luck, is more likely to help those who take risks or action. Buying Bank of America (NYSE:BAC) against the grain right now sounds like a risky action to me. Nevertheless, I submit this may be just the time to start a position in the stock. The selloff is overly punitive and unjust based on the facts at hand. Unwittingly, this has created an excellent buying opportunity in the stock for long-term investors. The issue at hand is a slight accounting error. A black eye, as it were, not anything to do with Bank of America's core business opportunities. These are just the time to pick up shares not sell. In the following sections I will lay out my case that this is the time to buy not sell.
Bank of America sold off heavily Monday

Bank of America sold off heavily Monday. The selloff was triggered by headlines hitting the wires Bank of America had suspended the company's capital plan which included a $4 billion buyback this year as well as an increase in the dividend to five cents per share. The plan was scrapped because of a downward revision to the bank's capital ratios. The ratios were revised downward due to an incorrect treatment of certain structured notes assumed in 2009's Merrill Lynch acquisition. The new projected tier 1 capital ratio of 11.9% is 21 basis points lower than formerly believed.
The selloff was unjustified based on the circumstances at hand. The 6% drop in share price seemed excessive to me based on the fact this was a minor accounting error of nominal importance.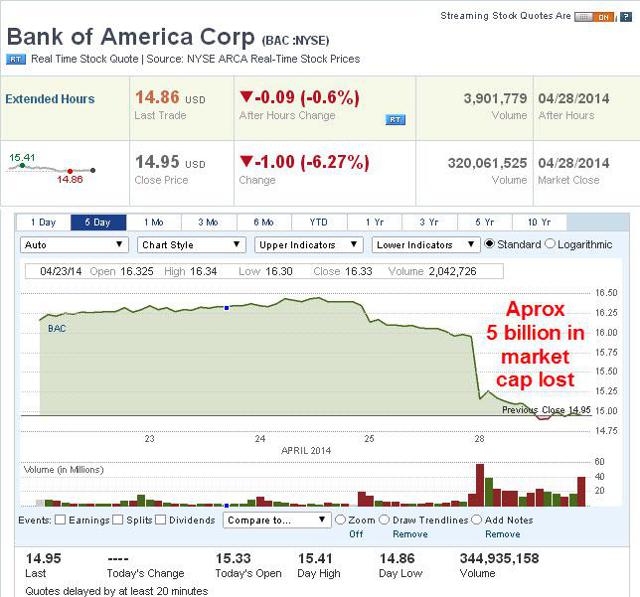 (Chart provided by CNBC.com)
Furthermore, Bank of America has notified the Fed the bank expects to resubmit its capital plan ASAP. If everything is in order the plan may be reinstated in short order. So a loss of 5 billion in market capitalization over a self-reported minor accounting error by the bank seems excessive. I posit it was a pile on effect from the looming $13 billion DOJ settlement.
If you have a long-term time horizon this is a major buying opportunity in the stock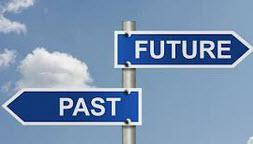 The predominant factor is these issues are related to the past and will resolve themselves in short order. The selloff was unduly punishing considering a reinstatement of the capital plan is possible. It is times like these which separate investors from traders. For the short-term trader, it is time to pack your bags and sell. Yet, for a long-term investor this may be a substantial buying opportunity in the offing. The matter regarding the accounting error has zero bearing on Bank of America's core business or fundamentals.
The bank looks cheap on a fundamental and relative basis
The bank is trading at a significant discount to peers and the industry average.

(Table provided by Scottrade.com)
The bank still has plenty of costs to cut to yet already appears very cheap on a fundamental basis. The stock is trading for less than book value while sporting a PEG ratio of less than 1 which is considered ideal.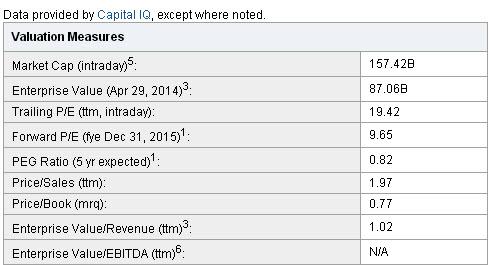 (Table provided by Yahoo.com)
Fundamentally, the turnaround is still on track and nothing has changed for the bank. All the current issues are related to bank of America's past not the company's future.
Conclusion
Our innate instincts encourage us to depart a sinking ship. This survival tactic impacts the way we invest. When market panic creates opportunities to buy stock in solid companies with sound prospects, hopefully you have powder dry and take advantage.
"The time to buy is when there is blood in the streets, even if the blood is your own."
This famous contrarian investing quote is attributed to Baron Rothschild, who made a fortune buying during the chaos following the Battle of Waterloo.
A contrarian is one who attempts to profit by investing in a manner that differs from the consensus. A contrarian believes that certain crowd behavior among investors can lead to exploitable mispricings in securities markets. For example, widespread pessimism about a stock can drive a price so low that it overstates the company's risks, and understates its prospects for returning to profitability. Identifying and purchasing such distressed stocks, and selling them after the company recovers can lead to above-average gains. I believe Bank of America currently represents such an opportunity. The pessimism regarding the stock is great. High risk equals high reward. Investing in Bank of America at this time takes vast courage in your convictions. Nevertheless, to a contrarian investor, this is just the time to strike.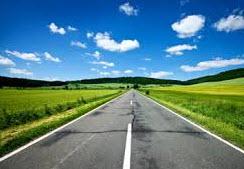 I cannot definitively say the bank's shares are at a bottom. Yet, I do believe the stock is currently undervalued and will bounce back in the long run. If you chose to start a position, definitely layer in over time. The market is at all-time highs with geopolitical risk is on the rise. The market is clearly at an inflection point. To open a position you must have courage in your convictions. Indiscriminate selling by those who sell first and ask questions later often provides an opportunity to buy great names at a discount price.
Disclosure: I have no positions in any stocks mentioned, but may initiate a long position in BAC over the next 72 hours. I wrote this article myself, and it expresses my own opinions. I am not receiving compensation for it (other than from Seeking Alpha). I have no business relationship with any company whose stock is mentioned in this article.