Yelp Inc. (NYSE:YELP), a company that connects consumers with great local businesses, will report its first-quarter earnings results on Wednesday, April 30, 2014, after the close of the U.S markets.
Following the results, a conference call will take place at 4:30 p.m. ET / 1:30 p.m. PT. The live webcast, financial tables and slide presentation can be accessed through Yelp's investor relations website at www.yelp-ir.com.
To access the call, investors need to dial 1 (800) 708-4539, or outside the U.S. 1 (847) 619-6396, with the Passcode number 37094125. An audio replay will be available after the call by dialing 1 (888) 843-7419 or 1 (630) 652-3042, with the Passcode number 37094125. The replay will also be available on the Company's website.
Wall Street Expects:
Revenue: $75.1M
EPS: ($0.06)
2014 Q2 Guidance: $85.4M
Earnings season is always filled with some tension, anxiety and nervousness from investors. Most of them have great reasons to feel this way as news can send shares either soaring or pouring.
This is why investors should position themselves into the best possible situations. Looking at a company's past performances can shed quite a bit of light of what one can expect in the upcoming quarters. So how has Yelp fared with its past results? The table below shows Yelp's top-line results over the last couple of quarters.
| | | | | | |
| --- | --- | --- | --- | --- | --- |
| Yelp Revenue History | February 2013 Q4 | May 2013 Q1 | July 2013 Q2 | October 2013 Q3 | February 2014 Q4 |
| Revenue Estimates: | $40.0M | $44.5M | $53.3M | $59.4M | $67.2M |
| Actual Revenue: | $41.2M | $46.1M | $55.0M | $61.2M | $70.7M |
| Difference: | +1.2M | +1.6M | +1.7M | +1.8M | +3.5M |
| Average: | | | | | +1.96M |
As we can see, Yelp has posted a nice streak of top-line beats. Not only that, but the gap is continuing to widen with each report. Of course this doesn't mean the Company will automatically beat expectations for the upcoming quarter, but it does show that management has delivered before and that history is certainly on the side of the longs.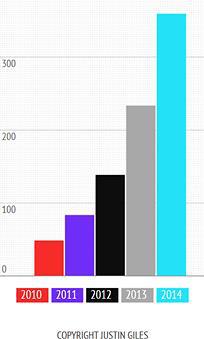 On top of that, Yelp hasn't missed on the top line since going public back in 2012. With another beat, Yelp can extend that streak to eight.
Looking at the chart on the right, we can see that Yelp continues to impress on the top-line as revenues continue to grow at double digit rates.
In 2014 alone, Yelp is expected to grow revenues by 55%. There doesn't seem to be a big drop-off either as analysts are projecting revenues to grow between 40%-45% in 2015.
Monthly Active Visitors
No matter what company you follow, there are always a couple of key metrics that will stand out. For example, investors in Netflix (NASDAQ:NFLX) like to look at the subscription numbers, while investors in Google (NASDAQ:GOOG) like to look at "paid clicks" etc. Yelp, certainly isn't any different. One metric that I like to keep an eye on is the number of monthly active unique visitors.
As long as this number continues to increase at a steady rate quarter-over-quarter, I don't see why the Company won't be able to continue to beat expectations year after year. Based on my projections, the number of monthly active unique visitors will most likely come in around 124-125 million this quarter.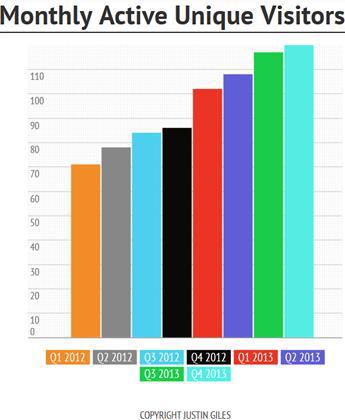 Conclusion
In the last three months, Yelp's stock price, after climbing over $100, has fallen all the way down to $55.55 at the close of trading on Monday. So, either this is a wonderful buying opportunity right now, or shares were so out of whack in the first place that today's levels represent normal levels. So which one is it?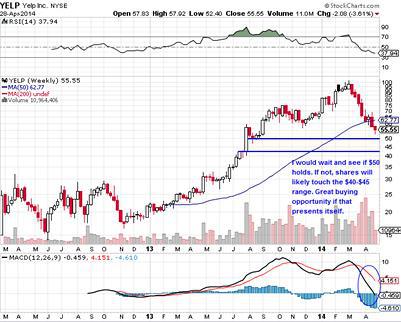 As you probably already know by now, this question depends on your investment timeline. If you are more of a short term investor, then I would most likely stay away from Yelp. The charts as well as the market conditions are nothing to cheer about. However, if I happened to be more of a long term investor, I would be getting ready to either start a position, or adding on any near term dips.
Looking at the chart above, it looks like Yelp is on its way to testing support around the $50-$51 level. If shares continue to fall, then the next area of support would be in the low $40's. Hypothetically speaking though, if shares were to touch these levels (low $40's), then shares would officially fall into the screaming BUY category in my book.
Of Wall Street recommendations, the average opinion on Yelp is a BUY, with an average price target of $88.00. This represents upside of close to 60% from Monday's closing prices.
As always, I'm providing you with my track record and other particular stocks that I recommend. The link provided will show you all of my picks, how they have fared, and where I think they will be going in the near future. I think you will find my track record to be very impressive and useful.
Disclaimer: Investors are always reminded that before making any investment, you should do your own proper diligence on any stock mentioned in this article. Have a great day and as always, I look forward to hearing your thoughts or questions that you might have.
Disclosure: I have no positions in any stocks mentioned, and no plans to initiate any positions within the next 72 hours. I wrote this article myself, and it expresses my own opinions. I am not receiving compensation for it (other than from Seeking Alpha). I have no business relationship with any company whose stock is mentioned in this article.