Home Depot (NYSE:HD) is the world's largest home improvement retailer, the fourth-largest retailer in the U.S. and the fifth-largest retailer in the world. In 2010, Home Depot was ranked No. 29 on the Fortune 500 U.S. list. This article will discuss HD's performance in 2013.
Strong Financial Performance in 2013
In fiscal year 2013, Home Depot's net revenue increased by 5.4% YOY. In 2012, the net revenues increased by 6.12% YOY. With the recovery of the housing sector, we can expect HD's revenue to grow in the coming years and reach the same revenue level of over $90 billion in 2007.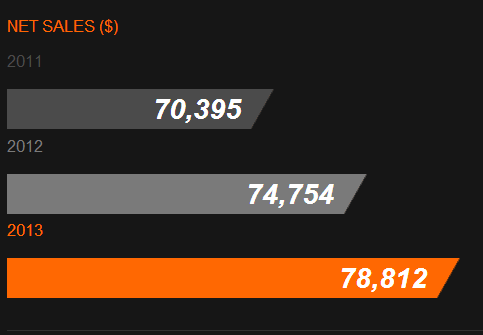 Since the company's recovery is in line with the recovery of the housing industry, the operating margins have consistently increased since 2011. Home Depot's operating margin has increased to 11.6% in 2013, that is the highest it has been in the last decade. This is a healthy sign that the company is taking advantage of the economic recovery.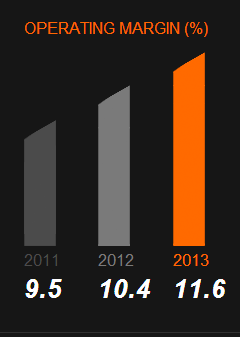 Source: HD 10-K
The company is making progress in its key matrices given in the exhibit below. Comparable store sales have increased steadily from 2011 to 2013. This consistent growth in comparable store sales shows that HD has successfully captured the recovering consumer spending in US over the past three years, which translated into growth in top and bottom lines.

Source: HD 10-K
Sales per square foot have also increased steadily over the same period under discussion, and the figure was $299 in 2011. The figure rose to $319 in 2012, reflecting a 6.7% YOY increase. In 2013, it further increased to $334 and grew by 4.7% YOY. HD is consistently improving its efficient use of floor area, and that has translated into growth in the top and bottom lines.
Average ticket per customer has also increased from 2011 to 2013. Average ticket amounted to $53.28 in 2011 and increased to $54.89 in 2012, reflecting an increase of 3% YOY. There was a further increase of 3.4% in average ticket in 2013 that reached $56.78. This increase indicates a recovery in the economy and customers showing a tendency to spend more over the past years.
HD is gaining on all the above key matrices. Its increasing efficiency tells us that HD, an efficient leader in cyclical business, is on a strong footing to capitalize on the economic recovery, and investors can take a ride on the recovery trend along with HD.
Improving the performance, as discussed above, is translating into what every investor wants to see: return that the company makes on investment. HD's return on invested capital has increased from 14.9% in 2011 to 20.9% in 2013.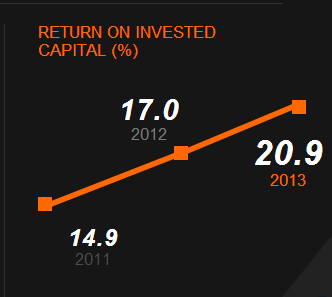 Source: HD 10-K
This is a welcome number that sets an established company such as HD apart from new tech companies, where revenues increase at a very healthy rate. However, this growth in the top line is not expected to translate into healthy growth in the bottom line in the coming years. Yet, such companies receive very high valuations by the market, and many of these crazy valuations seem based on euphorically forecasted fundamentals. When the market gets scared of the bubble created, it then tends to take refuge or build a buffer by moving capital from overvalued growth stocks to value stocks with rock-solid bases, such as HD.
In 2013, HD increased its dividend by 34.5% to $1.56 per share. In 2012, the growth in dividend was 11.5%, and in 2011, increase in dividend was 9.47%. HD is sharing the increased gains with shareholders that it is earning as the economic cycle picks up. During the downturn, HD kept its dividend at $0.90 per share between 2008 and 2010, but it did not decrease. Its dividend growth over the period of nine years is 18.8%. This makes HD a cyclical stock that pays decent dividends over an economic cycle.
Diluted EPS has increased steadily from $2.47 in 2011 to $3.76 in 2013, at a CAGR of over 233%. The diluted EPS growth of 2013 was 25%.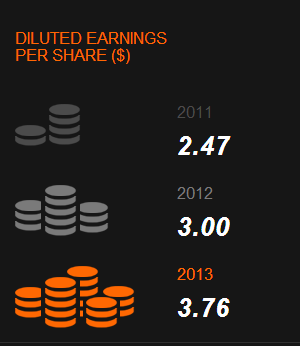 Source: HD 10-K
Leveraging on Mobile Commerce
Technology is rapidly changing how business is done. This dynamic change is an opportunity for HD, that has rightfully chosen to capitalize on it. It can be a big threat to a business if it remains ignorant of this transformational trend.
Mobile commerce is the hot phenomenon that is transforming how customers shop today. Online price and feature comparison of different products by consumers has increased, as it's a very efficient and hassle-free way of making buying decisions.
The growth of mobile commerce required HD to extend its presence beyond brick-and-mortar retail stores to online mobile phone platforms and websites.
There has been a crisis in retail, and HD has kept a close eye on the changing landscape. According to Forbes, "There is a crisis in retail. During the 2013 holiday shopping season, U.S. retailers received approximately half the holiday foot traffic they experienced just three years ago, according to ShopperTrak. With consumer confidence growing in leaps and bounds, the decline in foot traffic signifies a tectonic shift in the way consumers shop and buy." This is due to the fact that more people are choosing to shop online and over smartphones. According to ComScore, there was a 10% increase in online spending during 2013 holiday season, and retailers have seen a strong growth on their sites. These are strong indications of changing buying behavior of customers, and no segment of the retail industry, including the home improvement segment, should ignore it.
Companies that are slow to move to mobile platforms will find it hard to compete with their competitors like HD that have already built their presence on mobile devices. HD has a strategic focus on capitalizing on this trend, and it is investing in mobile web and mobile app capabilities and improving the functionality of its website. Home Depot's focus on its online and mobile presence is likely to strengthen HD's position, especially compared to the very large number of smaller retailers that lack the scale to undertake any such expansion. HD is expected to gain from its focus on these new emerging points to sale.
Conclusion
Home Depot has consistently improved its performance over the last few years, and 2013 is another year of solid performance. HD is an efficiently run giant that has the ability to capture the growth opportunities that the economic recovery brings. It is a value stock that gives decent dividends over an economic cycle, and investors should consider HD if they want to gain exposure to this cyclical home improvement business.
Disclosure: I have no positions in any stocks mentioned, and no plans to initiate any positions within the next 72 hours. I wrote this article myself, and it expresses my own opinions. I am not receiving compensation for it (other than from Seeking Alpha). I have no business relationship with any company whose stock is mentioned in this article.