Is it time to panic?
Judging by yesterday's trading, you'd think the answer to this is a resounding "yes". Those with calmer heads, like myself, are likely to be loading up on Bank of America calls if the stock continues to dip.
Bank of America (NYSE:BAC) stock was absolutely creamed on Monday, selling off to the tune of over 6% on heavy volume during the day, as investors took profits from a multi-year long run up.
In the last 12 months alone, inclusive of yesterday's trading, BAC has done well to provide a 20% return to shareholders. Yesterday's trading took the company red for the year, and for the last three months.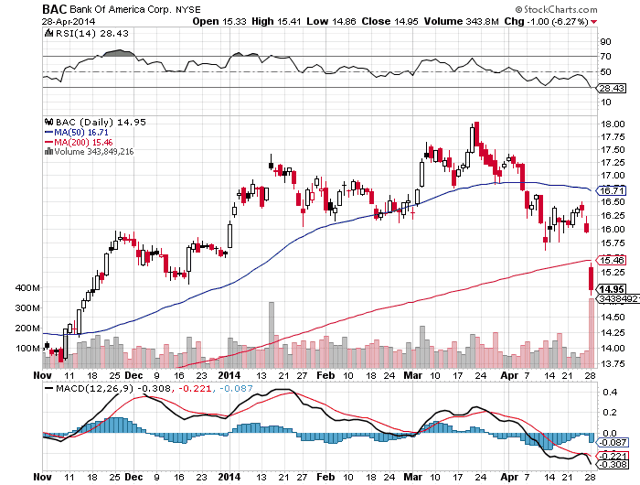 Click to enlarge
The news catalyzing the selloff was that structured notes assumed from the '09 acquisition of Merrill Lynch were treated wrong/booked wrong. It seems to simply be a mistake at this point in the game, which does happen, and it doesn't seem to have any effect on the bank's net income at the end of the day.
Seeking Alpha reported:
At issue is a downward revision to the bank's capital ratios due to an incorrect treatment of certain structured notes assumed in 2009's Merrill Lynch acquisition.
The new estimated tier 1 capital ratio of 11.9% is 21 basis points lower than previously thought.
Bank of America has notified the Fed, and has suspended its capital plan, which included a $4B buyback this year as well as a boost in the dividend to a nickel per share from a penny. After third-party review, the bank expects to resubmit its capital plan to the Fed ASAP.
Yes, this was an ugly headline - should it have resulted in a sell-off that stripped the bank of $5 billion in market cap? Probably not.
Even Wells Fargo came out and defended the bank, claiming that this was simply going to be an ugly headline for a while - but won't have an effect on the bank's operations elsewhere. Wells Fargo stated that the "net effect on the bank's capital" wasn't going to be material. Seeking Alpha noted, later in the day on Monday:
"We anticipate Bank of America ( -4.6%) will underperform its peers today," is the high-priced conclusion of the team at Wells Fargo after BofA is forced to suspend its capital return plans in the wake of an accounting miscalculation.
The actual net effect on the bank's capital will not be too material, says Wells, but reputational damage, upward pressure on expenses, and the idea of a more conservative capital return request next year could weigh on the stock over the next few months (for an example, see BB&T after the 2013 CCAR).
Wells currently has a Market Perform rating on the stock.
If you're like me, you're as much of a bull on Bank of America fundamentally as you are with the bank's CEO, Brian Moynihan. Mr. Moynihan has done nothing short of a fantastic job since taking over the reins at Bank of America. He's trimmed the company down to size, eliminated some of the bloated mortgage division, increased bottom line profitability through efficiency, and is leading the charge of all banks in terms of automation within branches.
I had sold out of my BAC position a couple of weeks ago, but am now seriously considering re-entering for the long-term. If opportunity continues to present itself here, it's going to be tough for me to ignore.
There's likely to be some murky headlines coming up for BAC in the coming weeks - one having to deal with a potentially much larger DOJ settlements than had been talked about in the past. Those of you that are looking to get in on Bank of America long could potentially have a spot to do so. This stock at anything less than $15 is an absolute steal.
The fact is, if you're looking at BAC from a long-term perspective, does it really matter if the dividends and buyback are held up for a year or so? Wouldn't you much rather take advantage of the 20% gain you could make on the equity if you bought it today and it returned towards its highs? I would.
I like the idea of perhaps buying some calls for the short-term, as you're officially not missing any dividends for the time being. I'd then considering rolling those calls over into a long-term position when the bank resubmits its capital plans to the Fed.
Short-term - again, there could be a bit of a rocky road as the bank finishes up its legal issues and deals with the short-term effects of this headline. But, millionaires are in the minority because they do what most won't - will you be a buyer here?
Best of luck to all investors.
Disclosure: I have no positions in any stocks mentioned, but may initiate a long position in BAC over the next 72 hours. I wrote this article myself, and it expresses my own opinions. I am not receiving compensation for it (other than from Seeking Alpha). I have no business relationship with any company whose stock is mentioned in this article.