So far, earnings season has treated me alright. Buying Apple (NASDAQ:AAPL) ahead of its report was certainly the best of the trades I've made thus far this year, and I haven't really seen the volatility out of too many of the momentum stocks that I was expecting. We have a couple more momentum stocks reporting this week.
We're likely to see some movement in the market today due to Janet Yellen's commentary and stocks that report this morning. I'll be waiting to see Twitter's (NYSE:TWTR) report after hours today, and have positioned myself with a long strangle, looking for some volatility after hours based on Twitter's earnings.
Looking ahead to the end of the week, we have LinkedIn (NYSE:LNKD), that will be reporting on Thursday, before market opens. So, we have only two days to position ourselves to trade LinkedIn for earnings, should we want to do that.
Like most of the momentum stocks over the past couple of weeks, LinkedIn has been hit hard.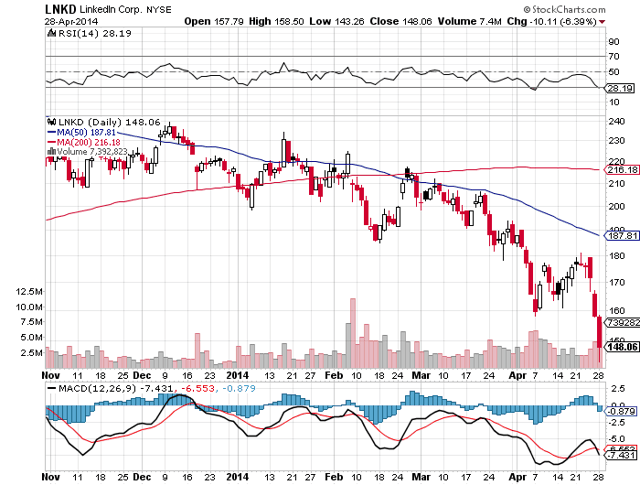 Click to enlarge
The stock is trading off 31.7% since the beginning of 2014 alone, and is down 21.4% in the last twelve months of trading. The chart looks bearish from the technical indicators, and LinkedIn is likely to need an outstanding report to stop the bleeding from its high multiple stock.
Analysts are going to be expecting $0.34/share, compared to year ago numbers of $0.45/share. Consensus estimates, according to Yahoo Finance, are calling for $466.7 million in revenues, compared to $324.7 million the same quarter last year.
Clearly, the growth that LinkedIn investors are going to be looking for is top-line growth.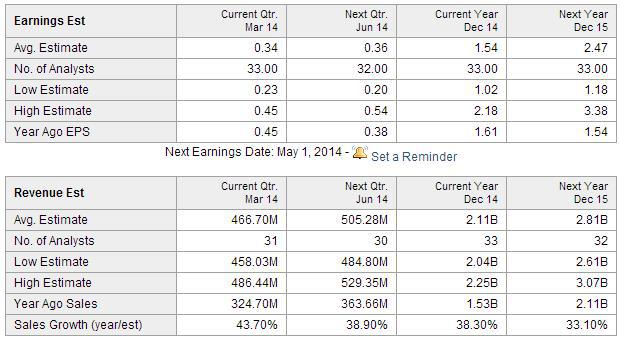 First and foremost, I think the guidance is going to be critical. The outlook given by management is likely to either contribute to, or end the downfall in LinkedIn's stock. High multiple stocks are valued as such because the street expects them to aggressively grow. Thus, the microscope is often on the guidance, which can tell the tale for quarters to come. If you're not growing hyper-aggressively, the market is going to rope you back in. See Pandora (NYSE:P) for more details on this.
The street is going to be looking for revenue guidance of $505.19 million for the coming quarter, and $2.11 billion for the year. These numbers represent increases of 38.9% and 38.2%, respectively. They're aggressive numbers, but LinkedIn is valued at a large multiple.
In March and April, Susquehanna and Topeka Capital both offered bullish analysis on LinkedIn heading into earnings. Additionally, ValueWalk pointed out two recent bullish analyst moves on LinkedIn in February:
On February 26, RBC Capital's 5-Star analyst Mark Mahaney upgraded LinkedIn Corp (NYSE:LNKD) stock to "outperform" from "sector perform", and he raised its price target for the social network company to $250 from $225. Mahaney said the upgrade is a value call as the company's stock fell 13% over the past six months. "Over the past 6 months LinkedIn shares have traded down 13% vs. a 12% increase in the S&P 500. Drag Issues have included: 1) overly aggressive Street estimates, 2) a heavier than expected investment outlook for '14, 3) a greater-than-expected slowdown in Talent Solutions revenue growth, and 4) uncertainty over Marketing Solutions format changes," Mahaney wrote. Mr. Mahaney got his 5-Star rating after succeeding in 83 of his 140 recommendations, and getting a one year average return of 11.9%.

On February 07, Credit Suisse's 5-Star analyst Stephen Ju reiterated an Outperform rating, and cut his price target to $274 from $288. Mr. Ju explained: "Our Outperform rating for LinkedIn Corp (NYSE:LNKD) shares continues to be predicated on three key points: LinkedIn's current roster of a little over 24,000 corporate solutions clients implies a minority penetration rate for Talent Solutions on a global base of ~745k addressable businesses that have more than 100 employees; The company's all-you-can-eat subscription model undercharges enterprise customers and longer-term LinkedIn can potentially price on a more lucrative per-lead transactional basis; Over the longer term LinkedIn can leverage its unique data set to place the right ad in front of the right user at the right time, driving ad inventory pricing higher." Mr. Ju succeeding in 16 of his past 29 recommendations, and getting an impressive one year average return of 33.4%.
Additional focus, aside from LinkedIn's continued foray into mobile, is going to be the company's expansion into China.
As I always do, I checked in with Schaeffer's to see what the options sentiment is going into the report. The bulls seem to be the ones showing up:
Not a problem, according to today's options speculators who are scooping up LNKD's May 220 calls -- and the volume at this deep out-of-the-money strike accounts for more than half of all calls traded thus far. Highlighting the demand for near-term options is LNKD's 30-day at-the-money implied volatility (IV), which earlier shot 3.6% higher to 64.1%, its highest level since last October.

Drilling down on the May 220 calls shows that 16,069 contracts are on the tape here -- mostly on the ask side. IV is up 2.1 percentage points, and volume outstrips open interest, suggesting that some of the day's activity is of the buy-to-open kind. Delta for the call is docked at 0.097, or 9.7%, indicating a roughly 1-in-10 chance the option will be in the money at the close on Friday, May 16 -- when back-month options expire
Those look like nothing more than speculative, bullish bets on the company's earnings. We'll have to see how it pans out for these options investors in the coming week.
My trading going into LinkedIn earnings is going to be the same strategy that I've employed for most of the momentum stocks, and that's a long straddle.
Quoth, you're always advocating these long straddles heading into earnings - do they actually work?"

The answer is "no, they don't always work - nothing in the markets always works" - but what we try and do here in the Margaritaville brand blender that is Quoth's head is identify stocks that are so volatile and so momentum-laden - so in the public spotlight - that there's more than a normal number of catalysts to have them move beyond the realm of the IV that's already priced in on the options. Notice I'm not advocating these trades for stocks like Intel (NASDAQ:INTC) or 3M (NYSE:MMM)?
For LinkedIn, we can buy both sides of the May 9th $145 straddle, giving us an extra 8 days post-earnings for the stock to move in one direction or the other. The calls will cost us $9.16 and the puts will cost us $7.62, putting our order's net debit at $16.78.

Click to enlarge
This puts our breakeven for this trade at $161.78 or $128.22, implying around a 10% move in either direction. Completely doable for momentum/social media stocks.
For the short-term, this is going to be my trade - I'm simply looking for volatility from LinkedIn's report. For the long-term, I'm neutral on LinkedIn. While I think the company can continue its growth, I'm not sure that now is the time to be in social media/momentum stocks. I'll keep my neutral sentiment heading into earnings and re-evaluate based on what the company offers up this coming Thursday.
Best of luck to all investors.
Disclosure: I have no positions in any stocks mentioned, but may initiate a long position in LNKD over the next 72 hours. I wrote this article myself, and it expresses my own opinions. I am not receiving compensation for it (other than from Seeking Alpha). I have no business relationship with any company whose stock is mentioned in this article.
Additional disclosure: May open a long straddle on LNKD today or tomorrow. Long AAPL.