Our Bank of America (NYSE:BAC), the second-largest bank in the United States, has put a stop to its capital plan because of an "error".
First, BAC decided to put a hold on its dividend hike after an accounting glitch, which initially drew the ire of regulators. Consequently, due to a miscalculation of its capital, the bank announced that the planned increase in the quarterly dividend would not occur. In addition, the bank decided to suspend its plan to repurchase shares.
BAC stock crashed 6.27% on the news on Monday. The stock is now down 12% over the past month, while the S&P has moved up over that time frame.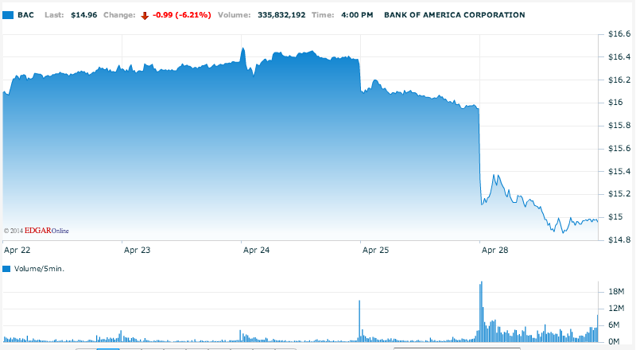 (Nasdaq.com)
Federal Scolding and Now BAC Will Only Give Pay A Penny
The bank informed regulators that it had to drop its capital level by as much as $4 billion — an amount that the regulators had already approved for shareholders to receive over the span of four quarters. After the Federal Reserve asked the bank to resubmit its capital plans for the year, shares fell 6.27%. Regulators also asked the bank to ensure no future reporting problems would take place.
BAC believed that after its recalculations, dividends and buybacks would be lower than what had been announced last month. In March, regulators had approved BAC's buyback program of $4 billion shares, along with dividend increases totaling $1.5 billion (or 5 cents a share instead of a penny). According to the Dodd-Frank law, which was designed to ensure financial reform, a bank must submit any dividend changes or share buybacks each year.
Details of The Current Debacle
Last week, the "high-powered" financial team, which is paid millions by shareholders, noticed the miscalculation at the time it was preparing its quarterly filing for the U.S. Securities and Exchange Commission. After notifying the Federal Reserve, it worked over the weekend to prepare for a shocking announcement of its adjustments on Monday.
The error was traced back to the way Merrill Lynch had valued the structured notes it had issued. Bank of America had inherited the notes, along with additional, concealed losses, after it had acquired Merrill Lynch in September 2008. The errors in these structured notes are coming to the forefront, along with a shocking $16 billion in losses that BAC's former CFO, Joe Price may not disclose to shareholders prior to the merger.
Mr. Price is now facing a $7.5 million settlement and a ban on serving as an officer or director of any public company for at least 18 months, while BAC shareholders continue to receive their one-penny quarterly dividend.
Not The First Time BAC Has Reduced Projected Capital Plan
This is the second time that Bank of America has stepped down its projected capital plan. In fact, it was earlier this year that the Federal Reserve asked the bank to change its capital plan, because the amount proposed would have left the bank with insufficient funds in the event of another financial crisis.
For Now, Dividend Stays At A Penny - Where Is It Going Next?
Investors who were hoping for a long-awaited dividend increase are yet again disappointed. BAC has not returned to a pattern of raising dividends since 2008 (see below).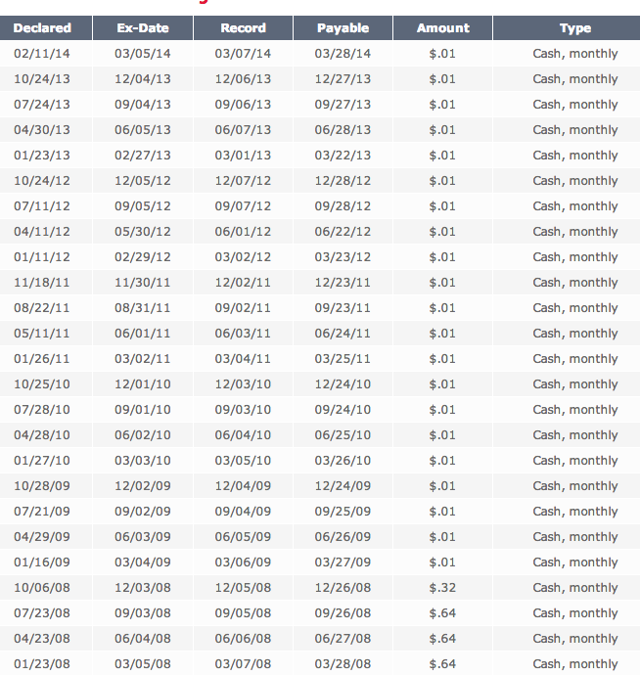 (phx.corporate-ir.net/phoenix.zhtml?c=715...)
An independent party must now look over the revisions before the bank sends its capital plan to the Federal Reserve — yet another embarrassment for the financial institution.
More Bad News May Soon Be Coming Very Soon
The greatest worry for BAC shareholders, however, is the possible impending $13 billion+ penalty, plus another $9.5 billion fine, that the bank agreed to pay last to the Federal Housing Finance Agency. This will drastically reduce the bank's means to pay any dividends in the future, and could impede operations as well. All of these misdeeds will also keep the lawyers in NYC in better homes in the Hamptons as the bank dishes out millions and millions in legal fees.
What Should Investors Consider After The News About Their Penny Dividend Also Possibly Going Away
It is clear from the litany of scandals in 2014 alone that BAC should not be a core holding for any investor's portfolio.
Given the track record of this management team, we believe it is also possible that the bank may to forced by the regulators to completely eliminate even its penny dividend.
We reiterate that BAC investors should consider taking some profits now.
Our readers know we have been warning them for several months now about the many problems with BAC, and we certainly have been criticized consistently in the comments section. We know that debate goes with taking a contrary position to the thousands of owners of BAC who relied on this management team for their dividends to support them in retirement.
We invite readers wishing to read and join the discussion about Bank of America to click the +FOLLOW button above the title of this article.
Disclosure: I have no positions in any stocks mentioned, and no plans to initiate any positions within the next 72 hours. I wrote this article myself, and it expresses my own opinions. I am not receiving compensation for it (other than from Seeking Alpha). I have no business relationship with any company whose stock is mentioned in this article.