On 24 April 2014, Russian search major Yandex (NASDAQ:YNDX) reported Q1 2014 numbers that were in line with expectations. Further, the company re-iterated its full year revenue guidance, a move that should inspire confidence among investors about its prospects amidst the political and economic turmoil in Russia.
Yandex's Q1 performance was largely unaffected by the Ukraine crisis. However, post the earnings release, the stock is down 15%, including a 10% drop on 25 April 2014, the black Friday when US indices and most of the internet stocks were battered.
Yandex Q1 2014 Estimates vs. Actuals
As we had reported earlier, analyst estimates were pegged at: Revenue RUR 10.96 billion ($305 million) EPS - RUR 7.98 ($0.22) a share. The table below shows Yandex's performance for Q1 2014.

Source: Amigobulls
Yandex reported Q1 revenue of RUR 10.88 billion ($305 million), missing the average consensus estimates by about 0.7%. However, due to relative appreciation of the RUR vs USD towards the end of the quarter, Yandex met average dollar denominated estimates of $305 million. On the EPS front, Yandex reported an EPS of RUR 8.56 ($0.24) to beat estimates by about 7.3%.
*Apart from estimates, all currency conversions are based on the exchange rate of 35.67 RUR/USD used in Yandex's latest quarterly earnings release.
Key Financials & Metrics
In spite of missing revenue estimates marginally, Yandex recorded a healthy Y/Y revenue growth of 36%. On a like-to-like basis, after adjusting for revenue from Yandex-Money in previous quarters, Yandex clocked a Y/Y growth of 39%. Yandex has sold majority stake in Yandex-Money and any revenue from the segment is now reported under other income.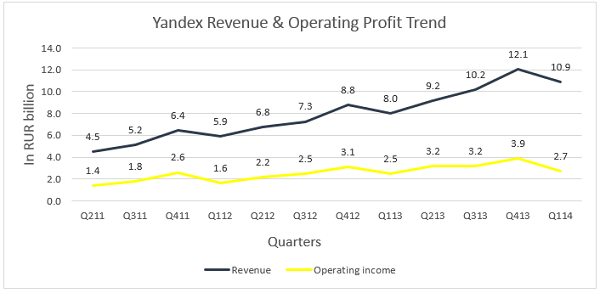 Source: Amigobulls
Profit margins, though still healthy, came in at their lowest this quarter with operating and net margins at about 25% each. Personnel costs and social taxes which tend to be front-loaded at the beginning of the year squeezed margins, as did an increase in Traffic Acquisition Cost (TAC). Improvements are expected on both counts and profit margins could improve as we progress further into the year.
Yandex closed the quarter with a net cash inflow of RUR 2.4 billion ($67.2 million), taking the total of cash and cash equivalents to RUR 51 billion ($1.42 billion).
TAC grew by 97% to nearly double again as it did in Q4 2013. However, partner TAC as a percentage of partner revenue declined to 67% from 71% in Q4 2013. Yandex is pushing for further reductions in the TAC it pays out to its partners and expects to see the impact of the same later in the year.
At 49% Y/Y growth, paid clicks continued to grow at a healthy rate in Q1 vs 51% growth in Q4. Cost per click continued to decline albeit at a slower rate of 5% Y/Y.
Text ads accounted for 92% of total revenue. Growing at 104% Y/Y, text advertising revenue from Yandex's ad network continued to grow at a much faster pace than the 26% Y/Y growth in revenue from text advertising on Yandex's own sites. This was driven by Yandex's tie-up with Mail.ru to power paid searches on the Mail.ru platform.
Display ad revenue accounted for 7% of total revenues. Display advertising on Own and Owned (O&O) sites grew 4% vs total display ad-revenue growth of 16%. Revenue from Yandex's display ad-network grew to RUR 76 million ($2.1 million) from RUR 3 million ($84k) in Q1 2014. In total, ad-network revenue has grown to 24% of revenue vs 16% of revenue in Q1 2013.
Yandex Market Share
Yandex continues to dominate the Russian search market with 61.9% market share.
It might be interesting to note that Yandex's market share in Ukraine grew from 28% to 30% in 2014 so far, contrary to fears that an anti-Russia sentiment might dent the company's presence in Ukraine. Yandex also saw growth in its search share on mobile devices to account for an estimated 54%.
Yandex introduced multi-currency bidding on its Yandex-Direct ad buying platform to make bidding easier for customers from different countries. While this might seem like an exposure to currency fluctuations, it will give Yandex access to a stronger currency while effectively hedging some portion of its revenue.
Future Outlook In A Challenging Environment For Yandex
As things stand, the company sees no immediate impact from the macro-economic strains on the Russian economy. During the earnings conference call, the management reported that a recent drop in ad spends by the automobile sector was offset by an increase from the financial sector. Further the company believes that it will be partly shielded from a local slowdown as revenue from foreign clients is growing faster than revenue from local customers.
For now the company has maintained its full year revenue guidance of RUR 48.9 - 50.8 billion ($1.37 - 1.42 billion). Further, Yandex expects to see an improvement in profit margins as the year progresses. However, given Russia's tougher macro-economic environment, it expects profit margins to remain between 1 - 3% lower than those seen in 2013.
It is also worth noting that the depreciation of the RUR vs. USD has resulted in a gain of RUR 647 million (about $18 million) for Q1 2014.
Yandex announced a tie up with Nokia to pre-install Yandex apps like search and its app market. The move could help Yandex improve its search share and presence on mobile platforms.
Yandex re-purchased about 1.6 million shares in this quarter to reach a total of 11.6 million out of its authorization of 15 million shares. It is likely that it will continue to buy back its shares in the coming quarters.
Yandex Valuation
Following its earnings release, Yandex's stock price has fallen by 15%, with Friday, 25th April, alone accounting for a 10% fall. Spiraling tensions between Ukraine and Russia have taken a toll on the stock and smothered the positive sentiment that was expected post its recent earnings release.

Source: Amigobulls
The fact that Yandex has continued to exhibit healthy growth and profitability is a positive, so is the reiteration of its full year revenue guidance. Amongst the 3 search giants, in terms of growth and profitability, Baidu (NASDAQ:BIDU) leads the pack, followed by Yandex and then Google (GOOGL, GOOGL). Valuing Yandex based on an average (of Google and Baidu) P/E multiple, indicates that it should be priced at about $35 a share, with a 48% potential upside from its current price of $24 a share.
Risks from the political and macro-economic environment in Russia continue to be a factor. However, we think Yandex is a great investment for the long term at its current valuations.
Disclosure: I have no positions in any stocks mentioned, and no plans to initiate any positions within the next 72 hours. I wrote this article myself, and it expresses my own opinions. I am not receiving compensation for it. I have no business relationship with any company whose stock is mentioned in this article.
Additional disclosure: The article was written by Vikram Nagarkar, Equity Analyst at Amigobulls.com. Amigobulls Mediatech Pvt. Ltd. is not receiving any compensation for this article (other than from Seeking Alpha). Amigobulls Mediatech and Vikram Nagarkar do not have any business relationship with any of the companies mentioned in the article.