Ceragon Networks Ltd. (NASDAQ:CRNT) shares have not been spared in the recent tech stock sell-off. However, this has created an ideal buying opportunity for value and contrarian investors. This stock jumped up to nearly $4 in January and has bounced around since then, however, the current price of just around $2.70 per share is giving investors an ideal entry point. Ceragon Networks appears poised for a turnaround for a number of reasons and that could lead to big gains for the stock. In fact, one notable analyst sees a business turnaround coming and has set a price target of $8 per share. From current levels, this could create a near triple for investors. Furthermore, a strong balance sheet, a new product line and an undervalued stock price could mean potential downside risks are limited at this time.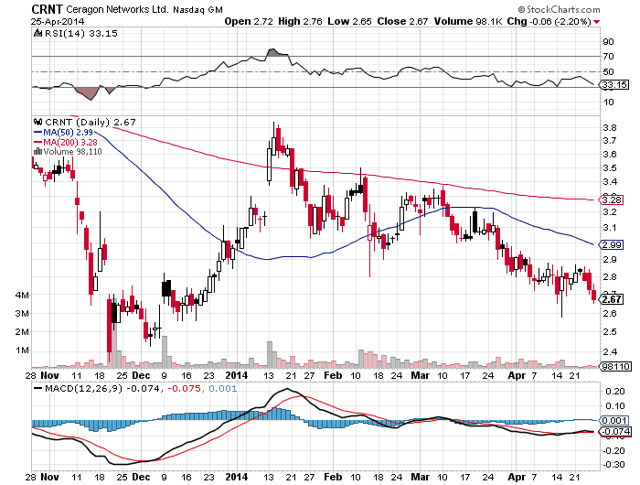 Click to enlarge
Ceragon Networks may not be well-known by many investors but within its industry it is a leader. As a wireless backhaul provider, it offers mobile and fixed-line carriers as well as private network operators with the capacity to transmit voice and data in a cost-effective manner. This sector is poised for secular growth for many years. Let's take a look at a few reasons why investors should buy this stock now, due to multiple catalysts:
1) Mobile data traffic is poised for significant growth in the coming years: Recent reports estimate that U.S. data traffic has surged by about 74%, from around 690 MB per month in 2012, to roughly 1.2GB in 2013. Global mobile data traffic has also jumped at similar rates, up by 71% from 140MB in 2012, to around 240 MB in 2013. A list of companies that derive a major percentage of revenues from mobile infrastructure or carrier spending was recently published. Ceragon Networks made this list due to its customer base which includes many leading telecom companies. The strong growth in mobile and data is expected to continue surging due to smartphone and tablet sales, increased adoption of 3G and 4G services, and growing global demand for streaming of videos and movies.
2) Ceragon Networks appears poised to see much improved results due to the secular growth of the telecom industry, but also because it has recently launched a new line of products.
Ceragon Networks' new line is designated as the "IP-20 Portfolio", which is a SDN-ready platform allowing short haul and long haul products to merge into a single hardware architecture and be managed by a common operating system. This new line of products is likely to result in a revenue surge as telecom companies upgrade older systems or expand networks. I also believe that many customers might have held off on purchases knowing that this new line of products would be available in 2014. This means there could be pent-up demand that might start to show up in the upcoming financial results. Furthermore, the "IP-20 Portfolio" product line is well suited for the growth of 4G networks as detailed in this statement by the company:
"The IP-20 platform sets a new industry benchmark for microwave-based backhaul and fronthaul solutions," said Ira Palti, President and CEO of Ceragon Networks. "This game-changing technology reinforces our position as the number 1 wireless hauling specialist. With the IP-20 platform, our customers can smoothly transition to 4G/LTE/LTE-A, while preparing for future SDN architectures."
3) Financial results could also improve considerably because the company recently undertook a restructuring plan that is expected to achieve $25 million per year in annual savings. Ceragon Networks has about 43 million shares outstanding so this annual savings goal could be equivalent to around 55 cents on a per share basis. This could be a powerful upside catalyst especially as it coincides with a potential revenue surge from a new product cycle.
4) About 18% of Ceragon Networks revenues are derived from Europe. This is yet another potential upside catalyst since the economy in Europe is now starting to grow again. As businesses hire more employees and as the economy improves, telecom spending in Europe is expected to rise. Analysts expect this company to post near break-even results on a per share basis this year. However, analysts expect revenues to jump from about $360 million in 2014 to just over $400 million in 2015. Earnings estimates for 2015 are at 31 cents per share.
5) Ceragon Networks recently announced a legal settlement for which it will receive $17 million in cash during the second quarter of this year. This agreement was signed with Eltek ASA (NASDAQ:ELTK) and covers claims relating to Ceragon Network's acquisition of Nera Networks from Eltek in January of 2011. This settlement should lead to a decline in legal expenses as well as provide Ceragon Networks with $17 million in cash which will bolster its already strong balance sheet. It currently has just over $48 million in cash and about $57 million in debt. After the $17 million settlement is paid, it will have a very strong net cash positive balance sheet. This financial strength reduces risks for investors.
6) Some other data points suggest this stock is undervalued with significant upside potential: This company has around $362 million in annual revenues. This is equivalent to about $9.39 per share in revenues. With the stock at less than a third of that level, this indicates a very low price to sales ratio that could lead to upside, especially if profit margins improve. The book value is about $3.10 per share and it should rise to around $3.50 per share once it receives the $17 million settlement from Eltek. With Ceragon Networks shares currently trading below book value, this is another sign the stock is undervalued. The current market capitalization of just around $116 million also suggests this company is greatly undervalued when considering the nearly $50 million in cash on the balance sheet and another $17 million in cash coming from the settlement.
7) As a smaller company, not as many investors and analysts follow Ceragon Networks. Stocks that are under-followed can be hidden gems, especially when these companies are potentially poised for a turnaround in profits. However, analysts at Needham do cover this stock and they see significant upside, with a price target of $8 per share. In a "Streetinsider" article, the reasons for an $8 price target were detailed as follows:
"We believe the confluence a low valuation, a major new product cycle, aggressive cost-cutting program and a firming end market will provide investors with strong returns on an investment in Ceragon shares," analyst Alex Henderson comments.
Henderson notes shares are down from $5.50 a year ago and $9.50 18 months ago. It is trading at a slight 0.3x P/S and 5.0x EV/E on our CY15 estimate, or like a company likely to lose money for an extended period and are unlikely to grow in the future. However, they see profitability for CRNT near term, orders accelerating and solid double-digit growth within 18 months."
8) Tech stocks can be very rewarding, especially if you buy at or near the lows, and just before a turnaround. Tech stocks swing in and out of favor due to product cycles and other industry related factors. When investors had a more favorable view of this stock it was trading for about $10 (not that long ago). Now it trades for about a third of that level. Due to the new products, a $25 million cost savings program, a $17 million cash settlement, and increased European and global telecom spending, the prospects for this company have possibly never been better. That is why this stock should be bought while it is still undervalued. When improved financial results are likely announced in the coming quarters, it is easy to see why this stock could trade back to the $8 price target. This stock was trading around $19 per share just before the financial crisis and for nearly $14 per share in 2011. This shows that $8 per share could even be conservative if this company executes and if global telecom spending continues to increase.
Here are some key points for Ceragon Networks, Ltd.:
Current share price: $2.68
The 52 week range is $2.35 to $4.38
Earnings estimates for 2014: a loss of 4 cents per share
Earnings estimates for 2015: a profit of 31 cents per share
Annual dividend: none
Data is sourced from Yahoo Finance. No guarantees or representations
are made. Hawkinvest is not a registered investment advisor and does not provide specific investment advice. The information is for
informational purposes only. You should always consult a financial
advisor.
Disclosure: I am long CRNT. I wrote this article myself, and it expresses my own opinions. I am not receiving compensation for it (other than from Seeking Alpha). I have no business relationship with any company whose stock is mentioned in this article.
Editor's Note: This article covers one or more stocks trading at less than $1 per share and/or with less than a $100 million market cap. Please be aware of the risks associated with these stocks.