I reiterate my bullish stance on Rite Aid (NYSE:RAD); the company continues to deliver healthy financial performance and improve its growth prospects. The company experienced a 2.2% year-on-year increase in total revenues in 4QFY2014. Also, in 4QFY2014, the company reported a 33% quarter-on-quarter increase in EPS. Moreover, the company's efforts of remodeling Wellness Stores remain a key growth driver. Furthermore, the company's continuous efforts of lowering SG&A expenses will portend well for the company's margins; RAD experienced a 2.4% year-on-year EBITDA margin improvement in the recent quarter.
Financial Performance
The company has been delivering healthy financial results in recent quarters, and solid results for 4QFY2014 reflect the company's continuous growth momentum. RAD ended 4QFY2014 with revenue growth of 2.2%, as compared to the corresponding period last year, largely backed by a 3.5% increase in pharmacy same store sales. The less-than-severe flu season in recent months negatively affected the sales of the industry. RAD's overall sales growth was partially offset by the less severe flu season, which had a negative impact of 1.8% on its same store sales. Rx sales (pharmacy sales) were up 3.5% year-on-year, which remained the main revenue growth driver for RAD. However, front-end sales and script count sales were down 0.7% and 1.8% year-on-year in 4QFY2014.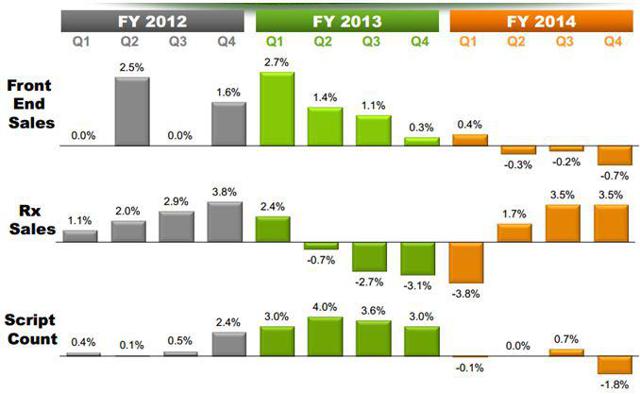 Source: Company's Quarterly Presentation
FY2014 has been a great and successful year for the company, as it experienced double-digit growth in earnings. Top line expansion, EBITDA improvement and efforts to leverage its cost structure resulted in net income of $249 million in FY2014, up from $118 million in FY2013. Moreover, the lower burden of interest expense supported EPS growth. The following table shows that the company has twice reported an earnings beat in FY2014.
| | | | | |
| --- | --- | --- | --- | --- |
| | 1Q-14 | 2Q-14 | 3Q-14 | 4Q-14 |
| Estimated EPS ($) | 0.09 | -0.04 | 0.04 | 0.04 |
| Actual EPS ($) | 0.09 | 0.03 | 0.04 | 0.06 |
| Earnings Surprise | 0% | 175% | 0% | 50% |
Source: Yahoo Finance
Stock Price Drivers
For quite some time, RAD has been focused on lowering the burden of SG&A expenses, thereby supporting the underlying margin growth. Despite a 2.2% increase in total sales, the company was able to slightly reduce its SG&A from 26.1% to 26% of total sales. Moreover, generic purchasing has strongly backed the EBITDA margin growth after RAD's agreement with McKesson (NYSE:MCK), acting as an important stock price catalyst by scaling up the company's profitability.
An important driver behind RAD's strong growth is its wellness remodeling program, which has converted traditional stores to Wellness Stores, bonding the company strongly with its customers. By the end of 4QFY14, RAD successfully remodeled 1,215 Wellness Stores, up from 1,117 stores in 3QFY14. Also, the company expects to increase the total number of Wellness Stores to 1,600 by the end of FY2015. The wellness remodeling program is likely to portend well for the company's top line growth, as remodeled stores have higher sales than non-remodeled stores. In FY2014, remodeled stores' front-end sales exceeded the chain average by 3.2%, and script sales exceeded the chain average by 1%. I believe Wellness Stores will continue to provide growth for the company in the coming years. Moreover, in its efforts to evolve as a company that delivers health and wellness, RAD has announced the acquisition of RediClinic. This acquisition will support RAD's strategy of expanding as the best-in-class wellness service provider, thereby supporting the underlining strategy of the wellness remodeling program.
As the company is making efforts to improve its cost structure and remodel its stores, these efforts will help it improve its profitability and cash flows. Also, the company is expected to experience earnings growth and cash flow improvement, it could direct its cash flows to lower its debt and delever its balance sheet. The company currently has a debt-to-equity of 0.82x. However, the company does not have any near-term credit risk, as it does not have any notable debt maturity until 2018.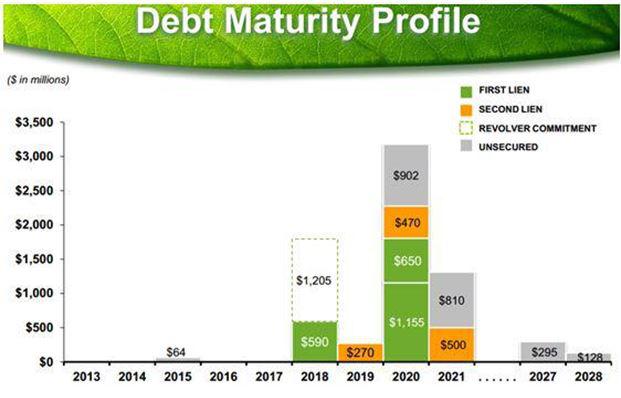 Source: Company Presentation
Guidance
RAD came up with its FY2015 outlook, believing in the strength of its long-term strategic initiatives, including the wellness remodeling program, customer loyalty program and new pharmacy sourcing arrangement with MCK to drive its operational efficiencies. The company expects total sales of $26 billion-$26.5 billion in FY2015, representing an increase of 2.5%-4.5% year-on-year. Also, the company expects diluted income per share of $0.31-$0.42 and CAPEX of $525 million for FY2015.
Conclusion
I continue to believe in RAD's strong growth prospects, as the company has been moving smoothly with growth initiatives like the wellness remodeling program. Also, the extension distribution partnership agreement between RAD and MCK, and RAD's acquisition of RediClinic will portend well for the company's top and bottom line growth. Also, analysts have projected a robust next five-year growth rate of 43% per annum. Moreover, current valuations remain attractive for RAD in comparison to its peers. RAD has an attractive forward P/E and P/S of 14x and 0.30x, respectively, in comparison to its peers' average, as shown below. Also, the company has a lower PEG of 0.45x, indicating that the company offers a cheaper growth. Due to the aforementioned factors, I am bullish on the stock.
| | | | |
| --- | --- | --- | --- |
| | Forward P/E | PEG | Price to Sales |
| RAD | 14x | 0.45 | 0.30 |
| CVS Caremark (NYSE:CVS) | | 1.2 | 0.70x |
| Walgreen (WAG) | | 1.35 | 0.90x |
| Average | 15.15x | 1.1 | 0.70x |
Source: Yahoo finance
Disclosure: I have no positions in any stocks mentioned, and no plans to initiate any positions within the next 72 hours. I wrote this article myself, and it expresses my own opinions. I am not receiving compensation for it (other than from Seeking Alpha). I have no business relationship with any company whose stock is mentioned in this article.