It has been almost two months since I fully reported on biotech name Dendreon (NASDAQ:DNDN), which is known for the prostate cancer treatment, Provenge. In that report, I detailed how Dendreon would get worse before it got better. On Monday, Dendreon shares closed at their lowest point since November 7th, 2013. With the first-quarter report approaching, a lot of questions still need to be answered. Today, I'll take another look at Dendreon.
First-quarter report coming:
Monday afternoon, Dendreon announced it would report first-quarter earnings on the morning of May 8th. In the article linked to above, I detailed how the company's forecast for Q1 was a bit disappointing. That has led to a drop in analyst revenue estimates since the Q4 report. Current estimates call for $69.12 million in revenues, up about 2.3% from the $67.59 million figure in last year's period. The current estimate is down about $3.5 million from where it stood when Dendreon reported Q4. On the flip side, analysts seem to be a little more positive that Dendreon's cost-cutting measures are working. Analysts are currently looking for a loss of $0.29 per share, compared to a $0.33 loss analysts were expecting for Q1 when Dendreon reported Q4.
Important questions to answer:
Dendreon management gave partial answers on some key questions in the Q4 report, but most of the questions that were asked a few months ago still remain. The first question is in regards to an insurance claim over bad inventory (antigen). In 2013, Dendreon recorded a bad inventory charge of $46 million related to the bad antigen. The company has filed an insurance claim for $30 million, and is looking at other ways to recover the remaining amount. I'll be looking for an update on this issue in the Q1 report, as any funds recovered would certainly help.
The second item investors will be looking for is an update on the European launch and automation. Dendreon plans to launch Provenge in Europe during Q4 of this year, with automation scheduled to follow at an undetermined date. A specific launch date is unclear, and a definitive date would help analysts with their financial modeling. Dendreon is also trying to automate in the US, with an undetermined date as well. Any information here would be helpful. The automation process is expected to help get Dendreon's cost of goods sold into the 30%-40% range. That number was almost 60% in 2013, and even more if you include the bad inventory charge in the COGS. Hopes for profitability keep getting pushed back, and automation efforts would certainly help.
Obviously, investors and analysts will be looking for some financial guidance from the company, which is not usually given how most companies do it. Dendreon will usually give generic statements about quarterly or yearly revenues in relations to other periods, but the company usually doesn't give exact amounts. Last year, Q2 revenues were a bit higher than Q1, and analysts expect a similar sequential rise this year. We'll see what Dendreon says about revenues for Q2. There is one other question that really needs to be answered by the company, but it is so big that I'll discuss it in its own section next.
2016 is getting closer:
As I mentioned above, Dendreon is not profitable. The company has lost billions of dollars, and cash burn has been tremendous as well. Dendreon's cash and investments balance was down to about $200 million at the end of 2013, and the company was still expected to burn through cash for the indefinite future.
That causes a couple of problems, beside the obvious one about needing cash just to operate the business. First, Dendreon has a set of 2014 notes that are maturing in June. When you include interest, the contractual obligation as detailed on page 67 of the 10-K is about $28.3 million. A year or two ago, that obligation was a small part of the company's cash pile. But as the company has blown through cash, it has grown to a sizable chunk of the pie.
The thing that got me really annoyed with the Q4 call is that Dendreon was supposed to provide an update on the debt situation. CEO John Johnson on the Q3 call specifically said "we look forward to discussing more with you guys in February." But in the Q4 report, the company basically sidestepped the issue with the following statement I detailed in my article linked to in the introduction above.
On our third quarter call, we indicated that we would provide an update regarding our convertible debt. Over the last quarter, we have spent considerable time exploring our options with our advisors and have made significant progress in our thinking. As you would expect, we are not going to provide details at this point in time except to say that addressing our convertible debt remains a top priority and we are well advised.
We are now less than two months from the maturity of the 2014 notes, and may only be about a month away from the Q1 report. It would be nice for the company to give an update on this situation! Dendreon is expected to further burn through cash in Q1, so this repayment would send the cash pile down even more. On the flip side, the notes could potentially be converted to equity, but it would be highly dilutive to shareholders. The original conversion rate on the notes was 97.2644 shares per $1,000 principal amount, or $10.28 per share. Obviously, the shares are well below that now. Dendreon's market cap as of Monday's close was about $377 million, meaning a roughly $28 million conversion would equal dilution of more than 7%. The potential piece of good news is that if Dendreon's insurance claim gets it the $30 million back, that would seem to cover the 2014 notes payment. However, with that inventory being bad, the company may have to spend some of those funds on new inventory.
The larger issue, one that investors should be familiar with, is the 2016 notes. You can see this in the contractual obligations table below, taken from page 67 of the above-linked 10-K filing.

Click to enlarge
The 2016 notes are due on January 15th of that year, less than 21 months from now. Dendreon obviously does not have the financial resources to pay this money back right now. With cash burn continuing until an unknown date, it seems highly unlikely that Dendreon will have the cash to repay by January 2016. Refinancing could be a possibility, but right now, I don't see anyone lending to this company, which already had an equity deficit of $247 million at the end of 2013. By January 2016, Dendreon really needs to improve things. If the company is unable to repay or convert these notes, with conversion currently meaning more than 100% dilution, bankruptcy could be an option.
One thing I have brought up over the last year or so is that Dendreon might need to raise cash at some point. At the moment, more debt seems unlikely due to the financial situation of the company. That means that cash would have to be raised through equity, the selling of shares. The amount of dilution would obviously depend on how much money Dendreon needs. In the table below, I've detailed how many million shares Dendreon would need to sell, based on the amount of money needed and share sale price. More than 157 million shares are outstanding now.

Click to enlarge
If Dendreon does need cash, management may have failed investors in this respect. As you'll see in the chart in my conclusion below, shares have spent a fair amount of time above $3.00 in recent months. Had Dendreon announced a deal when shares were higher, obviously dilution would not have been as much at the same level of dollars being raised. If Dendreon were to announce a secondary offering today, for instance, it would be a bit more painful.
Short squeeze - what short squeeze?
One part of the bull case is that Dendreon is a heavily shorted stock. In the mid-October 2013 short interest update, just under 60 million shares were short. That's an incredible number, considering at the end of Q3, just over 157.6 million shares were outstanding, with the float being a few million shares less. With more than 38% of the outstanding share count short, bulls hoped that good news would spark a massive short squeeze.
However, that case has cracked a bit in the past six months. First, the news from Dendreon has not been as positive as many hoped, or the positives have not come as quickly as hoped. Also, short interest has plunged, as you can see from the chart below.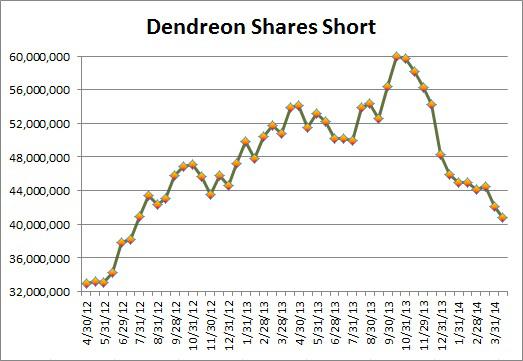 Why is plunging short interest a problem? Well, in the latest update that we received last week, short interest was down to about 40.75 million shares. That means that just over 32% of shares short have been covered since the peak. Yet, if you look at current share prices compared to where they were at that October update, they are flat or maybe even down (depending on if you look at settlement day or a few days prior to settlement). For shares to be basically flat or even down while nearly a third of shorts have covered really takes a chunk out of the bull case. Yes, Dendreon shares have been higher at times, but short interest continues to go lower, and so has the stock recently. If you had looked at Dendreon back in October and said that in six months short interest would be about a third less, most Dendreon bulls probably would tell you the stock would be at $4 or $5, not in the mid-$2s.
Final thoughts:
As we approach Dendreon's first-quarter earnings report, many of the key questions we asked a quarter ago still remain. Dendreon needs to address its debt situation, and soon. This can't be another "we're making progress, we're making progress, but we just burned through another $30 million in cash" quarter, where the company has no clue about profitability or positive cash flow. Results need to turn around, and soon. The 2014 notes due in a month or so won't kill the company, but the 2016 notes could.
Until this company proves that it's not racing at full speed towards the cliff's edge, this stock will remain on a select list of short candidates. However, given the recent fall seen in the chart below, investors probably will want to wait until the next pop to short, unless that pop is on exceptional news (which we still have not seen). I also have recommended in the past hedging a short, just so you don't get burned by a spike. There was a reason I started suggesting this name as a short idea in the mid-teens, and shares are now at $2.46. Yes, there is the potential for shares to double or triple if everything goes right for this company. However, Dendreon's recent history does not give a lot of confidence, which is why there are still many non-believers and short sellers around this name.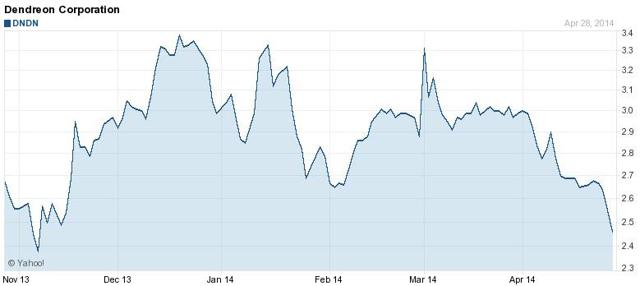 Click to enlarge
(Source: Yahoo Finance)
Disclosure: I have no positions in any stocks mentioned, and no plans to initiate any positions within the next 72 hours. I wrote this article myself, and it expresses my own opinions. I am not receiving compensation for it (other than from Seeking Alpha). I have no business relationship with any company whose stock is mentioned in this article.
Additional disclosure: Investors are always reminded that before making any investment, you should do your own proper due diligence on any name directly or indirectly mentioned in this article. Investors should also consider seeking advice from a broker or financial adviser before making any investment decisions. Any material in this article should be considered general information, and not relied on as a formal investment recommendation.