For years, stocks of manufacturers of solar cells, modules and panels have been in the doldrums. Until a year and a half ago, there was a really spectacular and ongoing crash that wiped out equity values in the order of 90% or larger, and quite a few solar companies even went belly-up.
Now we have people alarmed, arguing that this is about to happen again:
With so many headwinds facing Chinese solar stocks, the time to cut and run may be nigh. Especially when you consider just how high many of these things have run up in the last year so. Pressures are going to crimp sales and cash flows at the solar producers - none of which is good for share prices or investors. [Aaron Levitt]
And indeed, prices of solar stocks are off sharply from the highs they set earlier in the year: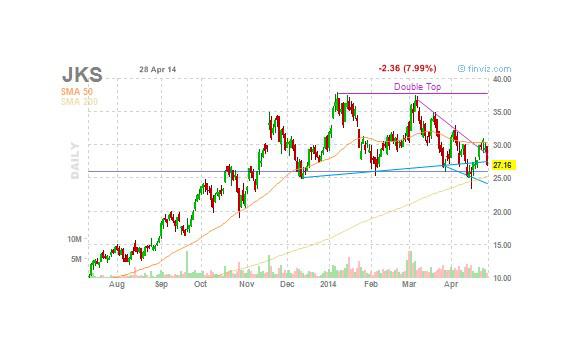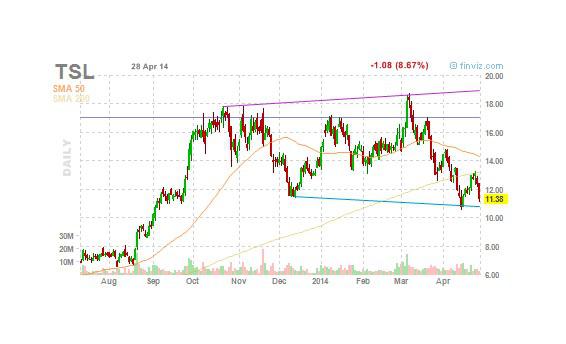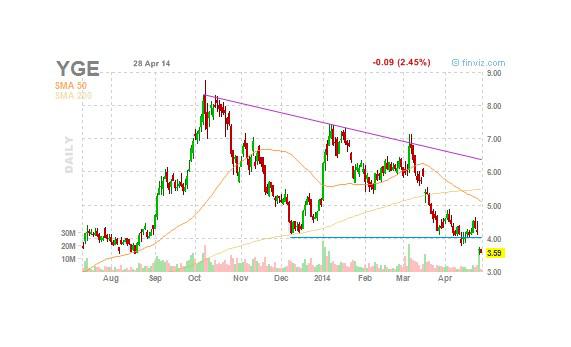 You see just how much these shares are already off this year, although keep note that these stock prices are highly volatile, and between the time of writing and publication of this article a lot can happen. Before we go into the reasons for this sell-off, it's worthwhile to revisit the previous slump in order to see whether this time will be different.
The previous, rather epic solar crunch was the result of simple market forces. While there is variety in technology, price and efficiency, solar panels are in fact a near commodity. Like with all commodities, an oversupply causes prices to fall.
What happened between 2009 and 2013 was that there really was a massive oversupply as the barriers to entry are not terribly high, there is still a good deal of experimentation with different technologies by start-up companies, and most of the existing solar companies had embarked on massive expansion of production capacity.
The result was an epic fall in the price for solar cells: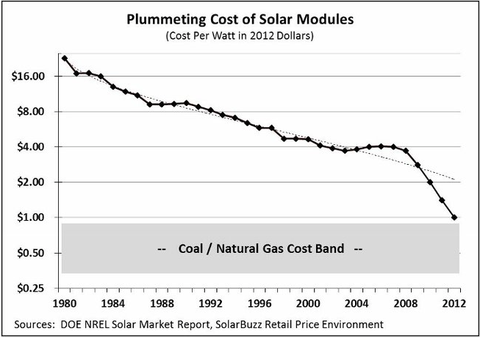 That wiped out margins and profits; it even wiped out a good many companies (most notably market leader Suntech, STP), even if the dramatic price fall also expanded the market. Since a year or so ago, supply and demand are more in balance as companies rationalized, went bankrupt, were taken over and investment in new capacity was postponed and, as we predicted (a little early), the solar stock boom started in earnest.
This time around
Lately, stocks are crashing again and alarming articles like the one cited above are appearing. Will it be different this time around? Reasons for the latest sell-off are cited as:
China might not achieve its 14GW target for 2014
Trade frictions between China and the EU and US
Weak demand from Europe
A cut in the Japanese subsidies
US shale gas boom
A rise in panel prices
Let's look at some of these issues in a bit more detail.
China
China might need additional measures to reach the 14GW goal set for this year. That's a potential setback, but even if that materializes, it doesn't mean the Chinese solar market will experience some sort of fundamental shift.
This matters, because it's an especially important market for market leader JinkoSolar (NYSE:JKS). But we think there are good reasons there won't be any fundamental shift in the Chinese market:
Having set targets, China usually finds ways to comply with these.
Considering the lack of domestic energy sources, the tremendous pollution system (and a population starting to revolt against this), and the strategic importance of its domestic solar industry (which is world leading), we find it difficult to imagine any fundamental shift in policy.
In fact, the trade issues concerning Chinese solar panels might lead to China putting more, not less emphasis on its domestic solar market. It's for a reason they set the 14GW target, which, if attained, would be the largest solar market by some wide margin (Japan comes second at an expected 9GW while Europe, long the biggest solar market by far, comes in third at an expected 7.85GW).
Here is what Nomura wrote about the Chinese solar prospects for this year (from Barrons):
As such, without policy changes either enabling higher utility-scale projects or addressing the concerns on distributed systems, we do not expect the China market to kickstart into a higher run-rate. Here, we have discussed market dynamics with Shunfeng PV, JinkoSolar and Trina Solar. One consensus view and expectation is that China will likely revisit the quotas with further support coming from provincial governments thus enabling faster demand growth from 3Q14F. While second-guessing policies is typically very risky, we believe given China's focus to promote renewable energy to combat its pollution problems, an early resolution is very likely. Removal of this overhang should help normalise demand and is thus a positive.
So there are still expectations from the industry that additional measures will take place although others are less optimistic, like Credit Suisse:
Credit Suisse lowered its 2014 demand forecast for solar installations in China from 12 GW to 11.5 GW and said the government's 14GW target is hard to achieve
However, access to financing and project permits becomes a key differentiator:
As such, differentiation among companies becomes more important. For instance, companies such as JinkoSolar, Trina Solar (NYSE:TSL) and Canadian Solar (NASDAQ:CSIQ) have access to project financing, but Yingli Green Energy (NYSE:YGE) and ReneSola (NYSE:SOL) do not
JinkoSolar is well placed on both fronts, and the shares have already sold off meaningfully.
Japan might have cut subsidies, but the market is booming nevertheless. The cut in the subsidies was a mere 11%, so this is hardly a surprise.
A fundamental policy shift is also unlikely here. Japan is very energy dependent, the shutdown of all nuclear reactors has wrecked havoc on the Japanese trade balance through expensive LNG imports. Even while some nuclear reactors are scheduled to come back online in the near future, Japan basically needs all the energy sources it can get.
The US shale gas boom has also been mentioned by the article from Levitt above, but this is hardly a new factor. It has been around for a while and it hasn't even stopped solar energy in the US itself.
Price hikes
It's somewhat odd for Levitt to cite price hikes as a matter of concern, considering it was price slumps which got solar stocks crashed in the last slump.
According to Boston-based green think-tank GTM Research, the price of Chinese-made solar panels will rise about 20% this year. And already, the price rise is beginning to take shape. According to its latest report, GTM shows that Chinese solar producers like JinkoSolar have priced their modules at 80 to 85 cents per watt for new deliveries. That compares to just to 70 cents per watt at the end of 2013.
We would argue that, on balance, these price hikes are a net positive. Indeed, while Levitt argues that the price hikes took their toll on the likes of Trina Solar, which warned that Q1 shipments would come in well below previous guidance, Nitin Kumar from Nomura argued:
Prior to Trina's latest update, we had expected 1Q14F external module sales of 725MW with margins of 16.2% (Trina's original guidance: Shipments - 670~700MW; GM - midteens) for a net profit of USD17.4mn. Based on the new guidance update, we now see external shipments of 567.5MW along with a 50MW project sale in China for a gross margin of 19.7% (Trina's new guidance: Shipments - 540~570MW; GM - 18~20%). This translates into earnings of USD27.1mn for 1Q14F as per our estimates. Note: Lower shipments have a corresponding reduction in SG&A as shipping charges are included in SG&A.
That is, the margin expansion as a result of higher prices might actually trump the fall in shipments. Now, you might also want to consider the following:
Trina lowered Q1 shipment but maintained shipment guidance for FY 2014.
Jinko hasn't lowered shipment guidance, but prices for its modules are rising as well (see quote above in bold).
Could Jinko actually surprise on the upside? It remains to be seen, but on the basis of this information, that's well within the realm of possibilities.
Some positives
Let's not forget, while the occasional hiccup is unavoidable, the bigger picture for solar is still quite bright.
Solar panel manufacturers are increasingly moving into projects that provide more stable and predictable income and often substantially higher margins.
Solar stocks have already sold off big time, so much of the bad news should already be priced in
Many solar stocks are quite cheap. For example, Jinko with average EPS expectations of $3.44 and $4.79 for this year and the next, is selling well under 10 times earnings.
While current (modest) module price rises are actually good news for most solar stocks, giving them respite from the dramatic falls in the last four years, there is no reason to think this is anything but temporary. Improvement and innovation aren't about to come to a grinding halt anytime soon.
We think a position under $25 in JKS, possibly for a swing trade if that's your investment style, could pay handsomely.
Disclosure: I have no positions in any stocks mentioned, but may initiate a long position in JKS over the next 72 hours. I wrote this article myself, and it expresses my own opinions. I am not receiving compensation for it (other than from Seeking Alpha). I have no business relationship with any company whose stock is mentioned in this article.