I continue to have the energy sector as an "overweight" position within my own portfolio. The huge domestic energy boom continues to be a secular tailwind. Energy infrastructure continues to be built out, improving the ability to get product to market. In addition, oil prices remain stubbornly above $100/barrel and domestic natural gas prices are near four-year highs. There is a lot to like about the sector including its reasonable valuations compared with the overall market.
I own myriad plays within the sector including companies involved in energy services, gathering and processing as well as exploration and production companies. Many such as Abraxas Petroleum (NASDAQ:AXAS) and Warren Resources (NASDAQ:WRES) have more than doubled over the past year since I purchased and recommended them (I, II). I have taken recent profits in both those plays recently as they moved from significantly undervalued to fairly valued.
One E&P concern that has not had that kind of move yet but looks well positioned to produce outsized gains in the future is Energy XXI Limited (EXXI). The stock has been punished somewhat due to a purchase some investors thought the company paid too much for but the company should see brighter days in 2015 and perspective investors should start to plan to take advantage of that opportunity.
Company Overview:
Energy XXI Limited is a Bermuda-based deepwater E&P concern that operates five of the most productive fields in the Gulf of Mexico. The company was founded in 2005 and had a market capitalization just under of $1.7B before a recent proposed merger with EPL Oil & Gas, Inc. (NYSE:EPL).
A Bump In 2014:
Energy XXI Limited paid a 34% premium for EPL Oil & Gas, which some stakeholders thought was slightly excessive. However, the merger will produce synergies as Energy XXI is strong in boosting production in old wells while EPL has a core competency in using seismic and other tools to locate new reserves.
The merger will also make Energy XXI the third-largest producer in the Gulf of Mexico shelf, behind private equity backed Fieldwood Energy and Chevron (NYSE:CVX). Earnings will take a hit in FY2014 (which ends June 30th, 2014) as they will be down to a projected ~$1.30 a share from $1.87 a share in FY2013.
However, the consensus has Energy XXI earnings over $2 a share in FY2015. That consensus earnings estimate has gone up some 15% over the past month as analysts start to take the synergies from this merger into account.
Revenue Growth And Valuation:
Thanks primarily to the merger, revenues should jump some 60% in FY2015 to almost $2B annually. The combined entity will produce some 65,000 BOE/D (Barrels of oil equivalent/day) of which 70% of production will be oil.
Analyst Commentary:
The fifteen analysts that cover the shares have a median price target of $32 a share on EXXI, ~30% above the company's current stock price. Insiders have also been small net purchasers of the stock so far in 2014.
Outlook:
Sentiment on this stock should improve in two months when it puts FY2014 in the rear view mirror. The equity is not expensive at approximately 11.5x normalized post merger earnings in FY2015. After falling by more than a third since its recent highs late last year, the shares look like they are offering a strong entry point with some technical support right under current levels. The stock is a buy.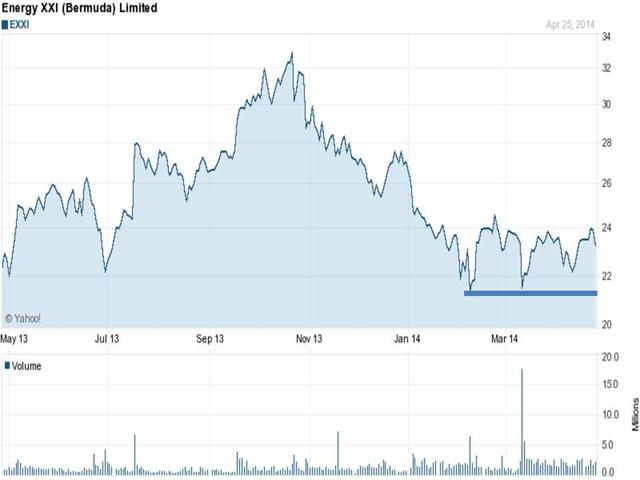 Disclosure: I am long EXXI. I wrote this article myself, and it expresses my own opinions. I am not receiving compensation for it (other than from Seeking Alpha). I have no business relationship with any company whose stock is mentioned in this article.