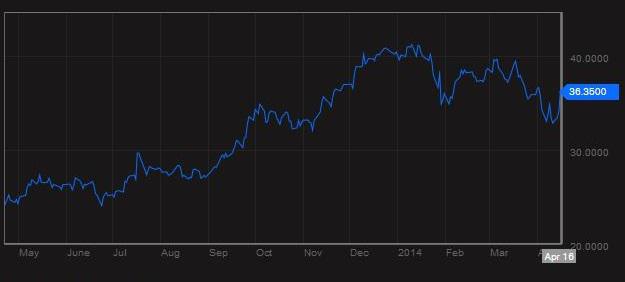 Yahoo Inc. (NASDAQ:YHOO) is currently trading at $33.99. The stock has enjoyed strong Q1 growth following sales and earnings that beat forecasts. Yahoo shares spiked 6.25% on Wednesday, April 16th, jumping from $34.21 on April 15th to $36.35 after the news of the earnings reports. The stock price evened out on April 17th and 18th at $36.35 and $36.38 respectively. The stock price movement marks a mini-rally in Yahoo that has been taking place since April 11th when the price was $32.87; since then, Yahoo has gained 10.68%. The current P/E ratio is 30.1223 and the earnings per share (EPS) is 1.2077. The company's market cap is $36,721.69 million.
CEO Mayer is the Visionary behind Results
When a company achieves strong results, it raises the question as to what has changed. In this case, analysts are pointing to the visionary leadership of CEO and President, Marissa A Mayer, who has been working to arrest ongoing declines and to turn Yahoo's fortunes around. The most notable turnarounds have been seen in ads - notably search & display ads. Yahoo banner and video ads dropped by 6% during Q4 of 2013, while search ad sales declined by an estimated 4%. This follows the trend of recent years, where Google (NASDAQ:GOOG) (NASDAQ:GOOGL) and Facebook (NASDAQ:FB) have surpassed Yahoo in terms of overall advertising sales. Yet Mayer has been hard at work to boost the company's fortunes. Yahoo increased its traffic volume during 2013 but was hard-pressed to translate that into higher ad sales. At the time, Mayer lauded the growth in traffic and insisted it was a portent of good things to come. The recent surge in the stock price prove her predication was correct. Indeed, in spite of the poor revenues generated by the company, Yahoo Inc. stock posted strong gains during 2013. Investors are buying into Mayer's vision and confidence even before results are fully apparent.
Yahoo Now Boasts 800 Million Users per Month
After all, there is good reason to be confident. Yahoo Inc. currently sports 800 million users every month - up 20% from the time that Mayer assumed her position as CEO. The income statement for March 2014 reveals revenues of $1,132 million, net income of $311.15780 million, and a profit margin of 27.50%. These figures are in line with the recent performance of the company, leaving no doubt that is on the up and up, albeit at a slow pace. The earnings look solid for Yahoo based on Q4 of 2013 and over the course of the last 12 months Yahoo stock has surged. The stock, which was trading at 23.4700 in April 2013, is now trading at 41.7201 per share. That amounts to an impressive 77.75% increase.
Billions Expected with Alibaba IPO in the U.S.
More good news is that Alibaba, partly owned by the search engine giant, is now performing strongly and boosting Yahoo's overall economic performance. With a 24% stake in the Chinese e-Commerce enterprise, Yahoo has managed to enhance its net worth as a truly global search engine company. When the IPO was announced for Alibaba, Yahoo opted to sell 208 million shares - substantially less than was expected. It is worth noting however, that the Alibaba IPO is sure to drum up considerable investment initially, but it is unlikely to have a lasting effect.
What is Mayer Planning this Year?
CEO Mayer is expected to take the company to new highs this year, with plans for major expansion. Among others, Yahoo is expected to acquire new sites and make structural improvements. Of particular significance are the news-related products, Yahoo Magazines and Yahoo News Digest. Several notable acquisitions and developments have been made including Aviate (an intelligent management system for mobile apps), Summly and Yahoo Tech, among others. The goal of course is to cover as wide a spectrum of information as possible to attract advertising (banners, ads and video ads) along with customers. Mayer has been instrumental in using celebrities to promote the company - notably Katie Couric, SNL actors and others. In much the same vein, Yahoo will soon acquire a number of TV series (details remain sketchy at present) but it is clear that Mayer is venturing into uncharted territory to grow the company.
Is Yahoo Correctly Valued? Analysts Say Yes
Banc De Binary analysts are expecting Yahoo stock to continue to post solid gains through Q2 of 2014. Mayer's leadership is proving to be invaluable as investments continue to pay off. While the stock has made significant gains of late, there is room for considerable growth. As one of the best performing tech stocks during 2013, Yahoo has managed to hold onto its gains over the last 12 months. In spite of the tech stock slump in March, the company has rebounded strongly. In fact, many analysts are not convinced the supposed 'tech stock crash' occurred; they consider it a 'tech stock correction' to determine real value in technology stocks. Yahoo was not considered one of the over-priced companies like Facebook, Amazon (NASDAQ:AMZN) and LinkedIn (NYSE:LNKD). As far as value stocks go, analysts at Banc De Binary believe that this technology stock is right where it should be. With so many big plans in place, and the major Alibaba IPO set to take place, the stock should surge during 2014 and retain its momentum well beyond.
Disclosure: I have no positions in any stocks mentioned, and no plans to initiate any positions within the next 72 hours. I wrote this article myself, and it expresses my own opinions. I am not receiving compensation for it (other than from Seeking Alpha). I have no business relationship with any company whose stock is mentioned in this article.