At the end of my previous article (3 Chinese Growth Stocks in Value Territory), I asked readers if they would like me to cover a specific company mentioned in further detail. Suffice to say, there was a large audience that were curious about one company in particular: Universal Travel Group (UTA).

Universal Travel Group appears to be a bargain on the surface, however, its long-term future is dependent on things out of its control (or at least recently out of its control). Here's a quick look at what the company does and where its priced:
Universal Travel Group, together with its subsidiaries, operates as a travel service provider offering air ticketing and hotel booking services, as well as domestic and international packaged tourism services via the Internet, customer representatives, and kiosks in the People's Republic of China. It also provides technological solutions to travel reservations, and tour planning and tour guide services. In addition, the company operates TRIPEASY Kiosks, which are placed in hotels, office buildings, banks, shopping malls, and MTR stations for travel booking with credit cards or bank debit cards. Universal Travel Group is headquartered in Shenzhen, the People's Republic of China. - Yahoo! Finance
The last paragraph should read, "Priceline of China". The easiest way to understand what UTA does is to parallel it with an American company such as Priceline (NASDAQ:PCLN) or Expedia (NASDAQ:EXPE). Universal Travel offers ticketing, booking, and tour services throughout China.

This type of service, although highly competitive, is extremely fragmented in most areas of China. Therefore, although similar services would have price wars in the US, thus decreasing revenues, travel services in China are able to create a moat around an otherwise un-moatable industry. UTA's two main competitors, eLong (NASDAQ:LONG) and Ctrip.com (NASDAQ:CTRP) operate in primarily separate regions than UTA. Universal has a large exposure in the southern provinces of China where competition is less fierce.

Let's look at some numbers: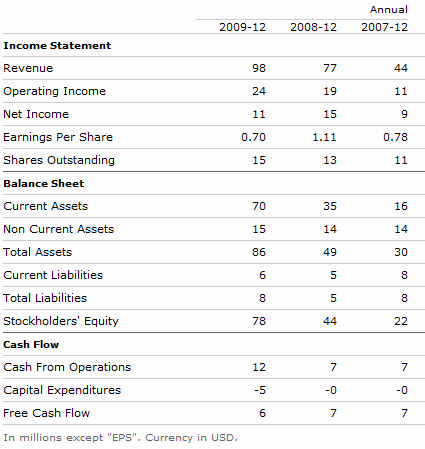 Management has done a terrific job at managing consistent and reliable growth in a volatile market. UTA is still managing to grow sales at near-20% rates, and the overall Chinese travel market is growing at nearly 15% a year. A 21% earnings yield is quite a cheap valuation for that kind of growth.

On the balance sheet side, UTA has managed to fuel its growth without resorting to taking on debt. In fact, the company is virtually debt free when subtracting the small amount of short-term debt they have for ongoing business operations.

It's a comforting sign that UTA is able to sustain their growth by resorting to only free cash flow. On that note, it is also worth mentioning that UTA holds almost $40 million in cash. Add in virtually no debt and compare to a $100 million market cap and you have a fairly reasonable margin of safety.

Where is the growth coming from? As mentioned before, the Chinese travel market itself is continuing to grow around 15% a year despite the global recession. UTA has been able to add to this natural growth mainly through the use of acquisitions.

A recent example of their growth style is highlighted in two recent purchases, Shanxi Jinyang Travel Agency Co. and Kunming Business Travel Agency Co. The combined purchases were for $8.0 million, of which 90% was paid in cash and 10% in stock. The combined audited 2009 revenue and net income for the two travel agencies was $15.3 million and $1.3 million, respectively. 2x revenue and 6x earnings is a very reasonable price to pay for high-growth market companies.

As to what management saw in these and other acquisitions: Ms. Jiangping Jiang, Chief Executive Officer said that:
these acquisitions of travel service providers will help us to further expand our geographic coverage in the fast growing domestic travel market. We believe Universal Travel Group's comprehensive service platform and broad customer reach will enable us to further improve their earnings and profit margins.
So far, that's been the case. No matter how well this company is priced or how reasonable and accreditive their past acquisitions were, the key factor for UTA lies in their ability to make additional growth purchases in the future. As far as managements historical ability to make effective additions at fantastic prices, it would be tough to bet against them.

Disclosure: Long UTA