With Russia in the headlines on both page one of the newspaper and the financial pages it is safe to say that the market now has to respect the situation in Ukraine more than ever. There are plenty or sparks flying these days, and have been for the last week or two, and it is only a matter of one stray move before the region flares up. We already have sanctions from the US, which are impacting US companies, and there are rumors of even more being worked on. The target in this exercise is not the country in general, but the rich in particular.
This is calling into question many names with significant exposure to Russia, but thus far these names have held in strongly after the initial reaction lower following the flare up in Crimea.
Chart of the Day:
The 10-year rate has moved lower in recent sessions as the markets have been spooked for a number of reasons. The momentum and tech stock retreat kicked if off the buying in Treasuries, but the recent actions can most certainly be attributed to the big question market which is Vladimir Putin.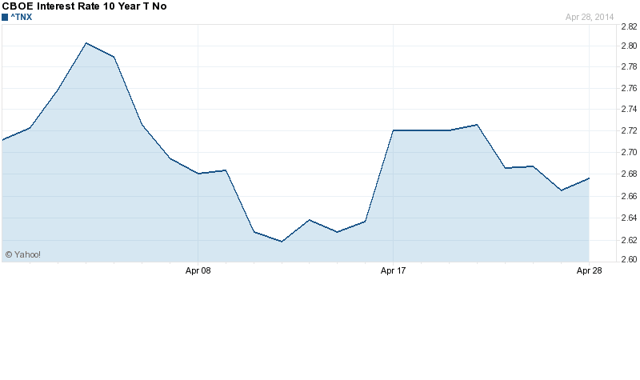 Click to enlarge
Source: Yahoo Finance
We have economic news today, and it is as follows:
Case-Shiller 20-city (9:00 a.m. EST): Est: 13.0% Actual: 12.9%
Consumer Confidence (10:00 a.m. EST): Est: 83.6 Actual: 82.3
Asian markets finished mixed today:
All Ordinaries -- down 0.89%
Shanghai Composite -- up 0.84%
Nikkei 225 -- down 0.98%
NZSE 50 -- up 0.64%
Seoul Composite -- down 0.23%
In Europe, markets are trading higher this morning:
CAC 40 -- up 0.57%
DAX -- up 1.20%
FTSE 100 -- up 0.78%
OSE -- up 0.72%
Putin On The Offensive
With Russia dealing with the latest round of sanctions that the US and its allies hit the country with while also looking to step up their military presence on the border they share with Ukraine, Vladimir Putin and other Russian leaders have been quite vocal in recent days. Mr. Putin's latest targets are the two largest payments companies in the world, Visa (NYSE:V) and MasterCard (NYSE:MA), which both took part in the first round of sanctions put in place by the west and yesterday stated that two more Russian banks would be impacted by the latest round.
We ran across a Bloomberg article (located here) where Mr. Putin discusses the fact that Russia is developing its own national payments system and how recent events will cause both Visa and Mastercard to lose marketshare. This may very well be true to a small extent, but in Europe citizens travel across national borders all of the time and because of this their cards need to be accepted in more than one country or they become useless. We would continue to watch this situation closely, but would put little thought to the possibility of Visa and MasterCard getting run out of Russia based on current events.
Disney Expanding
Even with many companies worried about the geopolitical risks associated with having large portions of their business in Russia and Asia, and more specifically China, Disney (NYSE:DIS) is moving up plans for an $800 million expansion at their Shanghai Disney park. Disney owns 43% of the park and will foot a proportionate amount of the expenses for this expansion.
Disney has been investing heavily overseas in the past two decades, but they continue to build their strong North American franchise and add content which dramatically lowers their risk exposure to certain areas of the world.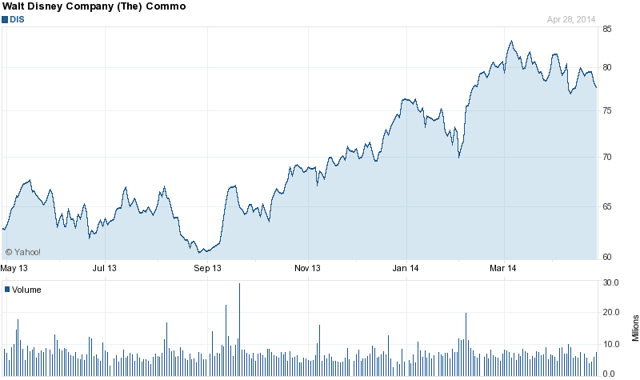 Click to enlarge
Source: Yahoo Finance
Although we are seeing first hand what happens to companies who invest in areas overseas that have leaders with ambitions of expanding their influence and borders, this Disney news simply highlights the necessity of it all. Corporate America has to chase the growth in order to continue to grow the company, and this day in age it requires significant investments in areas with greater risks.
Banking Missteps
The news yesterday from Bank of America (NYSE:BAC) was quite troubling and the drop in value understandable. We have already discussed our thoughts on Citigroup (NYSE:C) an their ongoing issues, but after talking to a number of people yesterday and fielding questions on the topic we feel like investors may be getting the wrong idea about the situation.
Granted it is embarrassing anytime one has to correct something, especially when that something is as important as regulatory documents submitted to your industry's regulator. A bank not being able to count, as the current joke going around states, is quite a black eye but the issue has less to do with counting and more to do with compliance and contract law. As bad as all of this is for Bank of America we still think Citigroup has the larger problems at this time. Investors and readers who sold their Bank of America shares yesterday will need another place to put that money to work, we would suggest that Citigroup is not the big bank one would want to use in order to do that. Neither bank is a good investment right now, but both are not bad investments either...just one is.
Disclosure: I have no positions in any stocks mentioned, and no plans to initiate any positions within the next 72 hours. I wrote this article myself, and it expresses my own opinions. I am not receiving compensation for it (other than from Seeking Alpha). I have no business relationship with any company whose stock is mentioned in this article.
Additional disclosure: BAC has previously been recommended.