International Business Machines Corporation (NYSE:IBM) just announced its annual dividend increase, making it the 19th consecutive year it has done so. IBM has been paying dividends for more than a 100 years now, going back all the way to 1913.
This article was written last April, when IBM announced its 2013 dividend increase. With the latest increase in mind, it is time to re-evaluate the numbers. Let us get into the details.
New Dividend and Yield: The new annual dividend of $4.40 per share gives the stock a yield of 2.20%, which puts it very close to Apple (NASDAQ:AAPL), but much lower than other technology stocks like Microsoft Corporation (NASDAQ:MSFT) and Intel Corporation (NASDAQ:INTC). But IBM has a much lower payout ratio and a more effective buyback program than most other companies.
Dividend Growth Rate: The table below shows the dividend growth rates over the past 5 years. It is easy to see that IBM has been very consistent, with low-to-mid double-digit increases. The five-year average stands at an impressive 15%. This looks set to continue for many reasons, including the three below.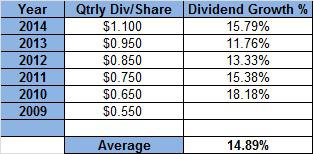 (Source: Yahoo Finance)
Payout Ratio:
In spite of 19 consecutive dividend increases, the payout ratio stands at a paltry 30%. This is astounding, as recent dividend payers like Apple, Microsoft and Intel have much higher payout ratios. This speaks a lot about IBM's earnings prowess and buybacks.
Using 2014 and 2015 earnings estimates, the forward payout ratio stands at 24% and 22%, respectively.
Free Cash Flow: Let us evaluate how IBM's Free Cash Flow (FCF) stacks up from a dividend coverage perspective.
IBM's average quarterly FCF over the past 5 years has been $3.8 billion.
The minimum was $2.17 billion, while the maximum was $6.46 billion.
Total outstanding shares as of now stands at 1.04 billion. So IBM is committing $1.1 billion/qtr to shareholders (1.04 times $1.10/qtr).
Even the minimum free cash flow more than handily covers the dividend requirement. In a nutshell, dividends are extremely safe from the FCF standpoint, and investors can expect many more annual dividend increases.
Buybacks:
IBM has perhaps the best buyback history when it comes to tech companies.
The outstanding share count has gone down by 20% in the last five years.
As one can see in the chart below, there has been a gradual and healthy decline in the number of shares.
For a steady dividend payer like IBM, retiring shares saves a lot of money over the long run, in addition to boosting earnings per share.

(Source: YCharts.com)
Extrapolation:
The table below shows the potential yield on cost for a long-term investor buying IBM today.
The table assumes 10%/year dividend growth for the first 5 years and 7%/year for the next five. This is very conservative given IBM's dividend coverage and history, but it does not hurt to be conservative.
Even under such pessimistic assumptions, the yield on cost will more than double for the patient investor.
IBM's earnings are expected to grow at nearly 9%/year for the next 5 years. If this holds true, the EPS will be around $20. Even if IBM maintains the low payout ratio of 30%, investors will be looking at an annual dividend of $6. This represents a 36% jump from the current level of $4.4/share.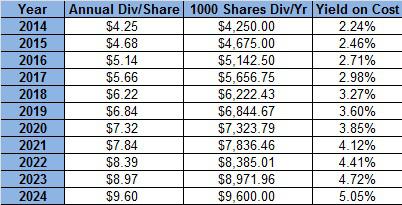 (Source: Current dividend and share price data from Yahoo Finance)
Conclusion:
Despite being a technology company, IBM has many attractive features for long-term dividend investors.
A venerable dividend growth streak
Strong cash flow and low payout ratio
A moderate beta of 0.70
An expected earnings growth of almost 9%
This is still the best technology stock for long-term dividend growth investors, with all due respect to Apple.
Disclosure: I have no positions in any stocks mentioned, and no plans to initiate any positions within the next 72 hours.
Business relationship disclosure: Business relationship disclosure: The article was written by Tradevestor's analyst. Tradevestor is not receiving compensation for it (other than from Seeking Alpha). Tradevestor has no business relationship with any company whose stock is mentioned in this article.