The following is a visualization of 9 companies that have underperformed their respective industries over the last year. All of these stocks currently have bullish analyst ratings, which implies that analysts expect these stocks to outperform their industries over the coming months.

All analyst data is sourced from Zacks Investment Research.

Is most of the bad news priced into these stocks? Analysts seem to think so. What do you think?

Clicking on any of the images will launch an interactive visualization. The list has been sorted by annual performance, from worst to best.
(Click for expanded images)

1. Petrohawk Energy Corporation (NYSE:HK)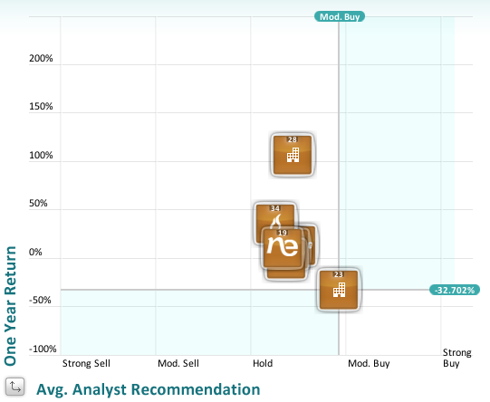 Independent Oil & Gas Industry. Market cap of $4.85B. The stock has lost -31.6% over the last year, but analysts still rate it higher than Noble Energy (NYSE:NBL), EOG Resources (NYSE:EOG) and Devon Energy (NYSE:DVN). Institutional investors, who currently own 86.97% of the company, seem to agree with analyst opinion. They have boosted holdings by 3.55% over the last 3 months. The company has a short float of 6.14%, which implies a short ratio of 2.28 days.

2. Penn National Gaming Inc. (NASDAQ:PENN)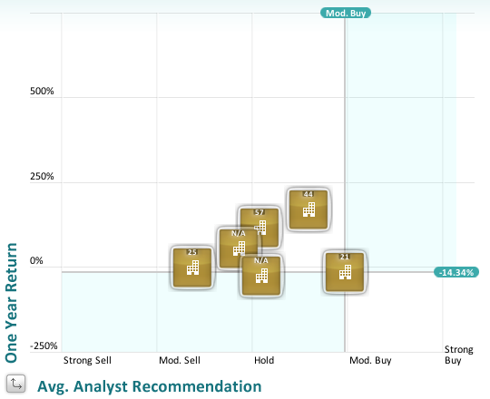 Resorts & Casinos Industry. Market cap of $2.11B. The stock has lost -21.12% over the last year, but analysts still rate it higher than Las Vegas Sands (NYSE:LVS), Boyd Gaming (NYSE:BYD) and Melco Crown Entertainment (NASDAQ:MPEL). Institutional investors, who currently own 77.07% of the company, seem to agree with the analysts. They have boosted holdings by 1.81% over the last 3 months. The company has a short float of 2.3%, which implies a short ratio of 1.88 days.

3. QUALCOMM Incorporated (NASDAQ:QCOM)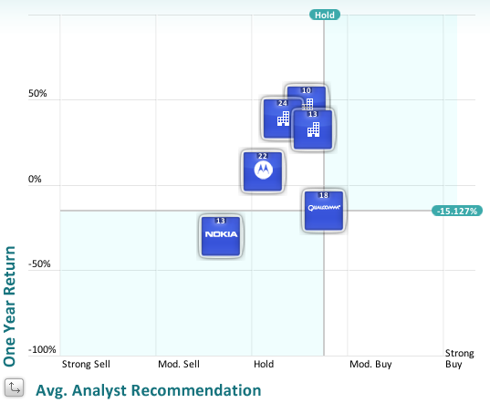 Semiconductor Industry. Market cap of $62.22B. The stock has lost -14.94% over the last year, but analysts still rate it higher than Harris Corp. (NYSE:HRS) and ViaSat (NASDAQ:VSAT). Institutional investors, who currently own 79.13% of the company, seem to disagree with analyst opinion. They have decreased holdings by -5.26% over the last 3 months. The company has a short float of 1.32%, which implies a short ratio of 0.96 days.

4. Steel Dynamics Inc. (NASDAQ:STLD)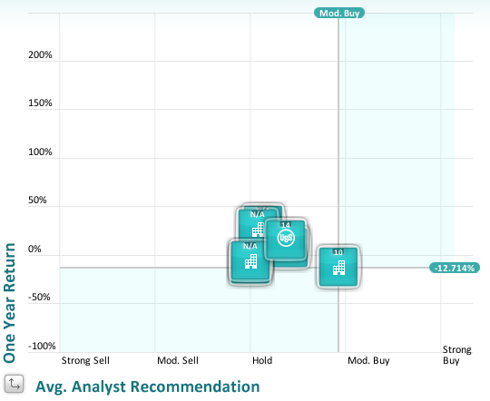 Steel & Iron Industry. Market cap of $3.10B. The stock has lost -14.19% over the last year, but analysts still rate it higher than U.S. Steel (NYSE:X), Nucor (NYSE:NUE) and Posco (NYSE:PKX). Institutional investors, who currently own 67.25% of the company, don't agree with analyst opinion. They have decreased holdings by -0.53% over the last 3 months. The company has a short float of 2.79%, which implies a short ratio of 0.93 days.

5. Diana Shipping Inc. (NYSE:DSX)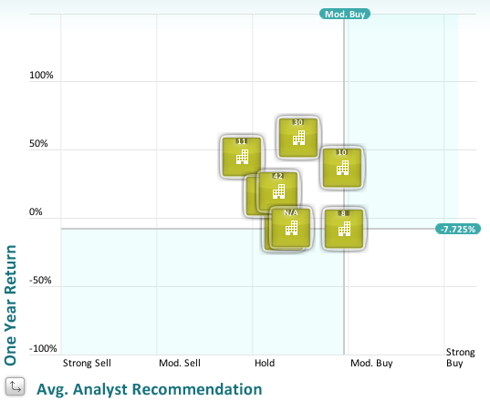 Shipping Industry. Market cap of $1.07B. The stock has lost -11.45% over the last year, but analysts still rate it higher than Teekay Corp (NYSE:TK) and Frontline (NYSE:FRO). Institutional investors, who currently own 30.21% of the company, seem to disagree with the analyst opinion. They have decreased holdings by -9.83% over the last 3 months. The company has a short float of 1.63%, which implies a short ratio of 0.97 days.

6. E-House (China) Holdings Limited (NYSE:EJ)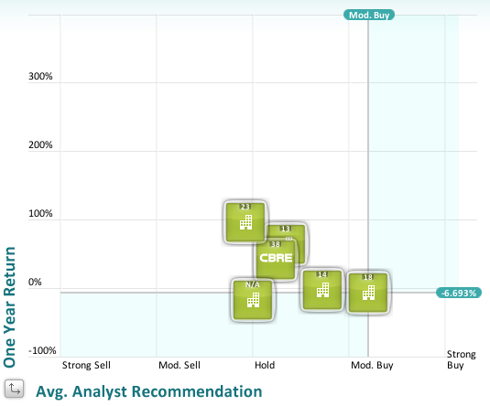 Property Management Industry. Market cap of $1.36B. The stock has lost -8.23% over the last year, but analysts still rate it higher than Brookfield Properties (NYSE:BPO) and CB Richard Ellis Group (NYSE:CBG). Institutional investors, who currently own 52% of the company, seem to agree with the analyst opinion, and they have boosted holdings by 14.9% over the last 3 months. The company has a short float of 7.36%, which implies a short ratio of 10.34 days.

7. Teva Pharmaceutical Industries Limited (NYSE:TEVA)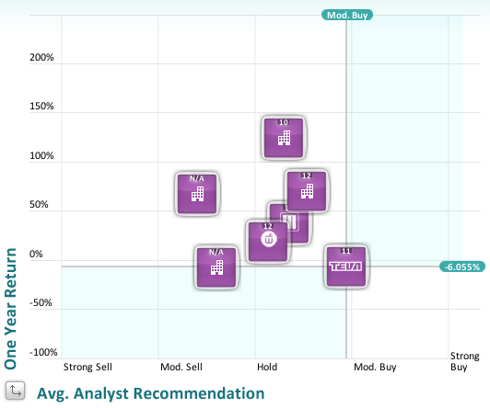 Drug Manufacturer. Market cap of $45.10B. The stock has lost -7.89% over the last year, but analysts still rate it higher than Mylan (NASDAQ:MYL) and Dr. Reddy (NYSE:RDY). Institutional investors, who currently own 57.7% of the company, are not so bullish. They have decreased holdings by -1.53% over the last 3 months. The company has a short float of 0.92%, which implies a short ratio of 0.95 days.

8. MedcoHealth Solutions Inc. (NYSE:MHS)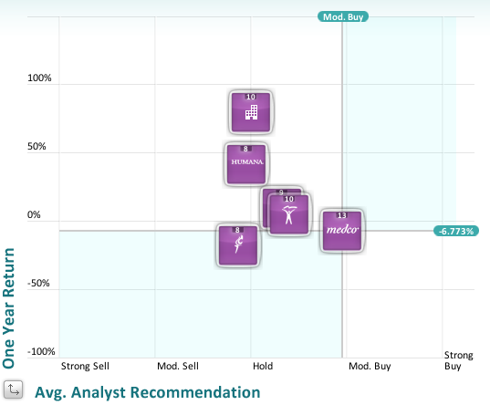 Drugs Wholesale Industry. Market cap of $20.57B. The stock has lost -7.69% over the last year, but analysts still rate it higher than Humana (NYSE:HUM) and United Health (NYSE:UNH). Institutional investors, who currently own 76.9% of the company, are not so optimistic on the company's outlook. They have decreased holdings by -5.51% over the last 3 months. The company has a short float of 1.99%, which implies a short ratio of 1.54 days.

9. Kohl's Corp. (NYSE:KSS)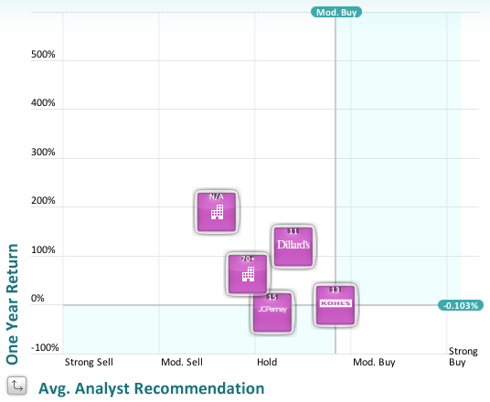 Department Stores Industry. Market cap of $14.75B. The stock has lost -3.45% over the last year, but analysts still rate it higher than Dillards (NYSE:DDS) and J.C. Penney (NYSE:JCP). Institutional investors, who currently own 83.24% of the company, seem to disagree with analyst opinion. They have decreased holdings by -5.03% over the last 3 months. The company has a short float of 2.24%, which implies a short ratio of 1.38 days.


Disclosure: No positions