Smartphones have made and lost people fortunes since they were invented only a decade ago. The first real money was made by BlackBerry (NASDAQ:BBRY), then known as Research In Motion, whose stock rose a staggering 27,902% between the fall of 1999 and mid-2008.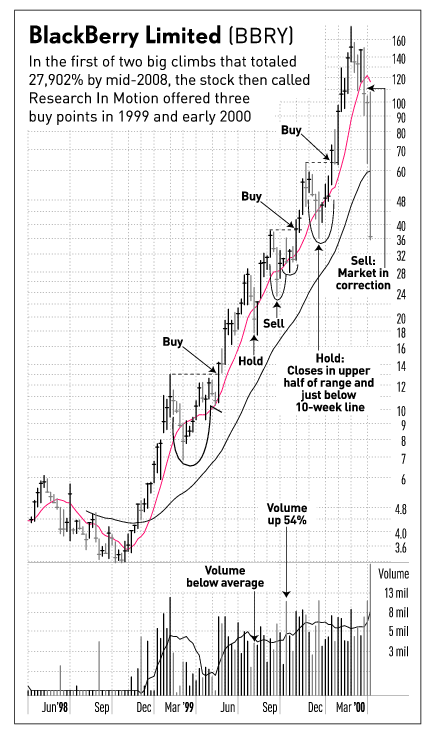 Chart: Courtesy of Investor Daily
To put that in perspective, a $10,000 investment in BlackBerry in 1999 would have earned those savvy enough to hold through 2008 a cool $28 million. Almost enough to retire on, for many people. That is just about five times as much as those who bought Apple (NASDAQ:AAPL) in 1999 would have earned, if they held their stock through today.
Like Apple, BlackBerry developed almost cult-like devotion, with users calling their BlackBerry devices "CrackBerries" and celebrities like Madonna saying she slept with her BlackBerry.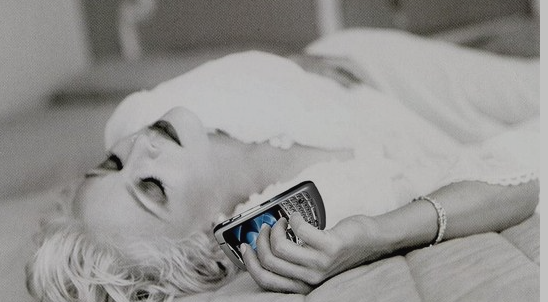 Photo: Courtesy of Geeksugar.com
BlackBerry's fall from grace since 2008 has been as spectacular as its rise was in the previous decade. That fall resulted from a certain hubris that plagued BlackBerry management - a belief that their customers were intensely loyal (they were); that profit share was more important than market share (sound familiar?); and, that they could charge a premium for their devices simply because they carried the BlackBerry brand.
Nokia (NYSE:NOK) suffered a somewhat similar fate in its tardy response to BlackBerry and the incipient rise of the iPhone after its launch in 2007. By 2011, the once high-flying stock was in full retreat.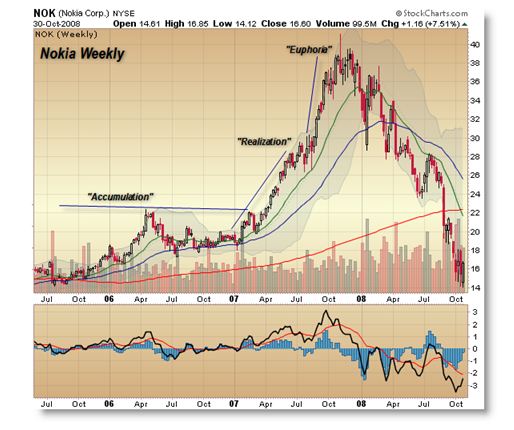 Source: Digital Musings
In each case, investors in BlackBerry and Nokia lived in the euphoria of record stock prices, despite nearing the edge of the abyss, only to later fall in. No amount of evidence; no analysis; no expert opinion could persuade them that, like lemmings, they were heading for the edge of the cliff, or that their apparent stranglehold on their market was even threatened.
In the aftermath, fortunes were lost and careers ruined. I had the good fortune to share a ski lift with Jim Balsillie and his friend Rae Bauer at Osler Bluff Ski Club a few years ago, and would have to say you could not meet a much smarter guy or a much nicer guy. It was not foolishness or stupidity that brought BlackBerry down, and I expect the same was true of Nokia. Their downfall was a direct result of competition from a new entrant who produced a better product and marketed it effectively, while BlackBerry and Nokia languished in the belief that their own "superior" products and ecosystems were not vulnerable to attack, because they had world-renowned brands; loyal customers; and, outstanding financial performance.
As an ex-boxing champion, I often like to paraphrase a statement attributed to Mike Tyson - the punch that knocks you out is the one you don't see coming. My trips to the canvas during my boxing career made that statement become indelibly lodged in my memory (or what is left of it after many blows to the head).
In the current smartphone marketplace, three giants will have to duke it out. Samsung (OTC:SSNLF) with a vast array of devices at all price points, including devices with world-class designs and features; Microsoft (NASDAQ:MSFT) with its newly purchased handset division of Nokia; and, reigning world profit champion, Apple, who is currently turning in better-than-expected performance, despite what seems to be a maturing market for both smartphones and tablets.
At this point, it is too early to conclude that all or any of these competitors will hold, achieve, or relinquish a commanding position in this so-mercurial marketplace. As an investor, I will look for signs that Microsoft is achieving its goal of an integrated user experience across all devices regardless of form factor; a fully Cloud-supported infrastructure; and continued advances in its already rich applications library and functionality. If it achieves its vision, it is the company to watch, in my opinion.
I reviewed the transcript of the Microsoft earnings release and watched some video of Satya Nadella speak. As I see it, he is open and transparent; has a commanding understanding of the current and future direction of computing; and, has no blinders on when faced with decisions that might involve changes in direction from what formerly could have been considered sacred cows.
With its formidable presence in over 1 billion computers running Microsoft software in homes, schools, and industries worldwide, Microsoft is uniquely equipped to do battle on this ever-changing battlefield. Microsoft is one of only three internet titans with over 1 billion MAUs, and it would be easy to underestimate the power of its ecosystem. With his extensive background and understanding of the cloud, Nadella may be just the right person to lead its renewed growth, including in mobile.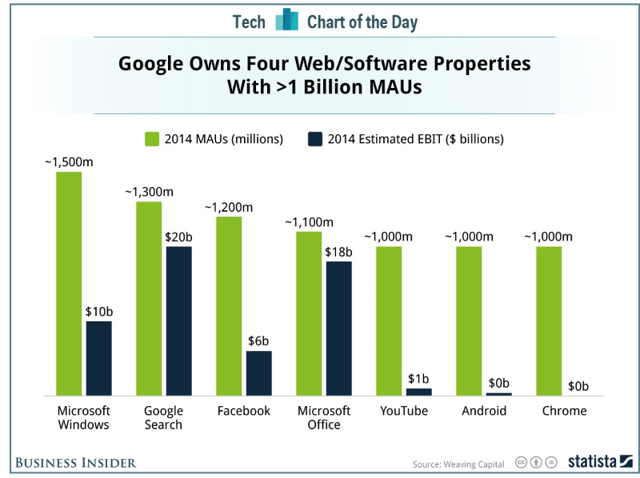 I am not suggesting its competition will fail, and no one should consider my views here as a poke at either Samsung or Apple, both of which deserve immense respect. But for me and my money, Microsoft is the place to be in the mobile space. It is a one-sided bet - failure in mobile will be incidental to Microsoft, but success could be monumental.
While I have no current holding in Microsoft, I am going to begin to build one reinvesting some or all of the several hundred thousand dollars my trading in Microsoft calls has garnered in the past year or two.
I have taken a shot at what Microsoft's fourth-quarter and next fiscal year will look like with the handset division included and half of the $600 million claimed synergies realized, assuming only that Microsoft handsets continue to grow in numbers by about 10% in 2015.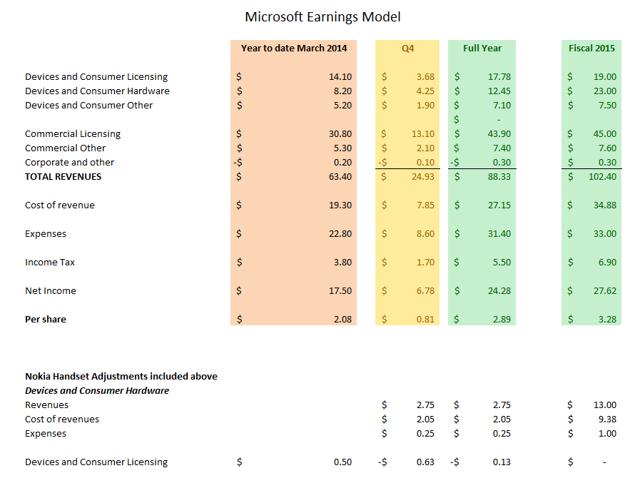 Sources: Nokia data from wmpoweruser.com, Blair analysis
If I am anywhere close in my assessment, Microsoft should break $100 billion in revenues in 2015 and show earnings north of $3.20 a share. Based on those metrics and with a 16 times earnings multiple, the stock could approach $50 in a year or two and market capitalization exceed $400 billion.
Microsoft is a lot more than a smartphone assembler, and its survival or prosperity is in no way tied to whether it succeeds or fails in smart connected devices. That is what makes it a formidable opponent - it can afford to lose. I don't think it will dominate smartphones or anything close to that, but I do think it will continue to steadily gain ground by delivering a more complete, richer, and more integrated experience taking full advantage of the key Microsoft enterprise ecosystem. If it does, and sustains its advance over time, Microsoft has the potential to regain the crown as the world's most valuable company.
Disclosure: I am short AAPL. I wrote this article myself, and it expresses my own opinions. I am not receiving compensation for it (other than from Seeking Alpha). I have no business relationship with any company whose stock is mentioned in this article.
Additional disclosure: I have no position in Microsoft, BlackBerry or Google and have a short position in Apple hedged with options.