Introduction
In today's article, I will be comparing Coca-Cola (NYSE:KO) and PepsiCo (NYSE:PEP).
The reason for my comparison today is that the two are severe competitors and that the success in beverages of one player will of course have an immediate impact on the other. On a year-over-year basis, it seems that Coca-Cola's loss literally has been PepsiCo's gain. KO's share price lost 3.44%, while PEP's gained 3.46%. This is strange, as investors often refer to Coca-Cola as if it is some kind of heavenly resort for you and your money.
As an investor, I thought it was time to take a look at both and decide which would be the best investment.
Thesis
To start my thesis and to become acquainted with the two companies, I've made some simple Excel tables to compare a few factors of both companies: difference in size, difference in last reported quarterly figures and difference in current valuation. Afterwards, I will take a glance at the future by making individual earnings models for the two companies and will conclude (with a point system) which company will 'win' the comparison.

If you took a good look at the above table, I'm sure you immediately noticed that while PepsiCo is reporting much higher sales figures, Coca-Cola is the one enjoying a $40B more expensive valuation.
This implies that Coca-Cola investors are feeling very attached to the Coca-Cola brand and are willing to pay a rather expensive premium for it. Coca-Cola remains the world's third most valuable brand, and investors clearly see this as a definite moat or competitive advantage.
I, on the other hand, fear that investors are forgetting that Coca-Cola simply wouldn't be the company that it is today if it weren't such a well-known brand. So why even put an extra premium on its valuation? The brand is an essential part of the company, and it should be seen as a whole and not two different segments with separate values.
Actually, what do you prefer? A company attaining the world's third most valuable brand, only achieving $47B in revenue? Or a company that is not even in the top 20 of most valuable brands, able to achieve $66B in revenue?
And while Coca-Cola is not a tech company where things change so fast, remember that Nokia (NYSE:NOK) was one of the most valuable brands in the world and has now disappeared completely.
Also, keep in mind that a brand doesn't provide any income itself. It is the quality of the products coming from the company carrying the brand that will provide revenue streams.
If the trend towards healthy drinks continues to take place, a brand like Coca-Cola could easily lose value. The Coca-Cola drink is currently one of the unhealthiest drinks in the world, and efforts of American and European health organizations will continue to motivate people towards healthier lifestyles.
Pepsi would also lose brand value, but remember that it all comes down to valuations and that the one with the highest valuation will be affected the most, in this case, Coca-Cola.

Latest quarterly figures of Coca-Cola and PepsiCo didn't say much, but they did make clear that both are still able to grow (I looked at numbers excluding one-time events and stable exchange rates).
PepsiCo undoubtedly performed best with a 10% net income growth figure as it has a strong, balanced portfolio of brands, products and geographies that enabled them to capture growth opportunities across multiple demand spaces.
Coca-Cola's growth is mostly coming from the emerging markets and Russia as it is seeing declines in unit case volumes to Europe (-4%) and flat growth in North America (0%). There is also a really interesting shift going on between Coca-Cola's still beverages (which are growing in almost all of its markets) and its sparkling beverages, that have seen declines and stagnation (in-line with the healthier lifestyle trend).

The 'Current Valuation' table sums up what I've explained before. PepsiCo simply is the 'cheapest' company of the two when looking at valuation multiples.
What might be appealing to dividend investors is that Coca-Cola offers a slightly higher dividend yield while having slightly less debt. Both however have an outstanding track record when it comes to dividends.
Earnings model for Coca-Cola
For its revenue growth I've chosen a growth rate of 2% for the first two years and then a rising growth rate of 4% and 5%, as I believe the company will ramp up marketing and will introduce new brands that will boost revenue.
I've assumed an operating margin of 21%, which is rather low for Coca-Cola, but I prefer to be a little pessimistic.
I picked an income tax rate of 24% (in line with previous tax rates).
I chose a declining amount of shares outstanding (2% annually) as the company is perfectly able to buy back a decent amount of shares with its free cash flows.

Following my assumptions, Coca-Cola will be able to report EPS of $2.30 by 2017.

For the valuation purposes, I've used a multiplier of 18, as I believe a defensive company like Coca-Cola will always have an above-average valuation. This should give the stock an upward potential of 1.08% to $41.45 (its fair value).

When combining the possible dividends on top of its fair value of $41.45 by 2017, investors should be able to get a 14.2% return on their investment in three years time. However, take notice of the fact that I'm not discounting the future gains and that I excluded inflation. Your real return could actually be a lot lower.
Earnings model PepsiCo
I've used a declining revenue growth, starting from 7% for 2014 to 4% in 2017, as I believe it will become harder and harder for PepsiCo to grow its revenue once most markets become saturated with its products.
Considering its effectiveness, I've assumed a declining operating margin, from 15% to 14%, as I fear that the company will become so big that its operating expenses will rise above average.
I chose an income tax rate of 25%, as it lies in-line with its previous tax rates.
For the dividend purposes, I picked an annual growth rate of 7% starting from 2014's hike of 15%. This should lead to a payout ratio of around 51%

Following my above assumptions, PepsiCo will be able to report EPS of $6.21 by 2017.

PepsiCo also deserves a high valuation, as it remains a very strong/defensive company with many popular brands. A P/E ratio of 18 seems more than justified.

When combining possible dividends with its fair value by 2017, investors could ramp up a return of 41.8% in total. However, take notice of the fact that I'm not discounting the future gains and that I excluded inflation. Your real return could actually be a lot lower.
Conclusion
To end this article with a nice and simple conclusion, I made a simple table. On the left side of the table, you'll see different aspects/metrics that I find important when valuing a company. Next to these metrics, you'll find which of the two scored best.
2 is the better score.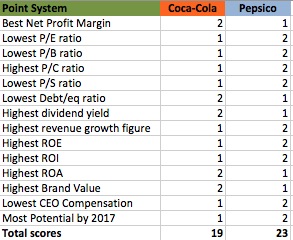 PepsiCo wins the comparison, as it scored 23 points (4 more than Coca-Cola).
Disclosure: The author has no positions in any stocks mentioned, and no plans to initiate any positions within the next 72 hours. The author wrote this article themselves, and it expresses their own opinions. The author is not receiving compensation for it (other than from Seeking Alpha). The author has no business relationship with any company whose stock is mentioned in this article.