The market pulled back yesterday after seeing that reported durable goods numbers were lower than expected. Investors may also be cautious ahead of the jobless claims report today and the GDP on Friday. Yesterday morning, Corning (NYSE:GLW) reported solid earnings, but, the forward guidance failed to inspire investors. GLW was down 1.89%. Boeing) (BA shares also slumped 1.89% after reporting a soft quarter and announcing planned layoffs. RIM (RIMM) traded against the market current, up more than +4%, on speculation of a new Blackberry phone to rival iPhone (NASDAQ:AAPL).
After the market, Visa (NYSE:V) beat expectations with its earnings, but, its shares were little changed. Akamai (NASDAQ:AKAM) reported good earnings, but, its outlook weighed on the stock, down more than 5% in after-hours. Express Scripts (NASDAQ:ESRX) barely beat the estimates; its shares fell 3.55%.
In the biotech space, Genzyme (GENZ) traded above $72 after the market, then, fell back to just above $70. The latest rumors said that SNY is looking to make a formal buyout offer. AZN continued to soar, up +3.16% in the regular session and another +2% after market, getting a recommendation for approval for its blood thinner drug.
The Dow was down 39.81 points; SPX fell 7.71 points; Nasdaq lost 23.69 points: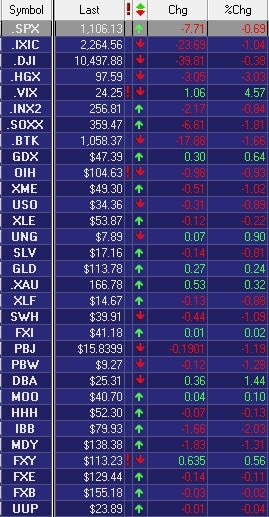 SOXX (semiconductors) led the techs down with a 1.81% decline. XME (metals and mining) pulled back another 1%. GLD (gold) bounced a bit. USO (oil) traded lower. XLF (financials) slid 0.88%. FXI (Chinese ADRs) was flat.
SPX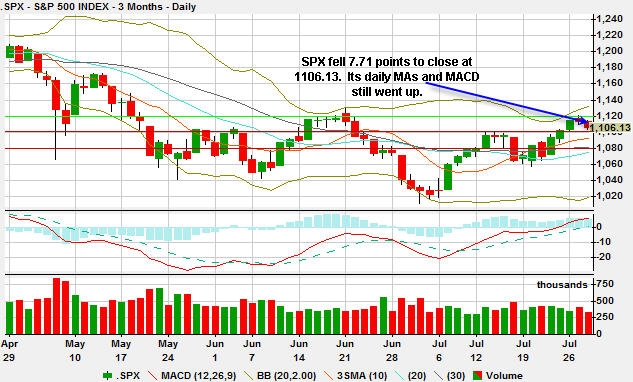 SPX fell 7.71 points to close at 1106.13. Its daily MAs and MACD still went up (click to enlarge).
Nasdaq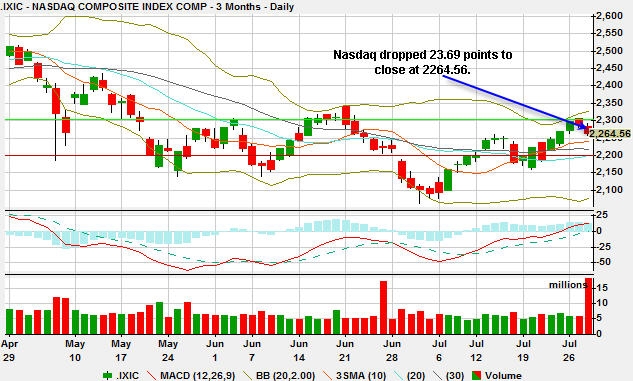 Nasdaq dropped 23.69 points to close at 2264.56 (click to enlarge).
The day after testing SPX 1120, the market pulled back again. This market still seems to be range-bound. VIX rose back up above 24. SPX can easily slide down to test 1100 again. We'll be cautious and see how the market reacts to the jobless claims later today. On the downside, Netflix (NASDAQ:NFLX) could be ready to fall more in a weak market environment. But, if the market manages to hold above SPX 1100, we could see a couple of days of consolidation. Among the many earnings reports today, Chicago Mercantile Exchange Holdings (NASDAQ:CME) delivers its results in the morning and was already trading higher yesterday after the market.

Disclosure: no positions