Putin has really been pushing his advantage in Ukraine over the past week and has now forced the US to take a more hands on approach to the Ukrainian situation. Caught between the politics of all of this are investors in both American and Russian companies, not to mention the other multinationals based in other countries, that are being impacted by these sanctions and general market uneasiness towards the situation.
Ironically enough some of the names which one would expect to be under the most pressure are holding in quite well as the market has already priced in some of this risk from the flare up over Crimea. Whether that strength can hold up will be key moving forward, but our personal opinion is that it will not and thus we are not buyers of the energy names with exposure to Russia at this time.
Chart of the Day:
WTI Crude has held in nicely over the past few sessions as the one month chart below shows. We have seen the differential increase between WTI and Brent, and because it has now reached about $8/barrel we think now would be a good time to close that trade of being long Brent. Now is probably a good time to start looking at going long the US Oil Fund (NYSEARCA:USO) or some other WTI fund instead.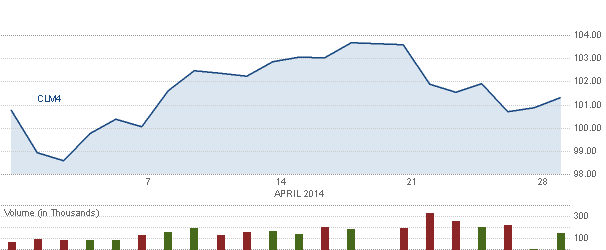 Source: CNBC
Commodity prices are as follows (at time of submission):
Gold: $1,296.50/ounce, down by $2.50/ounce
Silver: $19.455/ounce, down by $0.133/ounce
Oil: $101.27/barrel, up by $0.43/barrel
RBOB Gas: $3.0649/gallon, up by $0.0246/gallon
Natural Gas: $4.817/MMbtu, up by $0.018/MMbtu
Copper: $3.069/pound, down by $0.024/pound
Platinum: $1,430.50/ounce, up by $10.80/ounce
Oil Majors Have A Russian Headache
Two of the world's major oil companies are caught between the US and Russia in the standoff over Ukraine. The sanctions thus far have avoided penalizing BP (NYSE:BP) and ExxonMobil (NYSE:XOM) as they were instead focused to impact the financial sector as well as the oligarchs' personal wealth. The next round of sanctions could very well have a real and potentially profound impact on the energy sector as the US and its allies look to hit Russia where it really hurts; the pocketbook.
The issues BP faces are well known, however ExxonMobil has avoided a lot of the negative talk due to the early nature of their projects. While BP enjoys significant production from Russia, ExxonMobil is busy exploring for finds with its Russian partner. We found this Bloomberg article via Yahoo Finance (located here) which sums up nicely what ExxonMobil's exposure to Russia is.
BP has run into a little more pressure than ExxonMobil as of late, and that is to be expected, but both names have been solid performers during the latest tensions in eastern Europe.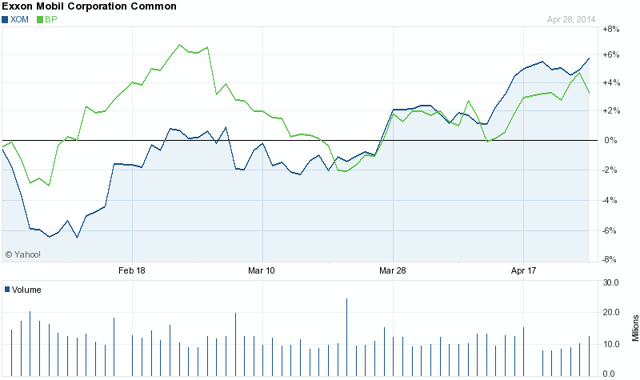 Click to enlarge
Source: Yahoo Finance
MLP Deal A Good Sign
Yesterday's modest $1.8 billion deal between Energy Transfer Partners, LP (NYSE:ETE) and Susser Holdings Corp. (NYSE:SUSS) is by no means a monumental deal or a game changer. It is significant in that it continues to show that the deal makers in the MLP space are still looking for deals and willing to do deals when they make sense; a fact we think could provide upside for the space as the energy bull market ages.
The early innings are over and most of the easy money has been made, but our view is that in another year or two we will see further capital needed to continue to the rapid development of shale assets and the space will once again draw attention...although on a much smaller scale than what took place over the past decade as it relates to pipelines and possibly a much larger scale as it relates to energy production assets.
The above deal was done in order to beef up operations already owned by Energy Transfer Partners, but it also sets the stage for future growth of the combined assets by offering expansion opportunities on multiple fronts. It is not a deal that in any way impacts us financially, but it does give us some insight into the current state of the market.
Disclosure: I have no positions in any stocks mentioned, and no plans to initiate any positions within the next 72 hours. I wrote this article myself, and it expresses my own opinions. I am not receiving compensation for it (other than from Seeking Alpha). I have no business relationship with any company whose stock is mentioned in this article. BP has previously been recommended.