For the 2nd quarter 2010, the nine largest airlines collectively reported $1.86 billion in net profits on $31.7 billion in revenues (net profits exclude $713 million for special items).
The Q2 revenue was the 2nd highest in history and just shy of 2008's Q2 $33.3 billion record. The Q2 profits missed the decade high set in 2007 by only $8 million. Q2 revenue and profits were slightly higher than AirlineFinancials.com projected earlier in the month.
American (AMR) as projected was the only major airline to report a loss for the recent Q2.
Based on net income margin performance ex-special items, Alaska (ALK) led the industry at 8.6%. The rest of the airlines were:
US Airways (LCC) 8.36%
United (UAUA) 8.33%
Continental (CAL) 6.93%
Southwest (LUV) 6.82%
Delta (DAL) 6.72%
Air Tran (AAI) 5.53%
JetBlue (JBLU) 3.19%
American (AMR) -.19%
Average Q2 margin for the industry was 5.87%.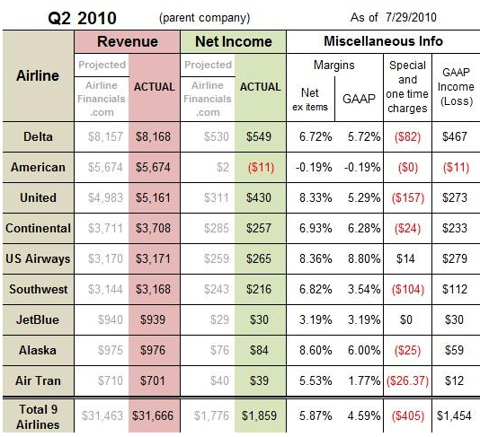 (Click chart to enlarge.)
AirlineFinancials.com expects continued strong performance for the airline industry through at least the current 3rd quarter.
Disclosure: No positions