LinkedIn Corp. (NYSE:LNKD) shares have been on a wild ride over the past year. After climbing to an all-time high of $257, the stock has declined more than 40% to $146 at the time of writing, as concerns about a new "tech bubble" emerge along with a fear that the bull market might have peaked.
The bull case for LinkedIn
I am a pretty regular LinkedIn user, so before digging into the financials I attempted to qualitatively construct the bull case. Some tech stocks such as Facebook (NASDAQ:FB) and LinkedIn may possess truly disruptive and sustainable business models with myriad opportunities for growth. In this article, I attempt to analyze LinkedIn's valuation, and show why, even in spite of its sustainable network effects and great execution, LinkedIn's shares are simply priced too high to be a compelling investment.
Business Profile
Over the past years, LinkedIn has established itself as the platform of choice for professionals and recruiters. As a result, the company benefits from significant network effects, as this creates a virtuous cycle of user and recruiter engagement. As a professional, having a well-crafted and updated LinkedIn profile is now viewed as a necessity. Similarly, connecting on LinkedIn has become the new form of exchanging business cards. This behavior, on the other hand, gives recruiters an extremely rich mine of information about potential candidates and greatly increases the value of the platform to them. These network effects provide LinkedIn a hugely valuable monetization engine, as well as increased pricing power. Network effects are hard to achieve, but once they are, can yield sustainable profits over a long period of time. They are extremely hard to copy even for players with deep pockets (witness the lack of engagement on Google+, despite Google's (NASDAQ:GOOG) (NASDAQ:GOOGL) best efforts to integrate it with all its services). Microsoft (NASDAQ:MSFT) with its Windows OS and Office productivity suite, Google on search, and Facebook on social are similar examples. With 277 million members in over 200 countries (as of 12/31/2013) LinkedIn has rapidly become the de-facto industry standard in the professional search space. Its vision is to use the power of its network to create economic opportunity for every member of the global workforce - a vision that resonates with its users.
LinkedIn faces competition from established online players (monster.com and CareerBuilder and Indeed.com), as well as from traditional recruiting firms (which, paradoxically, are its customers as well).
Historical Financial performance and metrics
Since 2009, LinkedIn has grown its revenues from $120M to $1.5B, a CAGR of 89% per year. However, the law of large numbers applies to every company, and LinkedIn is no exception. Revenue growth in 2014 is expected to be between 32-34%, at $2.02-$2.05B. This revenue comes from three main lines of business - talent solutions (paid by recruiters to access the talent database), marketing solutions (paid by advertisers) and premium subscriptions (paid by individuals to enable better networking and discovery). In 2013, the relative mix of each segment was 56%, 24% and 20% respectively.
Talent solutions
Talent solutions revenues are a function of its corporate solutions customers, as well as the prices it charges those customers. In 2013, LinkedIn ended with 24.4 thousand corporate customers, and an average revenue of $35k per customer. Going forward, I have modeled customer growth of 30% for 2014-2015, 25% for 2016-2017, eventually slowing to 10% by 2020. This would mean that by 2020, LinkedIn would have 86 thousand corporate customers. I have modeled revenue per corporate customer growing at 5%, which is a bit lower than the historical range of 7-13%. The underlying assumption is that as LinkedIn increases its penetration into emerging markets and small and mid-size businesses, its revenue per customer growth will decline somewhat. These assumptions lead to a 2020 revenue of $4.3B for the talent solutions group, or an annualized growth rate of 26%.
Premium subscriptions
Premium subscription revenue is directly linked to user growth, and the penetration of paid subscriptions among those users. LinkedIn had 277M subscribers at the end of 2013. I assume 20% subscriber growth for 2014 and 2015, and then moderating thereafter. Under my assumptions, LinkedIn's subscriber base grows to 670M by 2020. I am assuming premium subscription revenue grows 3% per annum on a per-subscriber basis. This might be aggressive as per-subscriber revenue could slow down as subscriber acquisition increases (most of the premium subscribers could already be taken), but I am representing an aggressive growth case. With these assumptions, subscription revenue grows from $307M in 2013 to $912M by 2020.
Marketing solutions
Marketing solutions are advertising revenues, and as such are directly linked to page views generated. As of 2013, LinkedIn had 47.3B page views, which translated into a revenue of $7.7 per thousand page views. For modeling, I am assuming page views in line with subscriber growth, and that revenue per thousand views grows 10% over the next three years, slowing down to 5% thereafter. This results in the segment revenue growing from $362M in 2013 to $1.5B by 2020.
Overall, under these assumptions, I expect LinkedIn revenue to grow from $1.5B in 2013 to $6.7B by 2020, which is a 4.5x increase and represents a CAGR of 23.4%.
Operating Expenses
LinkedIn operates at very high (and stable) gross margins in the 87% range. In the model, I have assumed that these remain stable going forward.
Like any start-up that is expanding rapidly, the company has grown headcount rapidly across product development, sales and marketing, and G&A. S&M expenses were 34% of revenue in FY13, as it builds out its field sales headcount and invests in marketing. In FY14, LinkedIn expects S&M expenses to decline as a percentage of revenue. I model 33% for FY14, and for the out years, I am assuming that the company gains significant operating leverage, with this ratio declining 1 ppt of sales every year all the way down to 27% of sales by 2020 - a reduction of 7% as a percentage of sales from 2013.
Product development expenses were 26% of sales in 2013. For 2014, LinkedIn is continuing its engineering investments and expects this ratio to increase slightly. Accordingly, I have increased this ratio to 27% in 2014, and then assume a decline every year down to 15% of sales by 2020.
G&A expenses were 15% of sales in 2013, and expected to stay proportionately flat in 2014. Thereafter, I am assuming they reduce as a percentage of sales, down to 9% by 2020.
As a result of these efficiencies, I grow operating margins in my model from 3% in 2013 to 27% by 2020 - as you can see, I am counting on LinkedIn achieving significant operating leverage by 2020.
Valuation
In my valuation model, I am assuming a 12% discount rate for LinkedIn and a 6% terminal value growth rate. Share dilution is assumed at guidance levels for 2014 (around 3.5M); 2% for 2015 and 1% thereafter. Using these assumptions, I arrive at a fair market value of $104.5 for LinkedIn, a discount of 29% to today's price. Hence, even with really optimistic assumptions around revenue and margin growth, LinkedIn appears to be substantially overvalued. The valuation model is below:
Click to enlarge
Risks and opportunities
In order to justify its share price, LinkedIn needs to materially outperform on the top line and reduce its expenses even further than the aggressive assumptions I have modeled. Top line growth appears to be slowing down, with the company projecting 32-34% growth for 2014, while operating expenses are growing in the same ballpark. Here is a comparison of R&D and SG&A expenses as a percentage of sales for some major tech companies: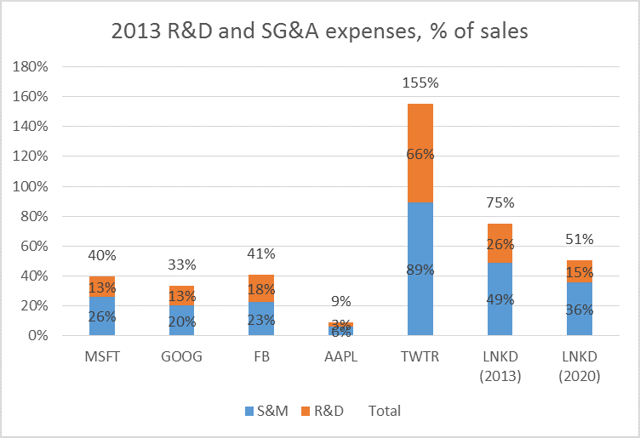 Click to enlarge
The chart clearly shows that LinkedIn and Twitter (NYSE:TWTR) are clearly in expansion mode, and are investing heavily in relation to their sales. However, by 2020, this metric for LinkedIn goes to 51%, still higher than comparable companies but 24ppt lower than 2013. Even if you were to assume that this ratio goes to 40% of sales by 2020, LinkedIn would still be marginally overvalued.
Summary
LinkedIn is a great company. It has disrupted the search space and is well on the way to fulfilling its vision of connecting and generating economic opportunities for everyone in the workplace. It has already achieved significant network effects, which will enable it to garner the lion's share of profit in its space. However, even in the face of extremely robust growth assumptions, its shares are materially overvalued. Any slowdown in the economy tends to put further pressure on richly valued stocks, and LinkedIn is no exception. I would recommend selling your shares.
Disclosure: I am short LNKD puts. I wrote this article myself, and it expresses my own opinions. I am not receiving compensation for it (other than from Seeking Alpha). I have no business relationship with any company whose stock is mentioned in this article.